In Algeria, Illegal Money-Changers Thrive
Black market euros cost 40 percent more than the official rate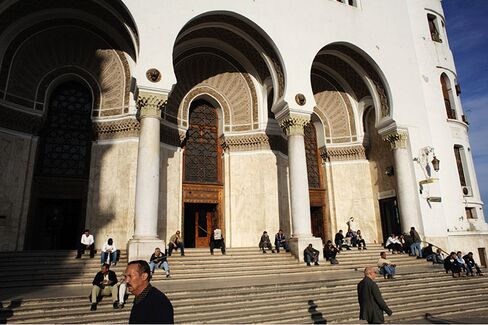 Across the street from the parliament, courthouse, and main police station in Algiers is Algeria's biggest illegal foreign exchange market. "Currency, currency!" Nadir, 28, shouts to passing cars from the curb of Port Said Square in the capital city. He won't give his full name, since what he does is against the law. Nadir is one of dozens of money-changers milling around the gardens of the sun-baked esplanade, chatting on mobile phones and counting crisp dinar notes. The last week of September, the going rate was a record 150 dinars per euro, almost 40 percent higher than the official price.
Underlying the increased demand for black market money is concern that the region's political upheaval may reach Algiers. Revolts in Tunisia, Egypt, and Libya have revived memories of Algeria's own civil war in the 1990s. The government of President Abdelaziz Bouteflika has ramped up spending on housing subsidies and civil servants' wages to ward off unrest. Those measures helped drive inflation to a 15-year high of 9 percent in 2012.
To shield savings, Algerians have turned to the currency and real estate markets. Malek, 48, says he bought euros on the black market last year and took the cash by ferry to Spain, where he bought a three-bedroom apartment in Alicante for €50,000 ($68,000)—and found most of his neighbors were Algerians. If Malek had gone through official channels, he'd have been allowed to buy no more than €140 for travel, and he wouldn't have been able to take more than €7,200 a year out of the country. Such curbs have created a thriving black market, even though Algeria has a healthy $190 billion stockpile of foreign exchange reserves.
Capital flight is a familiar problem in Africa. As much as $50 billion leaves the continent illicitly every year, according to a United Nations Economic Commission for Africa report in May. The African Development Bank and Global Financial Integrity, an organization working to curtail financial flows out of developing countries, cited Egypt, South Africa, and Nigeria among other nations with large outflows.
Officials are likely to keep turning a blind eye to the black market in Algiers, according to Riccardo Fabiani, a North Africa analyst at Eurasia Group. "It's a typical Algerian approach. Everyone acknowledges the problems, but there are so many constraints, interest groups, and lobbies that the regime can't do anything," he says. "Changing the status quo could trigger a reaction that could be potentially dangerous."
Before it's here, it's on the Bloomberg Terminal.
LEARN MORE