Whole Foods Is Coming to Newark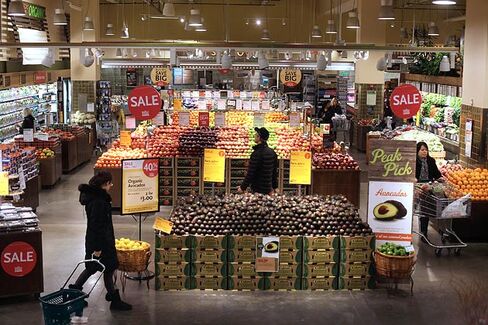 Whole Foods Market has been trying for years to make the case that organic food is more than a luxury for the affluent. One way to reinforce that message: Open stores far from the gold coasts and upper-class enclaves. Open stores in such places as Newark, which will get its first Whole Foods in 2016. The supermarket will take up 29,000 square feet in the Hahne building, an historic landmark.
The gritty New Jersey city still struggles with poverty and crime and has a median household income of $26,371, according to Zip Code-level data from Sperling's Best Places, a website that provides demographic information. By comparison, households near the Whole Foods in West Orange, about seven miles away, have a median income of $86,039.
Whole Foods, which has about 336 locations in the U.S., has been courted by a number of low-income cities. In Detroit, it got $5.8 million in state and local grants and tax credits and donated land to open a store—which is "doing double what we expected it to do" since it opened this summer, said David Lannon, executive vice president of operations, in July. (Even assuming average performance, it should generate a nice profit.) Last month, Whole Foods announced plans to open in 2016 in Chicago's low-income Englewood area, where it's getting $10 million in subsidies.
In Newark, however, Whole Foods is not receiving any grants or tax credits, says James Allen, a spokesman for Newark Mayor Cory Booker. It's a development that Booker (who, by the way, is a vegetarian) has been working on for years. He has called and texted Whole Foods executives and compared the mission to "the quest for the Holy Grail," according to the Wall Street Journal.
A high-quality supermarket can be a powerful force in a low-income area, particularly by adding jobs and contributing to tax revenue. It also makes the area attractive to residents for whom access to groceries is a priority, and Booker has courted a range of grocery stores. Four other chains have agreed to come to Newark, but there's added glamor with Whole Foods, a national chain with a carefully designed shopping experience. Mayor Booker told the Journal that he considers it a sign that the city has "fully turned a corner."
As in Detroit, the retailer will have to rethink its inventory for the area. Spokesman Michael Sinatra says the store will focus on its 365 Everyday Value line, which includes more than 2,000 natural and organic products and bulk items.
"Newark will help us learn, grow, and contribute to the health of our communities in more meaningful ways," says Sinatra. Presumably, these stores will also help Whole Foods learn how to enter underserved markets, where there's significantly less competition for hungry shoppers.
Before it's here, it's on the Bloomberg Terminal.
LEARN MORE