Italy Industry Output Drop Cements Economic Recovery Lag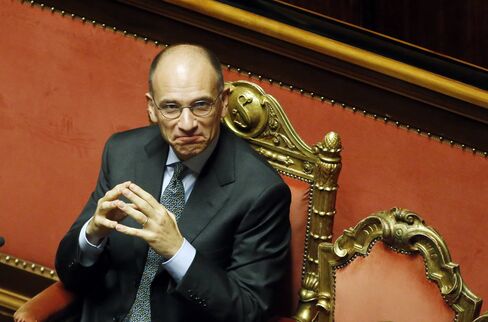 Italian industrial output unexpectedly fell for a second month in August, signaling the euro region's third-largest economy is falling further behind the rest of the bloc.
Production dropped 0.3 percent from July, when it declined a revised 1 percent, national statistics office Istat said in Rome today. Economists had forecast a 0.6 percent increase, according to the median of 15 estimates in a Bloomberg News survey. Output fell 4.6 percent from a year earlier when adjusted for working days.
A power struggle between Prime Minister Enrico Letta and former premier Silvio Berlusconi in recent weeks that threatened to bring down the five-month-old government has diverted lawmakers' attention from guiding the Italian economy out of its longest slump since World War II. Today's data suggest Italy remained stuck in a recession in the three months through September, one quarter after the 17-nation euro area returned to growth, as exports failed to offset the effect of rising unemployment on domestic demand.
"Italian industrial production came in much weaker than anticipated," said Annalisa Piazza, a fixed-income analyst at Newedge Group in London. "The country is unlikely to resume on a solid upward trend any time soon."
Prolonged Recession
A prolonged economic contraction is hindering Prime Minister Enrico Letta's efforts to meet the budget and economic targets Italy agreed upon with the European Commission.
The International Monetary Fund predicts the Italian economy, which has gone through four recessions since 2001, will shrink 1.8 percent this year, the strongest contraction in the euro area after Cyprus, Greece and Slovenia. It forecasts growth of 0.7 percent in 2014.
The Washington-based lender said on Sept. 27 that the country should consider the sale of state assets and must reduce its public debt, which at about 130 percent of gross domestic product is Europe's second biggest.
Italian business and consumer confidence rose last month to the highest since the second half of 2011, with executives and households sharing the government's optimism that the country will emerge from the recession in the fourth quarter.
"Confidence indicators were rather upbeat in July and August," Piazza said. "Hard data show some decoupling as the improvement in sentiment has failed to materialize in the real economy that remains extremely fragile."
Italy's unemployment rate increased more than forecast in August, returning to an all-time high of 12.2 percent reached in May, Istat said earlier this month.
Spending Cuts
Unemployment in Germany, Europe's largest economy, is close to a two-decade low and almost half that of Italy. Germany's economy grew 0.7 percent in the second quarter, helping the euro area emerge from its longest-ever recession. The 17-nation economy grew 0.3 percent in the three months through June.
Since then, manufacturing and services activity in the region has expanded, according to surveys of purchasing managers, and unemployment fell from a record level.
In Rome, Letta's cabinet approved 1.1 billion euros ($1.5 billion) of public spending cuts last night and agreed on a plan to sell real estate to keep the deficit target within 3 percent of GDP this year and keep the debt load under control.
While Letta won a confidence vote in parliament on Oct. 2 after Berlusconi threatened topple the government, tensions in the ruling coalition remain over the fate of Berlusconi. Letta's Democratic Party is seeking to strip the 77 year-old ex-premier of his Senate seat following his conviction for tax fraud in August.
'Unstable Coalition'
"An unstable coalition" may lead "to policy slippages, stalling of structural and fiscal reforms, or rating downgrades," the Washington-based IMF said in a Sept. 27 report.
So far, investor seem to have snubbed the risk of government instability. Italian borrowing costs dropped today to the lowest since June at an auction of one-year bills. The country's 10-year bond yield fell 4.6 basis points to 4.33 percent after the sale at 11:55 a.m. in Rome, leaving the difference with comparable German bunds at 253 basis points.
"Political uncertainty in Italy appears to have receded -- at least for now," Natacha Valla, an economist at Goldman Sachs Group Inc. in Paris, wrote in a note to clients yesterday. Still, "the economy remains in poor shape and the political backdrop is unlikely to be conducive to the structural reforms needed to restore Italy's competitiveness."
Before it's here, it's on the Bloomberg Terminal.
LEARN MORE