Canadian Munro, Short Story Writer, Wins Nobel Prize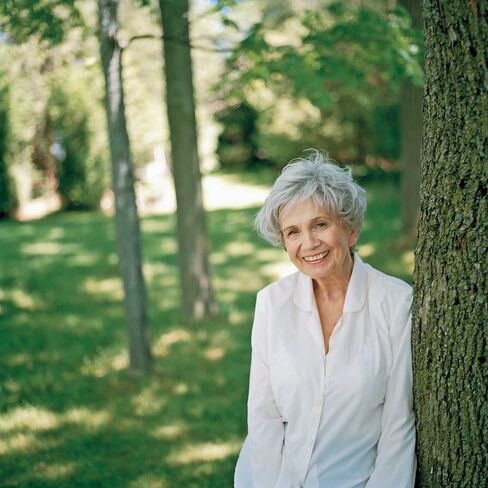 The Canadian writer Alice Munro won the 2013 Nobel Prize in Literature for short stories "characterized by clarity and psychological realism" which the Swedish Academy likened to the work of Anton Chekhov.
Munro's stories often follow ordinary Canadians struggling with social pressures and moral conflicts in small towns similar to Wingham in Ontario, where she was born. She is a frequent contributor to The New Yorker and has published collections including "Who Do You Think You Are?" in 1978 and last year's autobiographical "Dear Life," her most recent.
She is "the master of the contemporary short story," the Swedish Academy said of the 82-year-old writer today in a statement published on its website. Her work focuses on "depictions of everyday but decisive events, epiphanies of a kind, that illuminate the surrounding story and let existential questions appear in a flash of lightning."
Munro told CBC television that her daughter woke her up in the middle of the night in British Columbia, where she was traveling, to give her the news.
"It's of course very wonderful," Munro said in the interview. "It seemed one of those pipe dreams -- it might happen, but it probably wouldn't. I am surprised and delighted. It could be a tremendous joke, but I don't think so."
Munro is the first ever female Canadian to win the prize and the first Canadian-born winner since Saul Bellow in 1976. (Bellow became a naturalized American in 1941.)
Smalltown Ontario
The daughter of a farmer and a teacher, Munro was born Alice Laidlaw in 1931, during the depression. While she studied English and journalism at the University of Western Ontario, she broke off her studies to marry in 1951. She settled in Victoria, British Columbia, and opened a bookstore with her husband.
"When Munro was growing up in the 1930s and 40s, the idea of a person from Canada -- but especially one from small-town south-western Ontario -- thinking she could be a writer to be taken seriously in the world at large was laughable," fellow Canadian author Margaret Atwood wrote in the U.K.'s Guardian newspaper in 2008.
Munro has said she knew she wanted to be a writer from the age of 14, "but back then you didn't go around announcing something like that." She began writing in her teens and published short stories in magazines in the 1950s.
Atwood described her work as "the combination of obsessive scrutiny, archaeological unearthing, precise and detailed recollection, the wallowing in the seamier and meaner and more vengeful undersides of human nature, the telling of erotic secrets, the nostalgia for vanished miseries, and rejoicing in the fullness and variety of life, stirred all together."
Paris Review
Munro's stories have appeared in The New Yorker, Atlantic Monthly and the Paris Review and her collections have been translated into 13 languages. Munro has also written television scripts.
Her book "Lives of Girls and Women" (1971) was intended as a novel, yet it became a collection of interlinked stories that won a Canadian Booksellers Association Award. She has said she used to wish she was writing novels instead of short stories but has since resigned herself to her art form.
"I think my stories have gotten around quite remarkably, for short stories," she told CBC. "I really hope that this will help people see the short story as an important art, not just something you play around with until you got a novel written."
Alzheimer's Movie
Her 2001 collection "Hateship, Friendship, Courtship, Loveship, Marriage" provided the basis for the 2006 movie "Away From Her" by Sarah Polley, starring Julie Christie as an Alzheimer's sufferer.
Munro won the Man Booker International Prize in 2009, an award given every two years to a living author for a body of work. "To read Alice Munro is to learn something every time that you never thought of before," the award panel said.
She now lives in the small town of Clinton, Ontario, close to where she grew up. Her husband died a few months ago and "would have been very happy" about the prize, Munro said.
She has said she probably won't write any more and plans to be more sociable. Asked in today's CBC interview whether she will stand by that resolution after winning the Nobel, Munro replied "I am getting rather old."
Last year's Nobel literature prize went to Mo Yan, a Chinese novelist who blends folk tales, history and a "hallucinatory realism," according to the academy. Winners in the past decade have included Romanian-born novelist Herta Mueller in 2009 and Turkish author Orhan Pamuk in 2006.
The 8 million-krona ($1.2 million) Nobel literature prize was created in the will of Alfred Nobel and first awarded in 1901. Nobel, a Swede who invented dynamite, also set up awards for achievements in medicine, physics, chemistry and peace.
Muse highlights include Scott Reyburn on the art market, Stephanie Green's D.C, scene, Farah Nayeri on art, Catherine Hickley on music, Jason Harper on cars, Rich Jaroslovsky on technology and Amanda Gordon's Scene Last Night.
Before it's here, it's on the Bloomberg Terminal.
LEARN MORE