Heeeeeere's ... That SOB
A revenge memoir by Johnny Carson's lawyer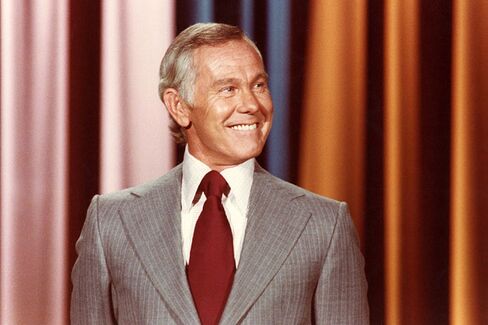 Some things you probably know about Johnny Carson: He hosted The Tonight Show for 30 years. He made a fortune—and left more than $150 million to his charity, the John W. Carson Foundation. He possessed a widely recognized yet largely ineffable quality that made him excel as the nation's bedtime tucker-inner. And by now, 21 years after Carson's final episode and eight years after his death, most have an inkling that his famous on-air sangfroid was matched by an off-air aloofness. He was married four times and became a relative hermit by celebrity standards. Like many super-duper-famous people, he could be an occasional prick.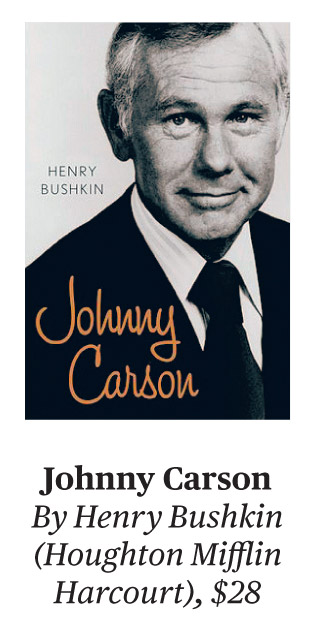 But "the nastiest son of a b-‍-‍-‍- on earth"? That, says Henry Bushkin, Carson's longtime lawyer and former BFF, is more accurate. According to Bushkin, the talk show host was a petulant womanizer who served $3,000 bottles of wine poolside to skinny-dipping minxes while wearing nothing but an apron—and a snoop who once broke into his wife's New York apartment with a .38 pistol on his hip to look for evidence she was having an affair (she was, with Frank Gifford). He also was a backstabber. Bushkin says that when he told Carson he was sweet on actress Joyce DeWitt, the star swooped in like a raptor and tried to bed her. These are just a few of the fond memories that Bushkin, who Carson once described in a magazine interview as his best friend, shares in Johnny Carson. The author recalls his reaction at the time: "Friend? No, I don't think we were friends. … There was never a question of who was in charge."
Bushkin refers to himself as Carson's "Swiss Army knife of a companion, attorney, manager, agent, henchman, crony, tennis pal, and corkscrew all in one," and he spent almost two decades in close proximity to the celebrity before they had a falling-out in 1988. The schism started when Bushkin initiated the sale of Carson Productions for less than Carson thought it was worth. Later, Carson sued Bushkin for "massive malpractice," seeking $16.6 million for a real estate investment gone sour. He eventually agreed to drop the suit after Bushkin turned over his stock in Carson's companies.
In Bushkin's retelling, he engineered almost all of Carson's business triumphs: Most notably he extricated Carson from his contract with NBC in 1979, then leveraged an offer from ABC into a new contract with NBC that paid the TV host $25 million a year (for three nights of work a week). The agreement gave Carson full control of The Tonight Show, as well as his own production company. Bushkin describes the event, with typical understatement, as "the biggest signing ceremony since the Japanese met General Douglas MacArthur on the deck of the USS Missouri."
You come to a memoir like this for the stories, not the storytelling, which is good, because "great writer" is not a blade on the Bushkin Swiss Army knife. Anecdotes are repeated, characters are introduced and reintroduced, and the book's prose is overburdened with sunbleached Damon Runyonesque clunkers. Describing a Playboy model whom Carson briefly dated, Bushkin writes she was "a slinky blonde for whom the word nubile was invented and for whom clothing wasn't."
The book bears effective witness to a swinging era when celebrities were "entertainers," the highball glass was never empty, there were only three channels on TV, and Carson was its king. But having declared his allegiances (or lack thereof) early on, Bushkin outs himself as an unreliable and deeply wounded narrator. He's not helped by suspiciously purple reconstructed dialogue (is it possible Carson once uttered the words, "If a doctor opened up my chest right now, he couldn't find a heart or any goddamned thing. Just a lot of misery"?) and dubious feats of superhuman recall, such as the book's account of an A-list party 35 years ago at which Sean Connery "interrupted his sotto voce discussion with Michael Caine to ask a waiter to bring him a fresh Scotch."
The scene at the party opens the book. In it, Bushkin hugs the wall waiting on Carson, his role bitterly recounted as "to stand back and smile and make small talk, although not much and only when spoken to." He goes on: "I was a functionary not much different from the waiters carrying trays around the living room." With Johnny Carson, the functionary proves he learned a few of his old master's nastiest tricks.
Before it's here, it's on the Bloomberg Terminal.
LEARN MORE