Australian Jobless Rate Unexpectedly Declines in September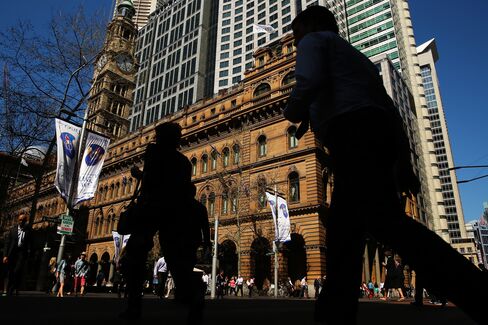 Australia's unemployment rate unexpectedly declined in September, adding to evidence a two-year interest rate cutting cycle is boosting demand.
The jobless rate dropped to 5.6 percent from 5.8 percent, the statistics bureau said in Sydney today. That compares with the median estimate for unemployment to hold steady in a Bloomberg News survey of 26 economists. The number of people employed advanced by 9,100.
Central bank Governor Glenn Stevens reduced the overnight cash-rate target by 2.25 percentage points since late 2011 to a record-low 2.5 percent. The jobs data and improved confidence are a boost for Tony Abbott's coalition, which won office Sept. 7 pledging to lower taxes and cut red tape to spur the $1.5 trillion economy as a China-led mining investment boom crests.
"It's back to the drawing board for the 'doom and gloom' school," said Craig James, a senior economist at a unit of Commonwealth Bank of Australia. "The chances of another rate cut this cycle continue to recede. The main hope of another rate cut lies with an exceptionally strong Aussie dollar."
The Australian dollar climbed after the report before trading little changed at 94.29 U.S. cents at 12:15 p.m. in Sydney. Traders are pricing in just a 20 percent chance of a rate cut this year, data compiled by Bloomberg show.
Job Gains
The number of full-time jobs advanced by 5,000 in September, and part-time employment rose by 4,100, today's report showed. Australia's participation rate, a measure of the labor force in proportion to the population, dropped to 64.9 percent in September from 65 percent a month earlier, it showed.
A private report this week showed business confidence surged in September to the highest level in 3 1/2 years after the federal election ended a hung parliament and as low rates spur sentiment.
Home prices in Australia's biggest cities rose 3.7 percent in the three months through September, according to the RP Data-Rismark Home Value Index.
Sydney will lead a jump in home prices as demand driven by low rates meets a lack of supply, SQM Research Pty estimated. Prices across major cities may rise as much as 11 percent on average in 2014 in SQM's base-case scenario, which assumes no more than one 25 basis-point Reserve Bank of Australia rate cut, it said.
Checkout Jobs
Coles supermarkets will create 4,300 jobs in Australia this fiscal year as part of an investment of more than A$300 million in around 150 new and improved supermarkets, liquor and Coles Express stores across the nation, the company said in a Sept. 3 statement. About 1,000 will be in Queensland, more than 1,000 in New South Wales, more than 1,200 in Victoria, about 500 in South Australia and more than 400 in Western Australia.
Woolworths Ltd., Australia's largest retailer, is also building up its new Masters hardware chain with Lowe's Cos.
Ten liquefied natural gas projects across the nation -- three of which are operating and seven under construction -- will boost budget revenues by A$11 billion ($10.4 billion) a year from 2015 to 2025, according to estimates compiled by McKinsey & Co. Inc. The projects will add 2.6 percent to Australia's gross domestic product, or A$5,500 per household each year and support 180,000 jobs, the New York-based consultancy forecast.
Today's report showed the main job gains recorded in September were in the resource-rich states of Queensland and Western Australia, adding 16,500 and 12,400 respectively. The biggest losses were in the most populous states of New South Wales and Victoria, shedding 22,300 and 6,700.
Before it's here, it's on the Bloomberg Terminal.
LEARN MORE