Shots Fired as Fireball Challenges Jägermeister's 1.5-Ounce Supremacy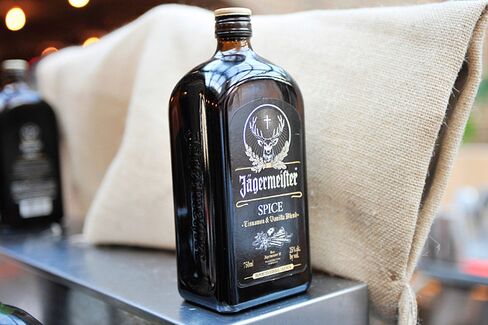 Kate Mara, one of the stars of the Netflix series House Of Cards, was there in leather pants to lend the party at the Refinery Hotel in Manhattan a touch of Hollywood glamour. Questlove, the erudite drummer for The Roots, the house band on Late Night With Jimmy Fallon, was on DJ duty to imbue the rooftop affair with street credibility.
The gathering earlier this month was a celebration of the American debut of Jägermeister Spice, the brand's first spin-off in 80 years. The original 70-proof digestif from Germany is best known as the beverage of choice for people who wish to render themselves stumble-drunk, no matter what the morning-after consequences. Mara remained sober enough to speak lucidly to the Wall Street Journal about her show and the future of television. "Mara believes the on-demand medium will only get more popular," the newspaper reported. But presumably some of the guests that night rose to the occasion with the appropriate Jäger-inspired rowdiness for Questlove at the turntables.
The folks behind Jägermeister need something to demonstrate the power of the brand. Jäger doesn't own what people in the spirits industry refer to as the "shot segment" like it once did. This is what Shanken News Daily, a trade publication, had to say about the brand's quandary:
According to Impact Databank, Jägermeister hit a peak of 2.9 million cases in the U.S. in 2008, boosted by its positioning as a favorite for the on-premise shot occasion. But the brand has since lost ground, declining 3.2% last year to 2.45 million cases, as competitors like Sazerac's Fireball have emerged in the shot segment. Fireball jumped by 80% to 810,000 cases last year.
To hear Sazerac tell it, the marketing of a shot favorite has become more science than art. "We don't go into bars and hire girls and force people to take a shot," Sazerac spokesman Steve Schmitz said earlier this year. "What we have been doing is pushing engagement with people in the industry, particularly bartenders."
It's unclear whether Jägermeister has been making any unfortunate tavern goers imbibe free shots against their will. Sidney Frank Importing, which has long been the brand's exclusive representative in the U.S., has responded to its competitors by introducing the Shotmeister, described by Shanken News as "a single-bottle tap machine intended to bring Jäger's 'ice cold shot' experience to the off-premise."
May the best shots win. And, customers, don't forget your ibuprofen.
Before it's here, it's on the Bloomberg Terminal.
LEARN MORE