KFC's Big Bucket of Problems in China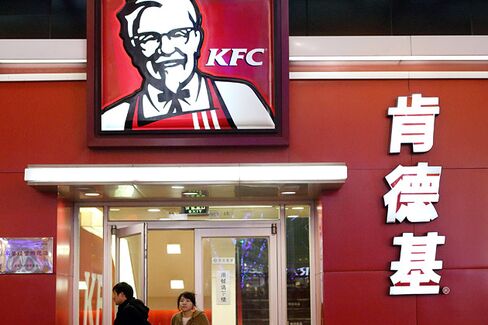 KFC was optimistic this summer that the decline in its China sales would soon reverse. It now appears things aren't going as well as expected. KFC's same store sales in China fell again in September, this time by 13 percent, prolonging the negative trend that's plagued the chicken chain all year.
"We had very high expectations for the month of September," said Yum! Brands Chief Financial Officer Patrick Grismer during Wednesday's earnings call. "The fact is that we expected a much better result, and in hindsight, we were wrong."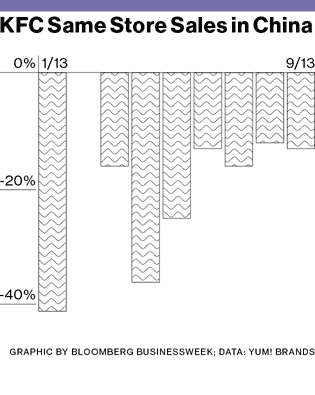 Chinese consumers remain worried about food safety, and competing chains are gaining ground. KFC's China sales plummeted after
CCTV reported in December
that one of its suppliers was selling chicken that had been given unapproved antibiotics and hormones. Then bird flu broke out in March. By mid-year, KFC's declines were slowing and Chief Executive Officer David Novak expressed confidence that sales would turn positive in the fourth quarter. "The trend is in the right direction," a spokesman told
Bloomberg Businessweek
in July. But losses have remained steady.
KFC also faces heightened competition from fast food chains such as Dicos and Hua Lai Shi, but Novak said in a statement: "KFC is unquestionably the category leader in China and we remain confident sales will fully recover from the adverse publicity surrounding the December poultry supply incident."
Globally, Yum's profit was down 68 percent in the third quarter. Despite a difficult year, the company continues to open additional restaurants in China, where it generates more than half its revenues. "China is undeniably the No. 1 retail opportunity in the world," Novak said during Wednesday's earnings call. There are 4,463 KFC restaurants in China, up 10 percent from a year ago.
Before it's here, it's on the Bloomberg Terminal.
LEARN MORE