Icelanders Run Out of Cash to Repay Foreign Debts: Nordic Credit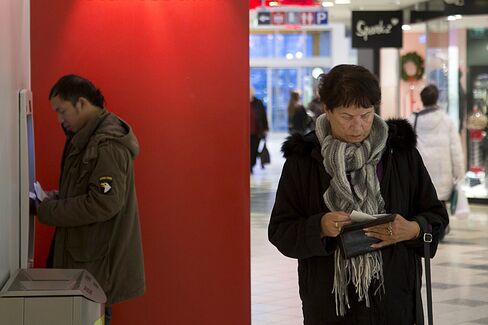 Iceland's private sector is running out of cash to repay its foreign currency debt, according to the nation's central bank.
Non-krona debt owed by entities besides the Treasury and the central bank due through 2018 totals about 700 billion kronur ($5.8 billion), the bank said yesterday. The projected current account surpluses over the next five years aren't estimated to reach even half of that and will equal a shortfall of about 20 percent of gross domestic product.
The nation faces a "repayment risk of foreign debt by private entities in the economy, who don't have access to foreign financial markets," Sigridur Benediktsdottir, head of financial stability at the Reykjavik-based central bank, said yesterday in an interview. "We view this as being exacerbated or made worse by the fact that our current account is actually declining."
Prime Minister Sigmundur David Gunnlaugsson has said Iceland's foreign exchange shortfall is "a matter of huge concern" as he tries to scale back currency controls in place since 2008. The government's biggest challenge is to allow capital to flow freely without triggering a krona sell-off that would cause Iceland's foreign debt to spike and undermine the nation's economic recovery.
The krona slid as much as 0.3 percent to 164.96 per euro, the lowest since March 12.
Dollar Bond
The yield on Iceland's 5.875 percent dollar $1 billion bond due May 2022 has soared this year to as high as 5.71 percent last month from a low in May of 3.81 percent. Its spread to the U.S. Treasury curve was little changed at 313 basis points today from a May 28 low of 210 basis points, according to data compiled by Bloomberg.
Foreign creditors hold about $7.2 billion that are trapped behind the controls Iceland designed to protect the $14 billion economy from capital flight in 2008. Gunnlaugsson has said he wants offshore bank creditors to accept writedowns on 461 billion kronur in claims to avoid a sell-off as soon as the restrictions are eased.
Iceland's plight in dealing with the unintended consequences of its capital restrictions shows how difficult it is to exit such a regime without putting an economy at risk. The central bank said yesterday that while the controls are still needed to protect the nation, their long-term effect risks distorting asset prices.
Still Helping
Kaupthing Bank hf, Glitnir Bank hf and Landsbanki Islands hf defaulted on a combined $85 billion in October 2008 after running out of cash to sustain their debt-funded expansions. The collapse plunged the economy into its worst recession in six decades, forcing the government to seek an International Monetary Fund bailout to stay afloat.
For now, the controls are still helping Iceland manage its debts by rationing payments. That means the largest foreign refinancing risk, which stems from repayments on two Landsbankinn hf bonds totaling 296 billion kronur, won't destabilize the economy.
"Repayment of this debt is currently under capital controls," said Benediktsdottir. "So we can use the capital controls to actually manage the outflow of those repayments. By doing so, we can keep both financial and currency stability."
Iceland's central bank left its main interest rate unchanged for a seventh consecutive meeting this month after cooling inflation by intervening in the currency market. The bank said in February it would start buying kronur to help fight consumer price gains and take pressure off interest rates.
"The unwinding of the old banks' estates is also a risk that we see as quite large and looming," said Benediktsdottir. "And we definitely feel that we need to have some solution to that risk before moving forward on lifting the capital controls."
Before it's here, it's on the Bloomberg Terminal.
LEARN MORE