Draghi's Next Move Seen Easing Liquidity as Rates on Hold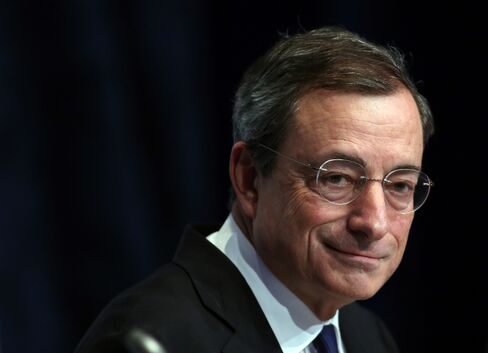 The European Central Bank's next monetary-policy move will be a non-standard one, economists say.
While almost three in four of them predict President Mario Draghi will unveil new liquidity measures such as longer-term refinancing operations, the majority of forecasters say interest rates will remain unchanged through the first half of 2015, according to separate surveys by Bloomberg News.
The ECB, which has kept its benchmark interest rate at a record low of 0.5 percent since May, is assessing its options for underpinning the euro area's nascent recovery as banks remain hesitant to lend. Draghi has fueled expectations of a fresh round of long-term loans by saying the ECB is "ready to act accordingly and as needed" to contain money-market rates.
"As long as soft indicators improve and hard data follows suit, there is no reason for the ECB to cut rates," said Carsten Brzeski, senior economist at ING Groep NV in Brussels. "A new LTRO could kill several birds with one stone: it could solve possible liquidity bottlenecks, could lower money-market rates and, above all, would help lock in market expectations."
In the survey of 43 economists on liquidity options, 74 percent said the ECB will unveil new measures, and 25 economists said a so-called long-term refinancing operation is a probable instrument. In a separate survey of 46 economists, 89 percent said the central bank's benchmark interest rate will stay at the current level, with the rest saying it'll be cut by a quarter point.
Market Rates
"There are still many banks which would probably take advantage of more liquidity from the ECB," said Cyrus De La Rubia, chief economist at HSH Nordbank AG in Hamburg. While German and French banks are unlikely to take new long-term loans, financial institutions in debt-strapped countries are more prone to do so, he said.
The ECB has contained expectations for higher interest rates in part by pledging in July to keep borrowing costs low for an extended period, without specifying a time frame. The share of economists saying the measure has been effective so far increased to 68 percent from 48 percent last month, the survey shows.
The ECB's "monetary policy stance will remain accommodative for as long as necessary," the central bank said in its monthly bulletin published today, reiterating Draghi's forward guidance. This "continues to be based on an unchanged overall subdued outlook for inflation extending into the medium term, given the broad-based weakness in the economy and subdued monetary dynamics," it said.
Forward Guidance
The Bank of England left its benchmark interest rate at a record low of 0.5 percent today and kept its bond-buying program on hold at 375 billion pounds ($598 billion) as the U.K.'s economic recovery showed signs of building momentum. The BOE introduced forward guidance in August, saying it will keep borrowing costs on hold until late 2016.
In the euro area, the overnight rate that banks expect to charge each other by the ECB's September 2014 meeting, as measured by Eonia forward contracts, was at 0.25 percent at 4:20 p.m. in Frankfurt. That's below the levels of more than 0.3 percent in late June that triggered the unprecedented forward guidance.
Market rates may come under upward pressure again as banks return money borrowed from the ECB in three-year loans issued in late 2011 and early 2012, when the region faced a cash crunch. Excess liquidity has dwindled to 222 billion euros ($300 billion) this week from 590 billion euros when banks were allowed to start making early repayments at the end of January.
Third LTRO
"A third LTRO is not out of question," said Christopher Matthies, an analyst at Sparkasse Suedholstein in Neumuenster, Germany. "We consider it to be more likely than an interest-rate cut at this point."
Draghi has asked a technical committee to study options for new bank funding measures and examine the size and maturity of new operations, as well as other instruments, two euro-region central bank officials said last week. The officials asked not to be identified because the information is confidential. The ECB's Governing Council holds its next policy meeting on Nov. 7.
'Ongoing Discussion'
ECB Executive Board member Benoit Coeure said in Geneva yesterday that the debate on further long-term loans isn't a pressing one.
It "is an important discussion to have to prepare in case we would see money-market rates being too volatile or moving toward levels not being consistent with our forward guidance," he said. "As long as money-market rates aren't moving, I don't see a need to act. So it's an important discussion, it's an ongoing discussion on the Governing Council, but it's not an urgent discussion."
Draghi has said data confirm the picture of "gradual improvement from low levels" in the euro-area economy after it emerged from a record six quarters of contraction in the three months ended June.
Inflation was at 1.1 percent in September, compared with 2.6 percent a year ago, and is predicted by the ECB to average 1.5 percent in 2013 and 1.3 percent in 2014. The central bank aims to keep annual consumer-price gains just below 2 percent.
More than 80 percent of the economists surveyed said slower inflation doesn't warrant a cut in interest rates. Those who would like to see lower borrowing costs are roughly split over whether the move should happen in November or December.
Frederik Ducrozet, an economist at Credit Agricole SA in Paris, said that while policy makers should "in theory" reduce the key rate, "the ECB is unlikely to deliver as long as the economy improves and inflation bottoms out."