Will Migrant Workers Drive Bitcoin's Mundane Future?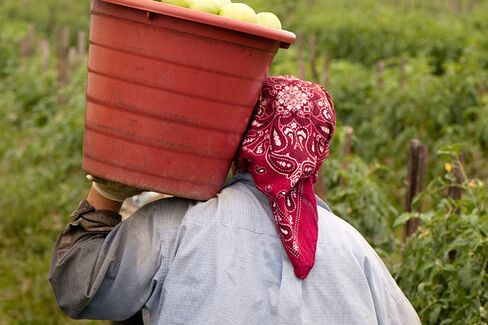 A certain seediness seems to be a necessary element in getting people's juices flowing about virtual currencies: speculative fervor, some international crooks, the Winklevii, the demise of sprawling online black market fueled by Bitcoin transactions. But the future of these "math-based currencies" is more likely to hinge on more mundane questions like: Is this a good way to send money back home to my family?
Several companies have determined that the biggest opportunity to prove their worth is in the decidedly boring race to help emigres handle remittances, a global market expected to total $550 billion this year, according to the World Bank. One startup with its own virtual currency, Ripple Labs, said on Monday that it would begin transferring cash into its network at the hundreds of thousands of convenience stores, pharmacies, and other businesses around the world where ZipZap payments are accepted. ZipZap, which is accepted in about 700,000 locations worldwide, is currently used as a way to pay cash for online purchases. Any pair of people with Ripple Labs accounts can now use the software to move money in what could be Ripple's first step toward cracking the global remittance market.
Getting into remittances would be a big prize—one eyed by Bitcoin startups as well. The average fee on remittances is 9 percent of the transaction cost, and some banks charge additional "lifting" fees of up to 5 percent when someone wants to turn the remittance into cash. ZipZap, on the other hand, has a flat fee of $3.95 to send up to $500 in cash.
Sitting in the middle of money transmissions is a lucrative business. Western Union brought in $4.6 billion in transaction fees charged to consumers last year and almost $1 billion further in foreign-exchange revenue from its consumer business. The company enjoys net profit margins of about 16 percent, making it a target that appears ripe for disruption by virtual-currency competitors able to remove the steps at which intermediaries take their cut.
It's too early to tell whether the upstarts can make it. Ripple and ZipZap have an obvious hurdle to overcome before they'll disrupt much of anything: There's no easy way for someone on the receiving end to turn a virtual payment into real-world currency. "Before you have cash-out you have to have cash-in, so we have to work in chronological order," says Alan Safahi, ZipZap's chief executive officer. Recipients will need a Ripple account before they could accept a ZipZap remittance; right now there are only about 27,000 Ripple accounts in the world.
Bitcoin's user base is much bigger. Still, selling people on the appeals of virtual currencies is the same challenge faced by a few startups that want to use Bitcoin for remittances. Bitcoin exchanges already allow people to turn the currency into various local currencies, and such countries as China and Argentina are developing healthy exchange markets. But many of the countries counted among the largest recipients of remittances don't have enough people using Bitcoins to make this process reliable.
Buttercoin, a startup backed by Google Ventures and Y Combinator, believes a quicker path to relevance is to relegate Bitcoin to a behind-the-scenes role. The company is working with licensed money transmitters in several countries to establish software systems in which currencies can be automatically converted—first into Bitcoin, then into another currency. Buttercoin will focus on a few markets at first, such as the $3.4 billion in annual remittances sent from from Canada to India. The company says it will take a commission of less than 1 percent.
A major appeal of the system is that users won't necessarily know they are using Bitcoin—or even have heard of it. "The migrant workers who are using the system may not know what Bitcoin is, but they are going to use it," says Cedric Dahl, Buttercoin's CEO. "We're giving the world a reason to care."
Before it's here, it's on the Bloomberg Terminal.
LEARN MORE