Indian Stocks, Bonds Gain as RBI Eases Liquidity; Banks Advance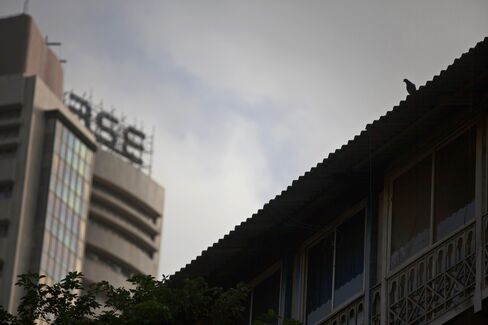 Indian stocks climbed to a two-week high and bonds advanced the most in a month after the central bank relaxed liquidity curbs.
Yes Bank Ltd. jumped 4.3 percent, helping a measure of lenders to its first gain in three days. Engineering company Larsen & Toubro Ltd. rallied 2.4 percent, sending the S&P BSE Capital Goods Index to a three-week high. Tata Motors Ltd., the owner of Jaguar Land Rover, climbed to a record. Real-estate developer DB Realty Ltd. rallied to a three-month high.
The S&P BSE Sensex increased 0.4 percent to 19,983.61, the highest close since Sept. 20, amid volumes that were 31 percent less than the 30-day average. Reserve Bank of India Governor Raghuram Rajan rolled back an emergency step taken to shore up the currency, cutting the marginal standing facility rate to 9 percent from 9.5 percent after the rupee jumped from a record low in August. He raised the benchmark repurchase rate last month to fight elevated inflation.
"The move signals a shift in monetary policy back to normal, which is comforting market sentiment," U.R. Bhat, the Mumbai-based managing director of Dalton Capital Advisors India Pvt., a unit of U.K.-based Dalton Strategic Partnership LLP, said by phone. "Now that the rupee has stabilized, fighting inflation will continue at a normal platform. We can expect a halt of further increases in interest rates."
Yes Bank was the top performer today in the S&P BSE Bankex Index, which rose 0.7 percent, ending a two-day decline. ICICI Bank Ltd. surged 2.3 percent, the first gain in three days.
Larsen & Toubro rallied to 828.4 rupees and Tata Motors climbed to 350.55 rupees, a record. The BSE Capital Goods Index jumped 1.3 percent, the highest close since Sept. 19. DB Realty surged 8.5 percent to 61.65 rupees, the highest since June 21.
Liquidity Support
The yield on the 7.16 percent government notes due May 2023 slid 19 basis points, or 0.19 percentage point, to 8.50 percent, according to the central bank's trading system. That was the biggest drop since Sept. 4. The rupee was unchanged today at 61.7950 per dollar.
"The cost for cash will come down and that should help bonds in the short term," said Mohan Shenoi, head of treasury at Kotak Mahindra Bank Ltd. in Mumbai. "The move indicates the central bank will support cash in the system."
Rajan has said he plans a measured rollback of liquidity curbs imposed on the banking system, and offered concessional swaps for lenders' foreign-currency deposits and borrowings to encourage them to raise dollars, helping spur the currency's recent rally. The rupee has still lost about 16 percent in the past 12 months.
'Encourage Flows'
Rajan's predecessor Duvvuri Subbarao increased both the marginal standing facility and bank rates by 200 basis points in July to try and stem a decline in the rupee, which had been weighed down by a current-account deficit, inflation and the weakest economic growth in a decade.
Overseas funds bought a net $2 billion of local shares in September, the first monthly inflows since May, after Rajan announced plans to boost the rupee when he took charge on Sept. 4. Foreign investors bought a net $130 million of local stocks on Oct. 7, taking this year's purchases to $13.8 billion, data from the regulator showed yesterday.
"The easier monetary conditions should be well received by equities, potentially encouraging foreign inflows to the Sensex," Sean Callow, a senior currency strategist at Westpac Banking Corp. in Sydney, wrote in a research note today.
Infosys Ltd., India's second-largest software exporter, will be the first Sensex company due to post quarterly earnings on Oct. 11. Revenue growth for Sensex companies in the three months ended Sept. 30 will rebound sharply after falling for the last three quarters, Religare Capital Markets said in a note to clients yesterday.
Overnight Rate
The Sensex has risen 2.9 percent this year and is valued at 13.8 times projected 12-month profits, compared with the five-year average of 14.1 times. The MSCI Emerging Markets Index is trading at 10.5 times.
The overnight interbank borrowing rate declined 55 basis points to 8.95 percent, data compiled by Bloomberg show. One-year interest-rate swaps, derivative contracts used to guard against fluctuations in funding costs, dropped 24 basis points to 8.42 percent in the biggest decline since Sept. 19.
One-month onshore rupee forwards rose 0.1 percent to 62.40 per dollar, data compiled by Bloomberg show. Offshore non-deliverable contracts slid 0.1 percent to 62.47. Forwards are agreements to buy or sell assets at a set price and date. Non-deliverable contracts are settled in dollars.