Italy Said to Seek State Alitalia-Air France Deal Funding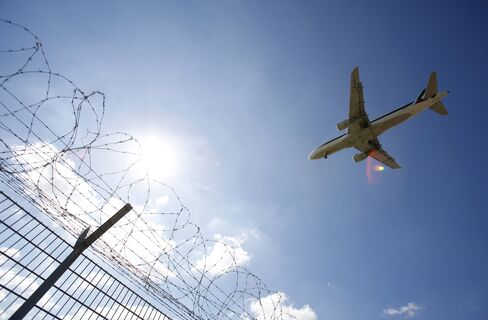 Italian Prime Minister Enrico Letta is pushing for a state-controlled company to invest in Alitalia SpA and ease a combination with Air France-KLM Group or another airline, according to four people with knowledge of the plan.
Letta met for a second day in Rome with Alitalia representatives, its investors and bankers, said the people, who asked not to be named because talks are private. Alitalia's board also gathered today to discuss the situation and plans another session on Oct. 10.
The carrier said in a statement after the board meeting that additional time is needed to define rescue measures and it's confident the financial condition will improve soon.
The government is also working to persuade existing shareholders to increase Alitalia's capital to avoid a liquidity crunch and make the company more appealing to a partner, said the people. Air France-KLM, which has held a 25 percent stake in Alitalia since 2009, would end up with a stake of about 49 percent after a capital increase, two people said.
"As a shareholder I can tell you that I hope the government can find a solution and it can be found soon," said Cosimo Carbonelli d'Angelo, an Alitalia director and investor.
Italy's aviation regulator is evaluating Alitalia's financial viability and plans to meet with company management in coming days, said a spokeswoman for Enac, the Rome-based agency.
Cash Dwindled
The Italian carrier is seeking an injection of at least 100 million euros ($136 million) after the first-half net loss swelled and cash dwindled. Alitalia's priority is to resolve its cash issue with new financing and a capital increase before combining with an international player, the people said.
"I'm sure that Alitalia can't go it alone," Letta said Oct. 6 in an interview televised on SkyTG24. "Italy doesn't have the size for a global flagship. We have to integrate with others."
A spokeswoman for Letta and an Alitalia representative declined to comment. Jean-Charles Trehan, a spokesman at Air France, had no comment.
Letta had already met with senior management of Alitalia last week to discuss how to avert a collapse of the airline, two people familiar with the gathering said at the time.
Air France is under pressure itself to cut costs, and its French subsidiary plans to eliminate 1,826 ground staff jobs through voluntary employee departures to address weaker demand.
The French carrier may explore a partnership with another airline to help shoulder its investment in Alitalia.
Etihad, the third-biggest Gulf carrier, has been an ally of Air France since a pact in 2012, and may be a potential Alitalia investor after taking stakes in European operators including Air Berlin Plc and Aer Lingus Group Plc. A tie-up would enhance Italy's connections with Asia via Abu Dhabi, complementing links to the west through Air France-KLM bases in Paris and Amsterdam.