Starbucks Launches Donut-Muffin, Yet Another Pastry for the Indecisive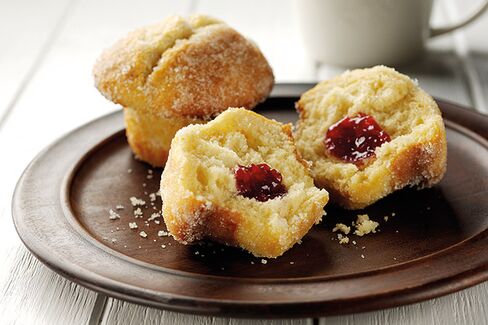 There's nothing like the harmonious intermarriage of baked goods. New York's cronut has become an international hit, spawning copycats around the globe. Now Starbucks UK has introduced its own Franken-pastry: the duffin, part donut, part muffin.
The coffee chain launched the duffin in 730 U.K. stores last Thursday, along with other new baked goods, sandwiches, soups, and salads. (In the U.S., the company has also been rolling out new baked goods under the name La Boulange.) This is no test run. Starbucks is so certain customers will embrace the duffin that it made it a permanent menu item, right out of the gate.
The duffin uses a buttermilk base, and tastes like a moist, cakey muffin, not the coarse, bready type. It looks like a muffin, but it's filled with raspberry jam and coated in sugar, like a jelly doughnut. Eating a duffin is incredibly messy and not for those too dignified to wipe or lick clumps of sugar crystals off their fingers.
"The Duffin follows a recent fusion trend of combining two bakery items into one hybrid," explains Ian Cranna, vice president of marketing & category for Starbucks UK in an e-mail. "Since launching the Starbucks Duffin we have discovered that there are lots of other Duffins out there."
So, duffin or cronut? For those counting every last calorie, the duffin (PDF), with 460 calories and 22.3 grams of fat, is a marginally better choice than the croissant-donut hybrid, which has an estimated 510 calories and 35 grams of fat. Add a burger, and all bets are off.
Before it's here, it's on the Bloomberg Terminal.
LEARN MORE