Shutdown Hinders Talks on Trade Deals, U.S. Official Says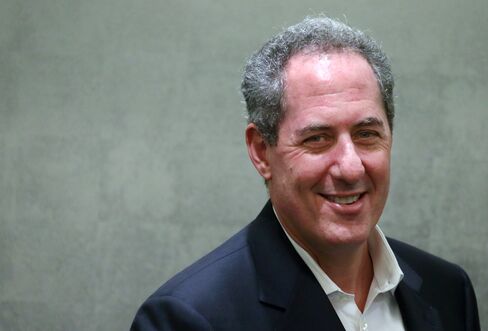 The partial U.S. government shutdown is hindering efforts to negotiate trade deals and has put export promotion on hold, "hurting the American economy and the creation of American jobs," the top U.S. trade official said.
"We've had to pull back on our negotiations, we've had to stop some of our enforcement efforts, we're not able to monitor a lot of our existing agreements," U.S. Trade Representative Michael Froman said in an interview yesterday with Bloomberg Television at the Asia-Pacific Economic Cooperation summit in Bali, Indonesia.
President Barack Obama was to lead talks this week at the APEC summit with the presidents of 12 nations negotiating a Trans-Pacific Partnership trade agreement that the U.S. wants to complete this year. Instead, he canceled his trip in order to seek an end to the impasse with Republicans in Congress who demand changes to Obama's health insurance legislation before approving a budget to keep the U.S. government operating.
Froman, who is leading U.S. trade talks at the APEC forum in Obama's absence, is pursuing multiple accords in Asia and Europe to meet the president's goal of boosting exports to $3.14 trillion by 2014, double the value when he took office in 2009. APEC member states are seeking to boost their economies via new markets for goods and services as an uneven global recovery and volatility in financial markets constrain growth.
The partial shutdown is hindering efforts to complete negotiations on the Pacific-region deal by the end of the year and make progress on trans-Atlantic trade talks, Froman said.
EU Talks
The furlough of government workers means U.S. trade negotiators were forced to pull out of planned talks with the 28-nation European Union that were supposed to begin today in Brussels. In myriad ways, Froman said, the shutdown is bad for American business and workers.
The so-called pivot to Asia has been a theme of the Obama administration's foreign policy, and the president's absence from the summit is conspicuous as China seeks to exert its influence in the region.
Global growth will probably be slower and less balanced than desired, as the world economy is too weak and "risks remain tilted to the downside," trade and foreign ministers from the 21-member APEC grouping said yesterday in a statement.
A slowdown in China and India is reverberating across the region with the Asian Development Bank forecasting expansion at a four-year low in 2013, putting pressure on policy makers to bolster their economies. The Group of 20 countries repeated their concern last month that stimulus pullback in developed nations may prove damaging to global markets.
China's Role
Asked if he sees China seeking to take advantage of Obama's inability to attend by building support for its own regional economic bloc, made up of the 10 members of the Association of Southeast Asian Nations and six partners, Froman said he doesn't see the other group as a rival. There are many "complementary" efforts under way in the region that all aim at trade liberalization and greater integration, he said.
The dozen nations negotiating the U.S.-led Trans-Pacific Partnership have had "positive momentum" at talks in Bali over the last week, though work remains to be done, Froman said, declining to discuss specifics.
He called the president's target to come to an agreement this year an "ambitious timetable," though he believes "it's do-able" given the commitment this week from all partners to reaching an accord.
TPP Nations
The nations negotiating the TPP with the U.S. are Australia, Brunei, Canada, Chile, Japan, Malaysia, Mexico, New Zealand, Peru, Singapore and Vietnam. Covering an area with a combined annual economic output of about $28 trillion, it would be the largest U.S. trade deal. It would be eclipsed by the accord under negotiation with the EU if those talks -- put on hold by the partial shutdown -- are successful.
The TPP would also be sweeping in scope, addressing goods and services including agriculture, autos, insurance, Internet commerce, intellectual property rights for pharmaceutical products and protections for businesses that compete against government-backed corporations.
All the TPP countries are members of APEC, set up in 1989 to advance free trade and investment in an area that accounts for half of the world's total gross domestic product and 45 percent of global commerce. China, the second-biggest economy among APEC members, isn't a member of the TPP talks.
Samsung-Apple Dispute
APEC ministers said they will recommend that their leaders extend through the end of 2016 a commitment to combat protectionist measures and roll back such policies that exist.
On one current trade dispute -- an import ban affecting some Samsung Electronics Co. products for infringing Apple Inc. patents -- Froman said that he hasn't made a final decision on whether the South Korean company may get a reprieve. A decision is due Oct. 8.
Asked about Samsung's statements that not lifting the ban would give the impression of favoritism or protectionism for U.S. companies, Froman said he had made "absolutely clear" to the South Korean government as well as to Samsung that decisions have "nothing, zero, to do with the nationality of the parties involved." The decisions are made based on "policy judgments" over patents and "the appropriate use of exclusion orders in these cases," he said.
Cupertino, California-based Apple and Suwon, South Korea-based Samsung have filed patent cases against each another. Apple won a presidential reprieve in August from an order that Samsung had won through a U.S. trade agency limiting American imports of some Apple smartphones and tablet computers.
Before it's here, it's on the Bloomberg Terminal.
LEARN MORE