Five Reasons Republicans Think They're Winning the Shutdown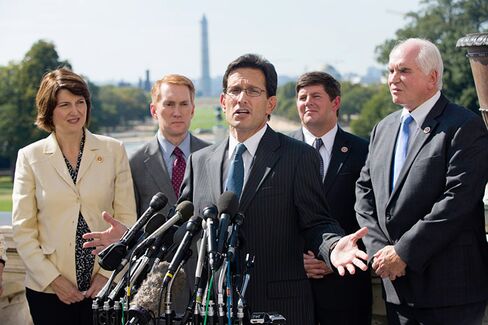 Until minutes before the clock struck midnight on Monday, it looked as if House Republicans might lose their nerve and pass a clean continuing resolution to avert a shutdown. Such was the pressure from such moderate Republican representatives as Pete King of New York and Devin Nunes of California, some not-so-moderate Republicans too afraid to speak out publicly, and Republican pundits who recognized that the party has no strategy for victory. In the end, House Speaker John Boehner (R-Ohio) and his caucus went ahead and jumped. So far, they've survived.
It may well be that this is a Wile E. Coyote moment, the kind that ends with a precipitous plunge to the bottom of the canyon. But it's clear that the swift, severe blowback from voters that might have chastened Republicans and forced a hasty retreat hasn't materialized. During August, I spent a lot of time with the Republican hardliners who forced the shutdown. I checked back with some of them on Monday and Tuesday to get their take as to how things are going.
They're in good spirits. Here are five reasons I heard for why they think they're winning this standoff:
1. Markets have remained calm. As clocks ticked toward shutdown, there was some trepidation that the stock market might plunge on Tuesday morning, as it did after the House rejected the first TARP vote back in 2008. Instead the Dow Jones industrial average rose 62 points.
2. They're getting "messaging wins" against Democrats. While the shutdown is ostensibly over the GOP's demand to delay Obamacare, the Republican House has forced a series of votes—such as today's to restore veterans' benefits—that are uncomfortable for Democrats because they can't do the politically popular thing and vote "yes" without undermining their party's imperative to hold firm.
3. Harry Reid can't help himself. On Wednesday, the Senate Majority Leader, who is a notoriously clumsy and undisciplined speaker, seemed to callously dismiss the plight of some children who are being denied cancer treatment at the National Institutes for Health while the government is shut down. You can watch the clip here.
4. Obamacare is off to a rocky start. On Tuesday, the health-care exchanges that allow people to sign up for insurance were officially unveiled—and promptly crashed. There still appear to be major technical problems days later. Ironically, news of the shutdown itself overshadowed these snafus, which is probably a break for the White House. But given how this whole mess was driven by Republicans' insistence that Obamacare would be a disaster, they are encouraged to see this trouble.
5. Obama looks nervous. This one's a matter of interpretation, as several of the conservatives I spoke with willingly conceded. But they took the president's interview with the New York Times' John Harwood, in which Obama warned that Wall Street should not be complacent about the prospect of default, as an attempt to spook the markets. (I kind of did, too.) Obama would do this, they believe, only if he was getting nervous. On Thursday, the Dow Jones industrial average fell 137 points.
Before it's here, it's on the Bloomberg Terminal.
LEARN MORE