U.S. Capitol Lockdown Ends as Police Shoot Female Suspect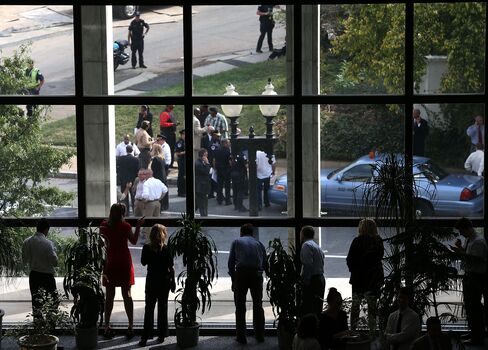 Oct. 3 (Bloomberg) -- The U.S. Capitol reopened after police shot and killed a female suspect who tried to breach a White House checkpoint today and led authorities on an almost two-mile car chase through downtown to the legislative complex.
The unidentified suspect was pronounced dead, according to Washington Metropolitan Police Chief Cathy Lanier, who declined to release any further information about the woman including whether she was armed. Two police officers were injured during the incident, one from the Secret Service and one from the U.S. Capitol Police, she said.
"This appears to be an isolated, singular matter with, at this point, no nexus to terrorism," Capitol Police Chief Kim Dine told reporters at a briefing tonight. A one-year-old child was in the suspect's car and taken to the hospital, he said.
The shooting prompted a lockdown of the Capitol and led the House and the Senate to go into recess. The incident began about 2:12 p.m., Secret Service spokesman Ed Donovan said, when the suspect tried to drive through an outer barricade on the White House grounds, about two miles (three kilometers) from the Capitol.
Officers from the Secret Service's uniformed division blocked the car at the White House, and a chase ensued through downtown streets toward the Capitol, Lanier said.
Officers tried to stop the suspect at Garfield circle, at the foot of the Capitol, Dine said. She continued driving, striking a police cruiser near First Street and Maryland Avenue on Capitol Hill. The chase ended about a block away, Dine said, near two buildings where many senators have offices.
Shots Fired
Shots were fired in at least two locations during the chase, Lanier said, adding that security perimeters near the White House and congressional buildings worked.
Lanier didn't describe the relationship of the child in the car to the suspect. The child is in protective custody, she said.
A Capitol Police officer was injured when his vehicle struck a barricade, Dine told reporters. He was taken to MedStar Washington Hospital Center and is in good condition, according to hospital spokeswoman So Young Pak.
The unidentified officer, a 23-year veteran of the Capitol Police force, is "doing fine," Dine said.
Senate Majority Leader Harry Reid, a Nevada Democrat, spoke with the officer by phone, according to spokesman Adam Jentleson. Reid said he "appreciated the bravery and dedication of the officer and his colleagues," Jentleson said.
President Barack Obama was briefed on the incident and his staff was in touch with law-enforcement authorities, according to a White House official who asked for anonymity.
Blumenthal 'Shaken'
FBI agents were responding, according to Jacqueline Maguire, a spokesman for the FBI field office in Washington. She said she had no further information at this time.
Senator Richard Blumenthal, a Connecticut Democrat, said he was on the Senate floor when he heard about the gunfire. He said he was "shaken" by the news and immediately called his wife.
"Hopefully, it was an isolated incident," said Blumenthal, a leading advocate in Congress for strengthening gun regulations. He represents Newtown, where 20 children and six adults were shot to death at an elementary school in December.
The Capitol shooting startled office workers and tourists in an area of Washington that has been under heavy security since the terrorist attacks of Sept. 11, 2001. It took place less than three weeks after a gunman killed 12 people in on a shooting rampage at the Washington Navy Yard, a military facility about a mile south of the Capitol.
'Very Scared'
Ibrahima Bangoura, 43, was standing in front of the west lawn of the Capitol when he saw the police chase and heard seven to eight gunshots fired. He saw a black sedan being chased by five police cars with sirens blaring. He heard what sounded like a car crash at 1st and Constitution streets, followed by the sounds of "pop, pop, pop," he said.
"People were running away from the gunshots," said Bangoura, who lives in Bowie, Maryland.
"I was very scared," he said in an interview. "I thought somebody was attacking. I saw some people dropping down on the ground."
A video of the chase aired by CNN showed a black vehicle being pursued by police cruisers, and several shots could be heard in the background.
The incident interrupted efforts to resolve the dispute over stopgap spending that earlier this week resulted in the first partial government shutdown in 17 years. Capitol police told staff members to "shelter in place." The House reconvened later in the day.
Remove Pin
An hour after the incident ended, nearby streets were blocked by yellow hazard tape and more than a dozen police vehicles.
Democratic Representative Juan Vargas of California was walking to the Capitol when he heard the sound of pops. A Capitol Police officer rushed at him, telling him to take off his pin identifying him as a congressman because he might be a target.
Bill Snyder and his twin brother Bob, both of Nebraska, were among tourists redirected around a blocked-off Capitol building at Constitution and Delaware avenues.
Looking down the block to the line of flashing police lights between themselves in the direction of the National Mall, they said they came to Washington this week to celebrate their 58th birthday, lured by low round-trip air fares as tourism dried up in advance of the government shutdown.
The brothers said they got more than they bargained for, even with tourist destinations shuttered.
"We'll remember we were here with all this," said Bob Snyder, who lives outside Omaha. "We only got to visit outside the bottom of the stairs of the Lincoln Memorial, couldn't get into the Smithsonian Museum either because of the shutdown, now this. We'll be talking about it for years."
To contact the reporters on this story: Kathleen Hunter in Washington at khunter9@bloomberg.net; Phil Mattingly in Washington at pmattingly@bloomberg.net; Derek Wallbank in Washington at dwallbank@bloomberg.net
To contact the editor responsible for this story: Jodi Schneider at jschneider50@bloomberg.net