The Trouble With Fed Transparency
Linking policy to specific jobless numbers confuses investors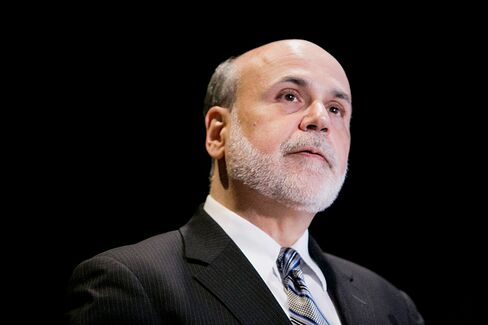 Federal Reserve Chairman Ben Bernanke wants to bring transparency to central banking, so investors will get clear signals of what the Fed plans to do and when it plans to do it.
Tying the central bank's policy decisions to unemployment rates is one example of the doctrine at work. Fed policymakers pledged in December that they wouldn't consider a rate hike as long as unemployment exceeded 6.5 percent. Bernanke said in June he expected the Fed would end its bond buying—which channels money to banks so they can lend—when joblessness reached 7 percent.
Such openness has put the Fed in a corner. The jobless rate in August declined to 7.3 percent, but that number is dropping fast for the wrong reason: Many Americans of working age have given up on finding employment and aren't counted in the statistics. The labor force participation rate is at its lowest level since 1978, so actual unemployment is higher than the published figure. The flawed measure and the Fed's response to it have created some confusion in the markets. Fed officials are trying to minimize the importance of the jobless rate as a benchmark without damaging their credibility, says Ethan Harris, co-head of global economics research at Bank of America Merrill Lynch in New York.
The Federal Open Market Committee's Sept. 18 decision not to start tapering its $85 billion in monthly bond buying surprised investors. "Picking the unemployment rate as the key growth-side indicator was a huge mistake," says Harris, one of the few economists to predict the Fed wouldn't taper. "It was supposed to be a marker that the average Joe could look at and say, 'Ah! OK, now we've hit a broad-based recovery.' Now they've almost immediately abandoned it."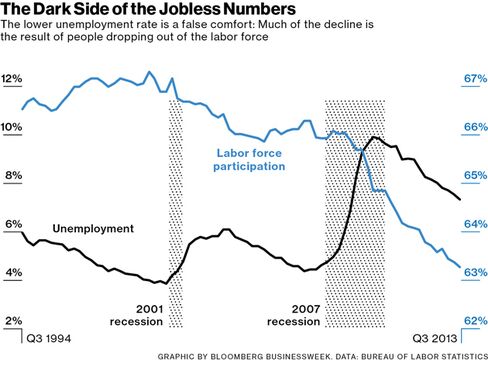 On Sept. 18, Bernanke downplayed the 7 percent threshold for tapering he gave in June, saying unemployment "is not necessarily a great measure" of the job market. He even suggested a 6.5 percent level for rate increases may be too high. "The committee would also take into account additional measures of labor-market conditions," Bernanke said. "The first increases in short-term rates might not occur until the unemployment rate is considerably below 6.5 percent."
The directives have misled investors and contributed to market volatility, says Bret Barker, a managing director in U.S. fixed income at asset manager TCW Group. He says the shrinking labor force was "always the problem" with measuring unemployment, yet the Fed tied its policies to the gauge anyway. "How credible is your forward guidance if you're telling us to watch these numbers, and then at the press conference you're telling us to discount them?" Barker asks. "The message of the Fed has been kind of muddled since May, and I don't think the meeting [on Sept. 18] helped clear that up at all."
Bernanke's introduction of the unemployment threshold in the December FOMC statement followed the Fed's adoption of a 2 percent inflation target in January 2012. The Fed has a dual mandate to pursue full employment and price stability. The Fed chief, whose term expires on Jan. 31, has run the most open central bank in its history, revealing officials' rate forecasts to increase the public's understanding of policy. The trouble is, says John Silvia, chief economist at Wells Fargo, "if you say, 'We're going to win the Super Bowl by 20 points,' and you win by 15, everybody is disappointed."
The FOMC may want to adjust its guidance on hikes in the cost of borrowing, says St. Louis Federal Reserve chief James Bullard. He suggests an inflation floor as an alternative to an even lower jobless rate as the signal for a rate hike. The Fed wouldn't raise rates "if inflation is below 1.5 percent," Bullard says. The central bank's preferred inflation gauge—the personal consumption expenditures price index—rose 1.2 percent in August from the year before.
Linking policy with the unemployment rate still appeals to some Fed officials. Fed Governor Jeremy Stein said on Sept. 26 that the central bank should tie the winding down of bond purchases even more closely to such data as joblessness. "My personal preference would be to make future step-downs a completely deterministic function of an … indicator such as the unemployment rate or cumulative payroll growth over some period," Stein said in a speech in Frankfurt, Germany. "For example, one could cut monthly purchases by a set amount for each further 10-basis-point decline in the unemployment rate." That would lock in predictability, as long as the Fed didn't start to waffle.
Before it's here, it's on the Bloomberg Terminal.
LEARN MORE