How Wired Is the World Today?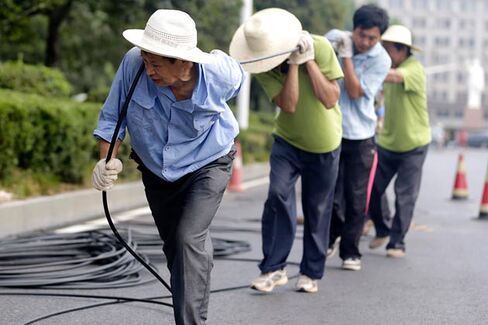 Last year, 96 percent of Icelanders used the Internet – making it the world's most Web-centric country, according to a new report (PDF) by the UN Broadband Commission. Norway, Sweden, Denmark, and the Netherlands rounded out the top five list, while the United States came in at 24th, with 81 percent of Americans using the Internet in 2012.
Meanwhile the greatest future growth in Internet penetration will be in developing countries. Just 42 percent of mainland Chinese used the Internet last year (73 percent of Hong Kongers did); as did 50 percent of Brazilians; 41 percent of South Africans; and 26 percent of Iranians; 16 percent of Mongolians; 12 percent of Indians; and 1 percent of Burmese.
In many developing countries, mobile broadband subscriptions now outpace fixed-line broadband subscriptions. For every 100 people in China, there are 13 fixed-line broadband connections, and 17 mobile broadband connections. For every 100 people in Brazil, 9 regularly connect to the Internet with PCs, while 37 regularly connect with smartphones or tablet computers. By the end of 2013, the U.N. report predicts that there will 2.1 billion mobile broadband connections globally.
Last year, China passed the U.S. as the world's largest smartphone market. The rapid rise of Internet-enabled mobile device in the world's second largest economy has already begun to reshape domestic markets, culture, and politics. Technology giants, including Apple and Samsung, now joust for market share in China with newer domestic rivals, including Xiaomi, which recently poached former Google executive Hugo Barra to steer the young company's international business development. Meanwhile Weixin, a social media app created by Tencent, is already the fifth most downloaded smartphone app in the world.
Before it's here, it's on the Bloomberg Terminal.
LEARN MORE