Who Advertises on Facebook's Mobile App? Other Apps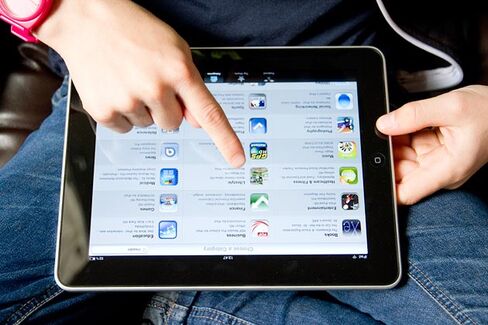 When Facebook was struggling to boost its business on smartphones last year, it began offering app developers a way to buy advertisements that appear only in users' mobile feeds and drive those who click straight into iTunes or Google Play to download the app. Attention-starved developers took to the idea, buying up mobile ads that helped salvage Facebook's reputation on Wall Street.
On Tuesday, Facebook said it would expand the program so developers can send users from a mobile ad directly to specific places inside an app. This allows advertisers to flag specific promotions or, even better for them, convince a Facebook user to purchase some piece of digital content.
Making these companies happy is important to Facebook, which learned the hard way how crucial mobile advertising can be. The social networking giant had no revenue from mobile until the second quarter of last year and suffered abuse on Wall Street for this shortcoming, prompting widespread skepticism about its business prospects. But the company recovered, and last quarter made $655 million from its mobile platform—about 41 percent of its overall advertising revenue. Facebook's stock is worth more than two and a half times what it commanded last October, when shares hit bottom.
Facebook turned out to be an important venue for app developers, who struggle to stand out among hundreds of thousands of competing apps. For these developers, buying advertisements in other apps is attractive because it can drive customers straight to a download screen. So-called cost-per-install ads now make up a significant proportion of activity on mobile advertising networks like MoPub and Flurry. Facebook counts about 8,400 developers using its ad program, including about half of the top-grossing apps in the Google and Apple app stores. Facebook's mobile platform has driven 145 million app downloads so far, according to the company.
So what's new in today's announcement? The ads Facebook sells right now are programmed not to appear in the feeds of people who have already downloaded a sponsor's app—because, well, mission accomplished. But that's not really the end of an app developer's interest in the social network's audience. In the app economy, one of the sure ways to make money is through in-app purchases, not from the initial download. These purchases can help users defeat a level in a game app, access additional content in a media app, or acquire physical goods in a retail app.
But only a tiny proportion of people who download any app ever pay for additional products sold through it. Most users open an app fewer than 10 times in total, according to a study by Localytics. If Facebook's mobile ads can push people into those abandoned apps on their phones and drive more in-app purchases, it will keep the developers happy and boost its bottom line in the process.
Before it's here, it's on the Bloomberg Terminal.
LEARN MORE