Shutdown Fails to Hurt Markets as Gauge Advances: Reality Check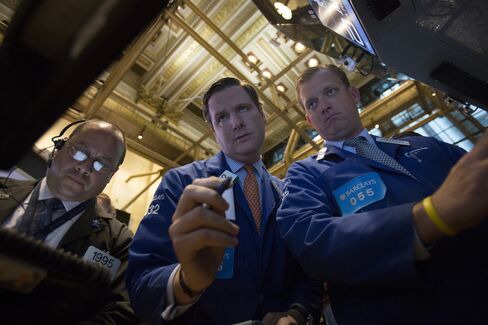 The first U.S. government shutdown in 17 years has done little to dent confidence in markets on speculation that the work stoppage will end in time for lawmakers to tackle the nation's debt limit.
The Bloomberg U.S. Financial Conditions Index rose for the first time in seven days, increasing 0.17 to 1.34. The gauge measures stress in the markets by combining everything from money-market rates to yields on government and corporate bonds to volatility in equities. During the debt-ceiling debate of August 2011, the index fell as low as negative 1.631.
While congressional leaders have scheduled no further negotiations on spending legislation that idled as many as 800,000 federal employees, they have more than two weeks left before the nation's borrowing capacity reaches its limit.
"People assume there will be some solution and they will figure it out at the last possible second, but the question is just when," said Dan Greenhaus, the chief global strategist at the broker-dealer BTIG LLC in New York. "There is still a lot of uncertainty to work through as the outcome of the debate is very uncertain."
The government's first partial shutdown since 1996 may cost the U.S. at least $300 million a day in lost economic output at the start, according to IHS Inc. Though that's a fraction of the country's $15.7 trillion economy, the effects may grow over time as consumers and businesses defer purchases and expansion plans.
Treasuries
The yield on the benchmark 10-year U.S. Treasury note rose 4 basis points, or 0.04 percentage point, to 2.65 percent at 5 p.m.in New York, according to Bloomberg Bond Trader prices. The yield is down from the high this year of 3 percent on Sept. 6 and compares with the average of 3.52 percent over the past decade.
Credit
A gauge of U.S. company credit risk fell. The Markit CDX North American Investment Grade Index, a credit-default swaps benchmark that investors use to hedge against losses or to speculate on creditworthiness, decreased 2.18 basis points to a mid-price of 79.73 basis points, according to prices compiled by Bloomberg. The index, which typically climbs as investor confidence in credit deteriorates and falls as it improves, has ranged over the past three months from as high as 86.5 on July 5 to as low as 69.76 on Sept. 18.
Currencies
The Bloomberg U.S. Dollar Index, which tracks the performance of a basket of 10 leading global currencies against the dollar, dropped 0.1 percent to 1,011.10 in New York. The index is has traded in a range of 1,008.4 and 1,054.48 the past three months. The greenback was little changed at $1.3526 per euro after depreciating to $1.3588, the weakest since Feb. 6. The yen gained 0.3 percent to 98 per dollar and climbed 0.3 percent to 132.55 per euro.
Stocks
The Standard & Poor's 500 rose 0.8 percent to 1,695 in New York, after falling yesterday for the seventh time in the past eight sessions. The Dow Jones Industrial Average gained 62.03 points, or 0.41 percent, to 15,191.70.
Volatility
The CBOE Volatility Index, or VIX, declined 6.39 percent to
15.54, below its high for the year of 20.49 in June and above the low of 11.3 in March. Volatility in Treasuries as measured by the Bank of America Merrill Lynch MOVE index rose to 87.37 today, compared with the average for the past year is 72.05.
Energy, Commodities
West Texas Intermediate crude oil for November delivery fell 29 cents to $102.04 a barrel on the New York Mercantile Exchange. WTI decreased 0.5 percent yesterday to the lowest close since July 3. The volume of all futures traded was about 33 percent below the 100-day average. Prices increased 6 percent last quarter.
Gold futures for December delivery fell 3.1 percent to $1,286 an ounce on the Comex, after touching $1,283.40, the lowest for a most-active contract since Aug. 8. Gold prices have tumbled 23 percent this year, heading for the first annual loss since 2000.
Copper futures for delivery in December lost 4.4 percent to $3.279 a pound on the Comex in New York.
Before it's here, it's on the Bloomberg Terminal.
LEARN MORE