Japan Manufacturer Confidence Highest Since Pre-Lehman: Economy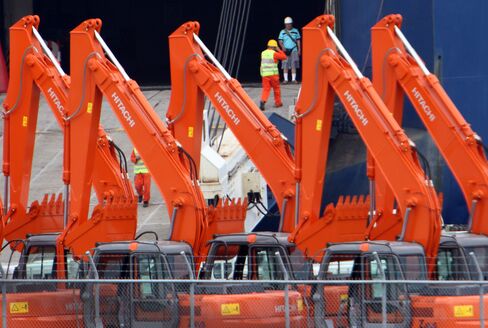 Oct. 1 (Bloomberg) -- Confidence among Japan's large manufacturers rose to the highest since the early stages of the global credit crisis in 2007, as Prime Minister Shinzo Abe readies steps to cushion the economy from a sales-tax increase.
The quarterly Tankan index for big manufacturers rose to 12 in September from 4 in June, the Bank of Japan said in Tokyo today. That exceeded the 7 median estimate of 30 economists surveyed by Bloomberg News.
The sentiment gain follows a 21-percent slide in the yen against the dollar in the past year that's made exporters from Toyota Motor Corp. to Panasonic Corp. more competitive. While Abe today is projected to confirm Japan will raise the sales tax to 8 percent from 5 percent in April, the ruling coalition is assembling stimulus steps including corporate-tax relief.
"The Tankan is a tailwind for the Abe administration and the plan to increase the sales tax," said Yoshimasa Maruyama, chief economist at Itochu Corp. in Tokyo. "The survey showed improvement across many sectors, both in manufacturing and non-manufacturing. The stronger-than-expected improvements in business confidence prove Japan is recovering."
The Topix index was up 0.7 percent at 11:08 a.m. in Tokyo, as the strong Tankan results countered concern about a potential shutdown in the U.S. government. The yen traded at 98.63 per dollar, down 0.4 percent.
Small Companies
The data add to evidence of strength in the world's third-largest economy after the government revised up second-quarter growth on Sept. 9. The Nikkei 225 Stock Average has climbed 40 percent this year, bolstering sentiment among companies and consumers.
While the survey showed smaller companies remain downbeat, many saw improvement from three months ago. The index for small manufacturers rose to minus 9 from minus 14. The index for small non-manufacturers increased to minus 1 from minus 4, the highest since 1992.
Businesses revised downward their capital expenditure plans for the fiscal year through April. Large companies across all industries projected on average a 5.1 percent increase in investment, less than a rise of 5.5 percent three months ago.
"The capex figures in the previous Tankan survey were a bit stronger than what investment actually was, so the downward revision is not unusual," said Hiroaki Muto, a senior economist at Sumitomo Mitsui Asset Management Co. in Tokyo. "Capital spending will probably make a gradual recovery in the months ahead."
Salaries Slide
"Overall, we can see that everything is moving in a positive direction," Chief Cabinet Secretary Yoshihide Suga told reporters in Tokyo. "We can pursue 'Abenomics' with confidence."
Toyota, Asia's biggest car maker, in August raised its profit forecast as the weaker yen bolstered its competitiveness in markets overseas. Panasonic, Japan's second-largest television maker, said in September that full-year earnings could beat its forecast, helped by the exchange rate.
The better conditions have yet to show up in incomes of households, which faced the biggest consumer price gains since 2008 in August as the weak yen and higher energy costs pushed up costs.
Salaries in August extended the longest slide since 2010, with regular wages excluding overtime and bonuses falling 0.4 percent from a year earlier, a 15th straight drop, the labor ministry said today. The jobless rate rose to 4.1 percent in August from 3.8 percent in July, according to the Ministry of Internal Affairs.
Cabinet members, an independent panel of experts and Bank of Japan Governor Haruhiko Kuroda all advised proceeding with the planned increase in the sales tax.
Japan Stimulus
A 5 trillion yen ($51 billion) package would be needed to counter the impact of the higher consumption levy, according to the median estimate of economists surveyed by Bloomberg News.
Among the items likely to be included are expanded tax rebates for companies boosting wages, incentives for capital spending, cash payments to home-buyers and infrastructure investment for the Tokyo 2020 Olympics, according to Deutsche Securities Inc. analysts in Tokyo.
The BOJ surveyed 10,548 companies from Aug. 27 to Sept. 30 for the Tankan, with a 99.3 percent response rate.
Elsewhere in Asia, a Chinese manufacturing gauge missed economists' forecasts. India and Brazil will also report purchasing managers' index data today.
South Korea's inflation rose less than economists forecast in September, while the trade surplus for the same month was below estimates.
The Reserve Bank of Australia is expected to keep the cash target rate at a record low 2.5 percent, according to a survey of economists ahead of today's policy decision.
Germany and Italy will also report jobless figures. Italy, France and Germany will release September manufacturing gauges, and data from the U.K will show that house prices rose in September, according to the median estimate in a survey of economists.
The U.S. Congress is headed into the final hours before the first partial government shutdown in 17 years, which would begin at midnight Washington time.
To contact the reporters on this story: Keiko Ujikane in Tokyo at kujikane@bloomberg.net; James Mayger in Tokyo at jmayger@bloomberg.net
To contact the editor responsible for this story: Paul Panckhurst at ppanckhurst@bloomberg.net