Why Nike Is a Weird Proxy for the Broader Economy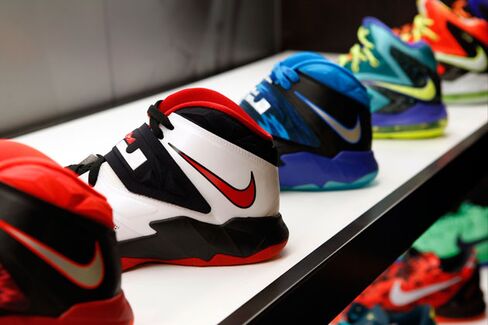 When Nike was added to the Dow Jones Industrial Average on Monday morning, it felt strange and out of place. Although the Dow has included consumer discretionary stocks for decades, Nike felt somehow even more discretionary. It wasn't the first apparel company to join the Dow—or even the first shoe company—but it seemed at least a little odd to admit a company whose sales relied so heavily on what Americans decided to put on their feet before working out. What do sneakers have to do with the broader market or the economy anyway?
As it turns out, a lot.

Since 1990, Nike's sales have been more closely correlated with the U.S. gross domestic product than the sales of all but five other Dow components (Johnson & Johnson, McDonald's, Wal-Mart Stores, Cisco Systems, and Microsoft).
That means that of the three newest Dow components (Nike, Visa, and Goldman Sachs), Nike's sales have the most power to predict the U.S. GDP.
Most of those sales do not even take place inside the U.S. Like the revenue of most Dow components, Nike's sales are geographically diverse. Only about 40¢ of every dollar the company grosses comes from North America.
Nike, by the way, will be the first Dow stock each quarter to report earnings, replacing Alcoa in the unofficial role as the opening act to earnings season.
Before it's here, it's on the Bloomberg Terminal.
LEARN MORE