Telecom Italia CEO Is Said to Plan Resignation This Week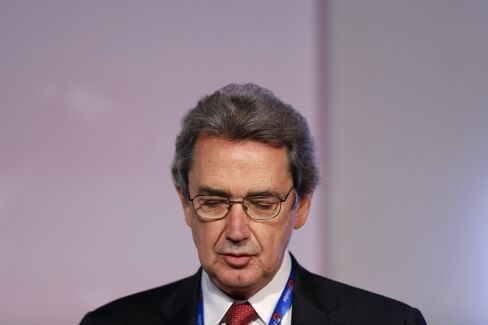 Telecom Italia SpA Chief Executive Officer Franco Bernabe plans to tender his resignation this week after losing the support of the carrier's biggest shareholders, according to a person with knowledge of the matter.
Bernabe, 65, intends to tell the board at a meeting scheduled for Oct. 3 that he is ready to step down, said the person, asking not to be identified because the deliberations are confidential. Poste Italiane SpA CEO Massimo Sarmi is the candidate favored by shareholder group Telco SpA as successor, two people familiar with the matter said. Telecom Italia may name independent director Jean-Paul Fitoussi or Chief Operating Officer Marco Patuano as interim chief, the person said.
After presiding over years of stock declines and driving Telecom Italia's rating to the brink of junk by failing to cut debt fast enough, Bernabe has lost the confidence of the board of Telco, the group of investors that owns 22.4 percent of the Milan-based company, said people with knowledge of the matter. Of the 14 Telecom Italia directors including Bernabe himself, 11 were proposed by Telco, according to the company's website.
Negotiations over Bernabe's severance terms are under way, two people said.
A Telecom Italia spokesman declined to comment.
Telefonica SA, the biggest stakeholder in Telco, last week agreed to gradually buy out three financial investors' holdings. The move is part of the Spanish carrier's plan to force Telecom Italia to sell its Brazilian business and to avoid a capital increase to raise cash, the people said, asking not to be named because the discussions are private.
Capital Increase
Speaking at a parliamentary hearing in Rome after Telefonica announced the $1.2 billion cash-and-stock transaction, Bernabe said selling assets in Latin America would hurt the company's international profile, a result it can't afford now. He favored a capital increase because "there is a lot of liquidity out there," he said.
Bernabe has been considering a proposal to Telecom Italia's board this week for a capital increase of as much as 6 billion euros ($8.1 billion), with a first tranche of at least 3 billion euros, people familiar with the matter said.
The CEO "is absolutely contrary to the publicly stated interests of the shareholders," Robin Bienenstock, a London-based analyst at Sanford C. Bernstein & Co., said in a phone interview. "Franco Bernabe wants a right issue, but Telecom Italia does not need a rights issue."
Brazil Sale?
Tim Participacoes SA, Brazil's second-largest mobile-phone company, is controlled by Telecom Italia and has a market value of more than $11 billion. Brazil's telecommunications regulator wants to maintain the country's four-carrier market and would welcome a foreign operator to acquire Tim, a person with knowledge of the matter said last week.
Telecom Italia reported more than $38 billion in net debt at the end of June. Moody's Investors Service in August said it may strip the company of its investment-grade rating, putting pressure on Bernabe to come up with measures to strengthen the carrier's balance sheet.
The shares fell 2.6 percent to 58 euro cents on Sept. 27 in Milan. The stock has lost 15 percent this year and is headed for its ninth consecutive annual decline.
Under the Sept. 24 agreement, Telefonica partners Assicurazioni Generali SpA, Intesa Sanpaolo SpA and Mediobanca SpA agreed to reduce their stakes in steps from 54 percent to 30 percent. Starting next year, Telefonica has the option to fully take over Telco.
Second Stint
Telco has been working on a replacement for Bernabe because the holding company is unlikely to endorse any capital-increase proposal, said one of the people with knowledge of the matter.
Representatives for Telefonica, Intesa, Generali and Mediobanca declined to comment.
A resignation by Bernabe would mark the end of his second stint as Telecom Italia's CEO. He has led the company since the end of 2007, also assuming the title of chairman in 2011. He was also CEO from 1998 to 1999, ousted when the company was acquired by Olivetti SpA.
Before returning to the carrier, he was best known for turning around oil company Eni SpA. In 1999 he founded FB Group, an investment company, and merged it with Rothschild in 2004.
Telefonica and the financial investors agreed in 2007 to pay 4.1 billion euros for an 18 percent stake in Italy's biggest phone company. At the time, it was a compromise by the government to keep the carrier Italian and to fend off a takeover bid by AT&T Inc. and billionaire Carlos Slim's America Movil SAB.
Telco Writedowns
Telco's owners have written down their investments multiple times as the stock slumped more than 70 percent over six years. Europe's debt crisis has sapped consumer spending and profit from telecommunications services.
Telefonica's agreement with other Telco partners to tighten its grip over Telecom Italia stirred further controversy in the country, where Prime Minister Enrico Letta's administration has suspended all key economic decisions as political tensions in the coalition led the premier to seek to verify parliamentary support for his government.
The new Telco agreement -- which Bernabe told senators last week he learnt about from press releases -- also sparked debates over whether the government should designate telecommunications networks -- such as the fixed-line grid Bernabe wants to spin off -- as strategic assets.
"Telecom Italia has for a long time lost its track and it now lacks the dynamism that a telecom company needs," said Francisco Salvador, a strategist at FGA/MG Valores in Madrid. "It's now time for others with a clearer industrial and strategic vision to take over the helm."