For Nike, Classic Converse Line Outruns High-Tech Sneakers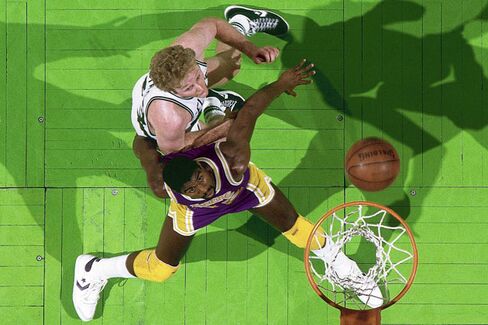 Sportswear is a space-race these days, a frenzy of new technology and manufacturing techniques to make products lighter, stronger, warmer, and cooler at the same time. Nike, for example, seems to mention "innovation" as much as Apple when it speaks with investors. "It's what fuels our growth, and it always starts with the athlete," Nike Chief Executive Mark Parker said on an earnings call yesterday. "How can we make the athlete faster, stronger, better and help them push themselves to new levels of performance."
Nike may be all about building spaceship shoes for superstars, but the most important athlete in its lineup—Chuck Taylor—has been dead for almost 50 years. Sales of the vintage Converse brand increased 16 percent, to $494 million, in the recent quarter, while earnings before interest and taxes jumped 36 percent. Those numbers are particularly impressive considering that Nike bought Converse 10 years ago for just $305 million. And Nike, by comparison, saw overall sale increase just 8 percent in the recent quarter.
So the best part of Nike's business—the speediest, strongest performer in the lineup—is a product line that was last cutting-edge in the 1920s and is worn only by athletes after they change into street clothes these days. "Converse is a brand that has been bringing energy and style to consumers for many years," Parker said on the conference call, "and the opportunities ahead are even greater."
It's important to note that Nike has put Chuck Taylor on steroids in the past decade. It tapped fashion icon John Varvatos to design a line of the famous kicks (with black leather and little spikes), cooked up a partnership with Hudson's Bay (with striped, woolen sneakers), and has a program to let shoppers design their own shoes (with, say, knee-high Chucks in a camouflage pattern).
Those strategic tweaks have turned a shockingly simple $50 shoe into a specialized item that now sells for up to $250. Converse is also thrilling sneakerheads by rereleasing throwback models such as the "Converse Weapon" sported by Larry Bird and Magic Johnson at the height of their rivalry.
For Nike, Converse is a particularly sweet line because it doesn't require expensive R&D. The shoes don't have to be lighter or stronger than the latest thing from Adidas—they just have to be, well, pretty much unchanged from what they've always been. Converse doesn't even require multimillion-dollar athlete endorsements, always a huge cost for sportswear giants.
Nike's mainstream products are shooting lights out. "Almost everything across the board is strong," Morningstar analyst Paul Swinand said. Its Flyknit running shoes, Hypervenom soccer cleats and Dri-FIT workout clothers are in high demand. But if those high-tech offerings come up short, Nike will be glad it still has some old-school, canvas All-Stars in the lineup.
Before it's here, it's on the Bloomberg Terminal.
LEARN MORE