Sony's Brain Drain May Stall a Rebound
The electronics maker is cutting back on engineers to boost results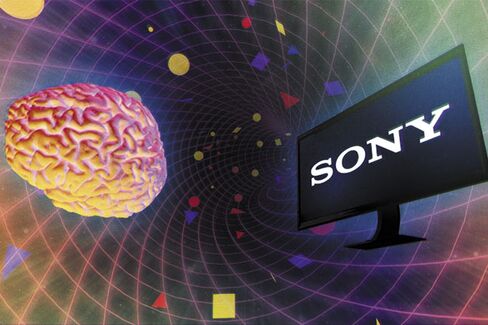 To hear engineer Yoshinori Onoue tell it, designing the perfect television requires more than just engineering skills. It also takes the eye of an artist. "There's a canvas on which you paint the picture, and that's the panel," the veteran of Sony explains. "Then you apply the colors," he says, describing the three-year process to bring picture quality up to the exacting standards of Japanese consumers. "You can't write an equation for it."
The 32-inch model of the TV that Onoue and his handpicked team of engineers—many of them Sony veterans—developed was this summer rated best-in-class for picture quality by HiVi, Japan's version of Consumer Reports. That was a big victory for Sony engineering. But not for Sony: The logo on the set belongs to LG Electronics.
Onoue, a former head of Sony's display business, is among hundreds of engineers who've left amid a decade of cost-cutting that's soured a once-celebrated culture of risk-taking. The company had a record $4.6 billion loss last year. And in his first act as Sony's chief executive officer, Kazuo Hirai, put 10,000 more jobs on the block, bringing layoffs to almost 60,000 since 2003. "They're pushing out engineers like some kind of bargain sale," Onoue says. "It's a huge mistake. You need good people to make good products."
The brain drain threatens Hirai's mission to revive the iconic brand that gave the world compact discs, Trinitron color TVs, and the Walkman, Sony's game-changing 1979 portable music player. It's also given a leg up to rivals such as South Korea's LG and Samsung Electronics, and Taipei-based Hon Hai Precision Industry.
Because Japan's labor laws and tradition of lifetime employment make it almost impossible to fire workers, companies that want to trim payrolls need volunteers—in effect, giving the most skilled a cash incentive to jump ship. Unwanted workers who choose to stay are often consigned to oidashibeya, or chase-out rooms, where they're given menial tasks or asked to do nothing at all in a bid to bore them into quitting. Hirai raised the pressure in April, introducing automatic demotions for most managers when they reach their 50s. Sony spokeswoman Mami Imada says the policy was designed to get new blood into decision-making roles. Critics say it's another strategy to shame older, higher-paid workers into leaving.
As Sony's head of manufacturing strategy in 2009, Onoue quit when he was ordered to come up with a plan for shuttering factories. LG jumped at the chance to tap his three decades of experience to help it crack Japan's $2.9 billion TV market. Says Onoue, 62, now president of the LG Electronics Japan Lab, the research unit he started in 2010: "They knew that they had to do it right and spend the money and hire the people."
More than 100 Japanese engineers now work at the lab's offices in Tokyo's Shinagawa district, a few subway stops from Sony's offices. And Onoue says he's still looking to hire, as companies including Sony, Panasonic, Sharp, and Fujitsu shed electronics talent.
LG isn't alone in tapping Sony vets. Defections to Samsung began as far back as 2000 with Masaki Oguro, the engineer behind Sony's revolutionary 1995 digital camcorder. Sony's former chief technology officer, Masaaki Tsuruta, this year became head of Samsung's Japan operations. Another Sony refugee, Masaharu Tokuhara, overhauled the image processors in Samsung's TVs.
There are a few signs that CEO Hirai may change course. He boosted Sony's R&D budget 9 percent last year and has visited Sony offices, factories, and labs in 16 countries since taking over from Howard Stringer in April 2012. Hirai has a better feel for gadgets than Stringer and is asking more questions, according to former Vice Chairman Minoru Morio, who still maintains an office at Sony. "He's totally different from his predecessors, who'd breeze through and just say, 'Keep up the good work.' "
Still, Hirai, who rose through Sony's music business, will have trouble reviving the electronics division. The TV arm alone has lost almost $8 billion in the past nine years, and the company never quite figured how to marry its library of movies and music to hardware. Sony's recently released Xperia smartphones have gotten rave reviews but were released into a market already saturated at the top end. Its new PlayStation4 console will be unveiled this fall as gamers migrate to smartphones and computers.
Oguro says that a big title, a doubling of his salary, and a chauffeured car didn't win him over to Samsung as much as the freedom to innovate—something that already was fading at Sony in 2000. Samsung "wanted me to raise the quality of their video cameras, and they said, 'How you do it is up to you,' " he says. "I had a mission again."
Retired Vice Chairman Morio, 72, says a fixation with the numbers can skew priorities. By the time he became an executive, Morio says, the numbers had become a straitjacket. Japan's economic bubble had burst, and the analog era Sony dominated was being replaced by digital technologies that leveled the playing field for new entrants. "My generation, who took orders directly from the founders, we were never questioned about a profit margin—not once," he says. "We just wanted to be the first with groundbreaking products."
Before it's here, it's on the Bloomberg Terminal.
LEARN MORE