The Slow, Profitable Death of GM's Big SUVs
The fuel-thirsty rides, pricier than many luxe cars, yield outsize profit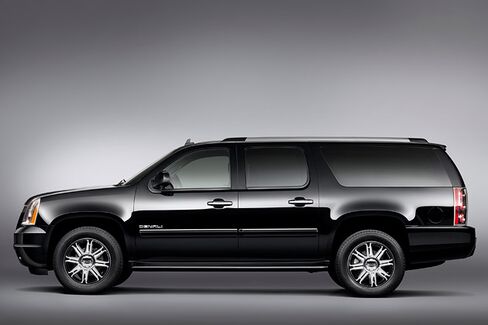 In a time when gasoline is $4 a gallon and hybrid cars are all the rage, it would be easy to conclude that the large SUV has gone the way of your grandfather's Oldsmobile. But reports of the death of the gas guzzlers that grew popular in the late 1990s are greatly exaggerated. Instead, huge SUVs have slipped into a slow-but-profitable decline—and General Motors is thankful for their delayed interment.
While the automaker's four large SUVs from Chevrolet and GMC—the Tahoe, Suburban, Yukon, and Yukon XL—made up less than 6.5 percent of GM's U.S. vehicle sales last year, they account for 16.4 percent of its North American gross profit, according to an estimate by Bloomberg Industries. "They're quite profitable," says Chief Financial Officer Daniel Ammann, referring to the big SUVs, which logged more than $8 billion in sales in 2012. "This is a quarter-of-a-million-unit market here in the U.S."
While they may lack the flash of luxury cars, GM's full-size SUVs can command the same rich prices. The sticker of a fully tricked-out Yukon XL Denali, for instance, can approach $70,000. GM's big SUVs boast an average transaction price of $52,587—larger than the average U.S. purchase for BMW, Toyota Motor's Lexus brand, and Volkswagen's Audi luxury line, according to researcher Edmunds.com.
The hefty sticker prices mean GM isn't trying to woo Joe Sixpack to its big sport utilities. The trucklike vehicles are naturals for upper-middle-class families who like to travel together, often with a boat, camper, or other pricey toy in tow. The average household income of a Suburban buyer is $135,000, according to GM, while it's $182,000 for purchasers of the largest Yukon XL Denali. "These are relatively affluent people," says Tony DiSalle, head of GMC marketing, "and their needs would indicate that something like this would continue to be very appealing."
The combined share of the large SUV market held by Chevy and GMC models in the U.S. rose to 61 percent this year through July, compared with 58 percent in 2004, according to Edmunds. In contrast, Ford Motor's large SUV market share fell to 11 percent this year vs. 18 percent for 2004. "GM's done a great job maintaining market share," says Jeremy Acevedo, an Edmunds analyst. "The problem is that it just seems like these days it's going to be a limited segment no matter what they do. They can … vie for even more market share within the segment, but I don't know about it growing on its own."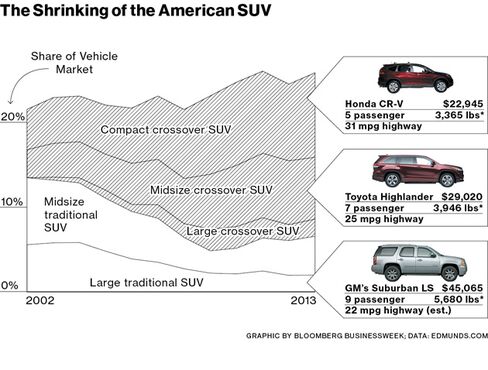 Despite such concerns, GM's trove of well-heeled big SUV buyers has allowed it to build a tidy profit into the price of each hulking brute it sells. The operating profit on GM's large SUVs is estimated at $10,000 to $20,000 per vehicle, compared with about $2,000 for a midsize sedan such as the Chevrolet Malibu, says Sean McAlinden, chief economist of the Center for Automotive Research.
In a bid to keep that profit machine humming, GM in September announced a redesign of its large SUVs. The models, slated to arrive in U.S. showrooms in early 2014, will have more leg room, fancier interiors, a rear-seat entertainment system, and fold-flat second- and third-row seats. They'll also be loaded with a list of safety features typically found in foreign luxury cars, including forward collision alert, a lane departure warning, and an automated braking system to avoid crashes.
What the redesigned vehicles won't get is the 30-plus miles per gallon on the highway that American car buyers are beginning to expect from popular car-based SUVs such as Honda Motor's CR-V, Toyota Motor's RAV4, or Ford's Escape. GM's large SUVs, built on the same underbody as the Chevrolet Silverado and GMC Sierra pickups, will benefit from the more-modest mileage improvements those trucks are getting from a redesign this year. Jeffrey Luke, GM's executive chief engineer for large SUVs, declined to estimate the redesigned SUVs' mileage ratings, saying only that they'll be "a fairly substantial improvement." But the automaker says the new 2014 Silverado with a 5.3-liter V8 engine and two-wheel drive will get 23 mpg in highway driving. That's a 2-mpg improvement over the 2013 model. (A similarly equipped 2001 Tahoe got 16 mpg in highway driving.)
Even with the updates, it's unlikely the large SUV market will return to its glory days. Large SUVs comprised 4.7 percent of U.S. new-vehicle sales in 2001, when the average gallon of regular gasoline cost $1.38, Edmunds says. U.S. sales of large Chevy and GMC SUVs peaked that year with 505,155 deliveries, according to GM. By 2012, large SUVs had fallen to 1.9 percent of the overall auto market, according to Edmunds, and GM's sales in the category slid to 168,265 vehicles.
While its number of large SUVs sold has plunged, GM charges more for them. The average transaction price for large Chevy and GMC SUVs has risen 37 percent since 2002, according to Edmunds. And GM's average transaction price this year through August is $3,583 more than the industry's average transaction price for large SUVs and $21,264 more than the average for all vehicles.
GM executives believe that even with a less-than-robust economic recovery and growing consumer interest in high-mileage cars, huge SUVs will remain an important part of its business. "These customers are absolutely concerned about fuel economy, the changing market, [and] watching their income during the recession," says Maria Rohrer, marketing director of Chevy's large SUVs. "But when it really comes down to it, and they have the means for it, they have to have the space. And that outweighs a lot of things."
Before it's here, it's on the Bloomberg Terminal.
LEARN MORE