Boomers Face Caregiver Shortage as U.S. Offers New Rules: Jobs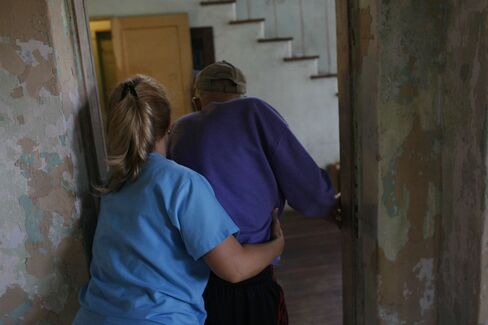 Carolyn Gay, a certified nursing assistant of 20 years, says she wants to inspire teens to become caregivers to the elderly.
"I'm getting older, and in another 10 years, I'm going to need one of these girls to look after me," said Gay, 72, a Polk County, Florida, resident who speaks at area high-school career days. It's not always an easy choice to advocate, she said. "It's embarrassing to explain why the wages for this job are so low."
Well-prepared helpers for seniors and disabled Americans soon could be harder to find. The current workforce is aging, and low pay may make the career unattractive to entrants, said Catherine Ruckelshaus, legal co-director of the National Employment Law Project, which focuses on low-wage workers. Immigration changes that could alleviate future shortages are stalled in Congress. And while state rules exist, there are no federal training standards for personal-care aides.
Need is escalating: By 2020 the U.S. will require 1.6 million more direct-care workers than in 2010, based on an analysis of Bureau of Labor Statistics data by the New York-based Paraprofessional Healthcare Institute. That's a 48 percent increase for nursing, home-health and personal-care aides over the decade.
"If people want their parents and grandparents to be able to be cared for at home, and they want that opportunity themselves, we need to make this job a competitive job in the marketplace," said Steven Edelstein, national policy director at PHI, a nonprofit that provides consulting services and workforce development for home health-care workers and groups. "If we care about the quality of the services, we need to care about the training of the workforce."
Caregiving Profession
The challenge is to make caregiving attractive as a profession while still providing affordable care, as responses to a Labor Department rule issued last week showed. Minimum-wage and overtime protections will be extended to most in-home care workers, Secretary of Labor Thomas Perez said Sept. 17.
The change will apply parts of the Fair Labor Standards Act to many who aid the elderly and disabled in their homes. That workforce is 90 percent female and 56 percent minority, according to an analysis by the Washington-based Institute for Women's Policy Research.
On average, home-health aides make $10.49 an hour, nursing assistants earn $12.32 and personal-care aides are paid about $10, based on Bureau of Labor Statistics estimates.
Travel Time
While workers usually earn more than the federal minimum wage of $7.25 an hour, when they serve multiple clients their travel time often isn't compensated and those extra hours could take them below that level, Edelstein said, adding this stands to change with the new rule.
Regulations often take effect 60 days after being issued. This rule is delayed until Jan. 1, 2015, to give families that use home-care workers and state Medicaid programs time to prepare, according to Laura Fortman, principal deputy administrator for the Labor department's wage and hour division.
The U.S. Chamber of Commerce and Republican Representatives John Kline of Minnesota and Tim Walberg of Michigan are among those who say the change could make home help too expensive.
"While the delivery of care has changed in recent years, the crucial need for affordable in-home companion care has not," the lawmakers said in a Sept. 17 press release. "Faced with higher costs, some individuals will have no choice but to leave their homes and enter institutional living."
Public Dollars
About 75 percent of home-care services are paid for with public dollars, PHI estimated based on U.S. Census Bureau data from 2010.
A semi-private room in a nursing home costs about $6,235 per month, based on 2010 data compiled by the U.S. Department of Health and Human Services, or about $75,000 annually.
In-home health aides cost $21 an hour on average, based on the data. That means a 40-hour week of care would cost $840, and a year about $44,000. Round-the-clock care, however, would be more expensive.
The new overtime-pay requirement could hurt home-care businesses, since many clients require more than 40 hours worth of care, said Jay Perron, vice president of government affairs and public policy at the Washington-based International Franchise Association.
If companies rotate caregivers to avoid paying time-and-a-half overtime, it could interrupt continuity of care, said Perron, whose group's members include Interim HealthCare Inc., a care, hospice and medical-staffing company, among other home-care franchises.
Profit Margin
Such businesses usually make about a 5 percent to 7 percent profit margin after insurance, background checks and other costs, Perron said, and so have limited room to pay higher wages.
"Home-care companies will have little choice but to employ workers part time rather than full time as Medicaid payment rates and consumers with limited incomes cannot afford higher costs," Andrea Devoti, chairman of the National Association for Home Care & Hospice, a Washington-based nonprofit, said in a Sept. 17 statement.
At the same time, the overtime rule could protect caretakers from being overworked, and having national requirements may improve industry oversight, Ruckelshaus said. Fifteen states provide both wage and hour protections to direct-care workers and an additional six and Washington D.C. require minimum wage, yet she said many lack resources for enforcement.
First Step
"It's a good, really exciting first step," said Jane Henrici, a study director at the women's policy institute. "It's not the end."
Demand for direct-care workers is outpacing labor-pool growth, PHI found. The average age of in-home health-care workers is now 44, based on a 2011 PHI analysis, and the number of women ages 25 to 54, the main labor pool from which direct-care workers are drawn, is projected to increase by only 2 percent in the decade ending in 2020, based on Bureau of Labor Statistics data.
Immigration-law changes could help create a sustainable caretaker workforce. Immigrants make up 28 percent of in-home health-care workers, according to an analysis Henrici co-wrote, and an estimated one in five is undocumented.
The high number of undocumented caregivers is a result of the limited legal immigration options, said Ai-jen Poo, director of the National Domestic Worker's Alliance, which advocates for in-home workers' rights.
Immigration Bill
The immigration bill that passed the Senate this year -- and has now stalled as it faces opposition in the House -- would create a W visa with a potential path to citizenship for low-skill workers, including home-care aides.
The lack of federal training requirements for personal-care aides could also affect quality in-home help, Edelstein said. Certified nursing aides and home-health aides have more defined standards.
"In some instances, we have personal-care aides who haven't had any formal training administering medication," Edelstein said, because clients can in some cases give aides permission to do so.
Gay, who still works for private clients, says she remains in caretaking because she "loves it."
She is concerned with ensuring that future at-home caretakers are well-prepared to take care of her and her peers, she said. Even more, she said she wants home care to be a positive career choice for the high school students she knows.
"They're our future," she said.
Before it's here, it's on the Bloomberg Terminal.
LEARN MORE