At a Qatar Project Overseen by Americans, Workers Die Almost Daily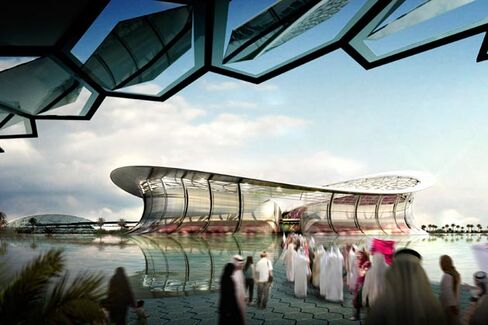 Apple and Nike, among American companies, have been held responsible for labor conditions at overseas factories where their products are made. Should American construction and engineering groups also be called to account for worker mistreatment at offshore projects they manage?
Britain's Guardian newspaper reports that immigrant workers on a massive construction project in Qatar are being treated inhumanely and dying at a rate of almost one per day from on-the-job accidents and heart failure.
Parsons Corp., in Pasadena, Calif., is managing construction of the $45 billion Lusail City project near the capital city, Doha, that's being built by Qatar's sovereign-wealth fund to accommodate the 2022 soccer World Cup. A British unit of CH2M Hill, in Meridian, Colo., is listed on Lusail City's website as one of three key contractors on the project. The two others are Hyder Consulting of Britain and Denmark's Cowi.
The Guardian quoted workers as saying they were forced to work in temperatures over 120 degrees F. without adequate water and kept in squalid dormitories. Their passports were confiscated and their salaries withheld to prevent them from leaving, the newspaper said. It published part of a list compiled by the Nepalese embassy in Qatar that the publication said showed 44 Nepalese immigrants had died between June 4 and Aug. 8. According to the list, causes of death included "fall from height during work," "traumatic crush injury," electrocution, and cardiac arrest.
A spokeswoman at Parsons headquarters referred inquiries to Lusail Real Estate Development, the Qatari firm developing the project. Lusail said in a prepared statement to the Guardian that the reports of mistreatment and deaths appeared to involve "one subcontractor" and that Lusail had asked government authorities to investigate.
A statement provided to Bloomberg Businessweek by CH2M Hill's British unit, Halcrow Consulting Engineers & Architects, says the company had "absolutely no responsibility" for worker deaths at the Qatar site and "no input into the terms and conditions of employment of a contractor's labor force on this project." Halcrow supervises three construction sites at Lusail City, and none has had worker fatalities, the statement says. Regarding workers' living conditions, the statement says: "The Lusail project has plots that are reserved for private developers for workers' accommodation. Halcrow has no control [over] or input into these residential sites."
Complaints about abuse of migrant workers in Qatar have been rising in recent months as the oil-rich Persian Gulf state prepares for the first World Cup ever held in the region. Earlier this year the Nepalese ambassador to Qatar told the BBC in an interview that the country was an "open jail" for immigrant workers. The Nepalese government on Sept. 25 removed the ambassador from her post, Agence France Presse reported. Some 300,000 Nepalese migrants work in Qatar, according to AFP.
In a statement to the Guardian, the Qatar host committee for the World Cup said it was "deeply concerned with the allegations" and that "the relevant government authorities are conducting an investigation." In a separate statement to the newspaper, Qatar's labor ministry said it did not know why so many young Nepalese workers were dying of heart failure. "This question would be better suited for the relevant health authorities or the government of Nepal," the ministry said.
Before it's here, it's on the Bloomberg Terminal.
LEARN MORE