Applying a Lesson From Hurricane Sandy to Colorado Flood Relief
The Small Business Administration is changing the way it processes disaster loan applications to speed approvals to businesses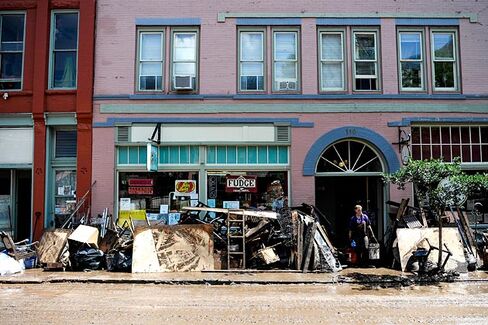 In the past few weeks, the Small Business Administration has taken heat from New Jersey business owners, as well as Governor Chris Christie, for failing to do more to help state residents in the aftermath of Hurricane Sandy. A recent federal task force report took a more diplomatic approach, calling the SBA "integral" to Sandy relief efforts, but noting ways the agency could act faster to lend money to disaster victims.
The SBA is applying at least one of the lessons following the flooding that has ravaged Colorado this month, agency spokeswoman Carol Chastang says: It's changing the way it processes loan applications.
By a quirk of history, the SBA makes emergency loans to both businesses and homeowners affected by natural disaster. That's good for homeowners (and even renters), who can get loans with rates below 2 percent from the agency. But it can mean delays for business owners, who are typically slower to apply for relief.
Here's what the Hurricane Sandy task force said:
"Typically, small business owners first assess the economic damage to their businesses caused by disrupted supply chains, displaced consumers, structural damage, inventory loss, and a range of other complex factors. As a result, small businesses apply for disaster loans much later than homeowners and, if they are handled in the same processing tracks, usually face delays due to the large number of home loan applications filed ahead of them."
The SBA separated business and home loan applications from victims of the Colorado floods and has dedicated teams of loan officers for each of the two categories, Chastang says. It's still too soon to say whether the strategy is working. The agency had received only 460 disaster loan applications as of yesterday, though plenty more are on the way. A website managed by the state of Colorado said in an update yesterday that the SBA had approved about $190,000 in disaster loans.
Floods have caused $430 million in damage to state highways and bridges—affecting more than 17,000 structures, including about 4,000 that were destroyed—according to an executive order authorizing $20 million in state disaster funding from Governor John Hickenlooper last week.
Before it's here, it's on the Bloomberg Terminal.
LEARN MORE