Amazon's New Kindle Fires Land in a More Competitive Tablet Market
Amazon.com's solid new tablets have a steep hill to climb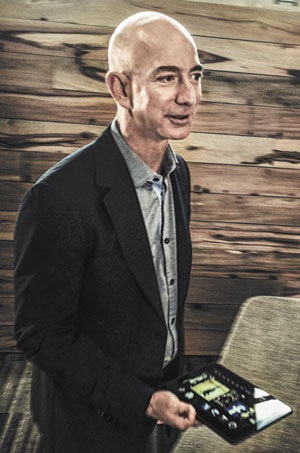 There's an easy way to anticipate when Amazon.com is about to unveil a new Kindle Fire tablet: It's virtually the only time the company's home page, some of the most valuable real estate on the Web, isn't advertising the tablet's previous iterations. That was the case in the couple of days leading up to Sept. 25, when Amazon Chief Executive Officer Jeff Bezos released details on three new versions of the Kindle Fire. It's Bezos's most serious strike yet at other tablets—including Apple's dominant iPad line—but seriousness and success do not necessarily go hand in hand.
For the last two years, Amazon has scraped and clawed its way to a modest position in the exploding tablet market. The Internet's largest retailer and maker of the iconic black-and-white Kindle e-reader gave consumers an elegant way to access Amazon's virtual store, including its lucrative music and video streaming services. It started with the original 7-inch Kindle Fire in 2011, followed last year by two sizes of a version with a high-definition screen.
While Amazon has helped shape some elements of the tablet game, it's hardly winning: The company's share of the U.S. tablet market stood at 4.6 percent in the second quarter, according to market researcher IDC, vs. 50.7 percent for the iPad and 18.5 percent for Samsung Electronics' Galaxy tablet. Amazon's previous tablets have been criticized as underpowered compared with the iPad and lacking the kind of signature features its rivals specialize in. "They have found that the Kindle Fire sold very well to Amazon enthusiasts but not much beyond that," says Sarah Rotman Epps, an analyst at Forrester Research.
The new tablets pack some extra processing muscle and are priced Amazon-low, starting at $139 for a no-frills HD model and $229 for a souped-up "HDX" version. They're all lighter and faster than the last Fires, with improved automated displays that shift to accommodate changes in lighting. Another feature called Mayday is less about technology than humanity; it can summon a member of Amazon tech support to help troubleshoot customer issues via a live video feed on the tablet's screen. "When beta users discover and use this feature, their jaws hit the table," says Bezos.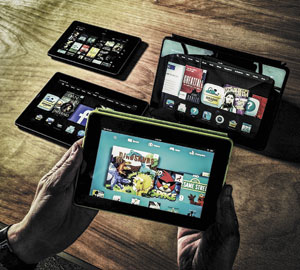 Past editions of the Kindle Fire have set new floors on tablet prices and even sparked some imitation. (Ahem, iPad mini.) But the Fire has never integrated smoothly into customers' lives. Its heavily customized version of Google's Android operating system left Google unwilling to make popular apps such as Gmail, Google Maps, and the Chrome browser available for the Fire. Instead, Amazon offers a homemade e-mail program and a browser called Silk. Its mapping program is from Nokia. Bezos declined to speculate as to whether he can wring Kindle-compatible apps from Google, pointing instead to improvements in the speed and usability of his company's own programs. Amazon has also seen its Kindle Fire yanked from the shelves of retailers including Target and Wal-Mart Stores, which don't want to sell their customers a system through which they can order a competitor's products. Bezos points out that the Kindle Fire is still sold at more than 20,000 retail outlets and says retail sales have been increasing each year, though Amazon doesn't disclose sales numbers.
Bezos, of course, is also the new owner of the Washington Post, which he personally bought in August from its longtime owners, the Graham family, for $250 million. Speaking about that purchase, he says tablets "are a great opportunity for newspapers." He also vows to keep the two companies separate. "There will be opportunities for the two companies to help each other, but that would be done at an arm's-length way," says Bezos.
Tablets may be important to newspapers, but they're even more vital to Amazon. Apple and Google force Amazon and other companies to pay a toll when customers use their apps to buy content, so Amazon wants to get its own hardware into customers' hands wherever possible. For that reason, Bezos has been spending much of his time working on Amazon's digital services. For part of the summer, he relocated from his Seattle headquarters to Silicon Valley, where Amazon's hardware subsidiary, Lab126, is located. He says he's focused on areas "where the rate of change is high and where I can bring various parts of the company together."
Bezos's biggest challenge is to make Amazon's hardware as appealing as Apple's. For now, he's determined to add as many perks and ornamental innovations as possible. Members of Amazon's premium service, Prime, can download videos to the new Kindle Fires, meaning they can play them without a wireless connection. Bezos also touts the new devices' enterprise tools, such as data encryption. "The biggest surprise from the second generation of Kindle Fires was how much it was purchased by and used by corporations," he says. "So even though it's not flashy, we doubled down on all the productivity elements."
"Amazon is doing what they need to do in the tablet market. They are not resting on their laurels," says Epps of Forrester Research. By the time Amazon unveiled the latest Kindle Fires, promotions for the tablets had taken over Amazon.com. They'll likely stay there throughout the holiday season, even if the company unveils an Apple TV-style set-top box to bring its growing library of video content into the living room. (Bezos declined to comment on any non-Fire product launches.) The lesson Amazon learned from its last Fires, Bezos says, is that "people don't want both an entertainment and a corporate work tablet. They want one tablet." The question is whether they'll want Amazon's.
Before it's here, it's on the Bloomberg Terminal.
LEARN MORE