Former Chargers Defensive Back Paul Oliver Commits Suicide at 29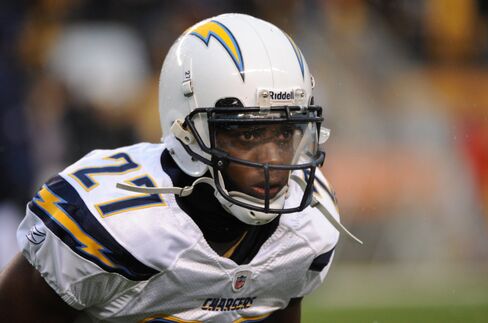 Former San Diego Chargers defensive back Paul Oliver was found dead of a self-inflicted gunshot wound, police said. He was 29.
Oliver played all four of his National Football League seasons in San Diego, with his final game in 2011. His death comes 16 months after former Chargers linebacker Junior Seau also committed suicide.
"Everyone in the Chargers family is sad today after hearing the news about Paul," the Chargers said yesterday in a statement. "At just 29 years old, he still had a lifetime in front of him. Right now all of our thoughts and prayers are with his family during this most difficult time."
Oliver's body was found two days ago at his home in Marietta, Georgia, according to a Cobb County Police Department report. Police said the Cobb County medical examiner's office confirmed the cause of death was a self-inflicted gunshot wound.
Oliver, who played collegiately at the University of Georgia, was selected by the Chargers with a fourth-round pick in the 2007 supplemental draft. He appeared in 57 games, with 12 starts, from 2008 through 2011 and had four interceptions and one fumble return for a touchdown.