Cruz Talk-a-Thon Seen as Opportunism Lifts Obamacare Foes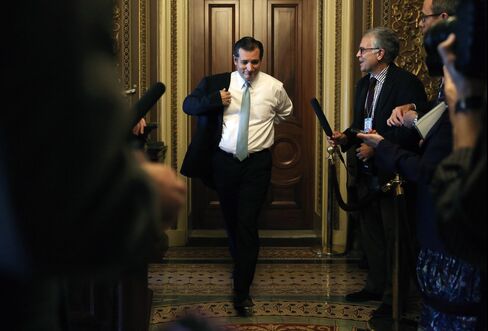 Freshman Republican Senator Ted Cruz probably doesn't have enough votes to cut off funding for the 2010 health-care law under a stopgap U.S. spending bill.
Yet the college debate champ may achieve other goals with his campaign against the health initiative: Raising his national profile and rallying support among the small-government, Tea Party faction of a divided Republican party.
Cruz is showing no sign that he'll retreat from his vow to use a spending measure as leverage to halt implementation of President Barack Obama's signature health-care law. That's even as a talk-a-thon he began yesterday, during which he killed time reading Dr. Seuss's "Green Eggs and Ham" and referencing the reality TV show "Duck Dynasty," alienated many fellow Republican senators, including Minority Leader Mitch McConnell.
"I intend to speak in support of defunding Obamacare until I am no longer able to stand, to do everything that I can to help Americans stand together and recognize this grand experiment three and a half years ago is quite simply not working," Cruz said at the outset of 21 hours and 19 minutes of remarks on the Senate floor that ended today in Washington.
Viewed by critics as an opportunist and by allies as an ideological purist, Cruz, 42, has ruffled many feathers in Washington since arriving in January. His delay tactics this week could help push the federal government to the brink of a shutdown Oct. 1.
Presidential Politics
Presidential politics are in play because Cruz is positioning himself for a possible 2016 bid, and could push the entire field into more strident positions at risk of alienating independent voters. Like-minded Republican Senator Rand Paul of Kentucky, another potential 2016 presidential candidate, plans to vote with Cruz on the Senate spending bill.
Ivy League-educated and known for his fiery oratory, Cruz is one of the nation's most prominent Latino Republicans at a time when his party is seeking to improve its standing among Hispanics. Still, he acknowledges speaking "lousy" Spanish.
Cruz's criminal law professor at Harvard, Alan Dershowitz, has described him as one of the smartest students he's ever had. Cruz was selected for the Harvard Law Review, putting him in the upper tier of one of the nation's foremost law schools.
The Texas senator was awarded a prime-time speaking slot at the 2012 Republican National Convention in Tampa, Florida, and the National Republican Senatorial Committee has tapped him as vice chairman for grassroots outreach.
Rising Star
Although the two top Senate Republicans indicated that they didn't plan to back Cruz's tactics, that doesn't matter to Tea Party activists, who see Cruz as a rising star of their movement.
"He's established something that I think people wanted to see: Republicans who fight for what they believe in," said Sal Russo, chief strategist of the Sacramento, California-based Tea Party Express, a political action committee.
"I don't think anybody is saying you have to win," Russo said. "Everybody is saying that we should stand up, this is an unpopular law, people are against it across the country and most Republicans ran on the issue of repealing or at least defunding it."
While Cruz and his supporters touted his effort as a "filibuster," he couldn't block the bill through extended speechifying on the chamber's floor. Instead, he tried to delay its eventual passage by forcing two cycles of up to 30 hours of debate before a final vote no later than Sept. 29.
Cutting Obamacare
Cruz mounted his challenge as the Senate is considering a House bill passed Sept. 20 that cuts off money to implement what's often called Obamacare while financing the government through Dec. 15. Senate Democrats have said they won't pass a bill that takes money away from the 2010 law.
Republican Senator Richard Burr of North Carolina called Cruz's efforts a "failed" strategy.
"The potential downside is that the federal government shuts down and it shuts down over health care versus over spending," he said. "The White House would welcome a shutdown, and when it re-opens, health care will still be there."
Others who declined to join Cruz's effort are the Senate's top two Republicans, McConnell of Kentucky and Cruz's fellow Texan, John Cornyn. One former politician backing Cruz is 2008 Republican vice presidential nominee Sarah Palin, who has fallen from the national stage after flirting with a 2012 presidential bid that never happened.
'Wacko Bird'
Dismissed by Republican Senator John McCain of Arizona as a "wacko bird" when he sought to block John Brennan's nomination to be director of the Central Intelligence Agency, Cruz wears the criticism as a badge of honor.
"The more appropriate avian metaphor would seem to be peacock," wrote Jason Zengerle in a profile of Cruz in the October issue of GQ magazine.
Cruz was faulted by both sides of the aisle in February when he tried to thwart fellow Republican Chuck Hagel's nomination as U.S. defense secretary. He argued that lawmakers couldn't be certain that Hagel didn't give speeches underwritten by "radical" groups, adding that he wanted proof Hagel didn't deposit funds into his bank account that came from Saudi Arabia, North Korea or other foreign governments.
The effort prompted Senator Bill Nelson, a Florida Democrat, to maintain that Cruz had gone "over the line" by offering such suppositions and led Senator Barbara Boxer, a California Democrat, to compare Cruz's tactics with those used by Joe McCarthy to identify suspected Communists in the 1950s.
'Fixed Bayonets'
Cruz has angered the editorial page of the Wall Street Journal, a reliably anti-Obamacare voice. Under the headline "The Cruz Campaign," the paper's top editorial yesterday said the strategy being pushed by Cruz and Senator Mike Lee of Utah is the equivalent of charging into "fixed bayonets."
With his talk-a-thon, which began yesterday at 2:41 p.m., Cruz took a page from the playbook of Paul, who in March staged a 13-hour filibuster on Brennan's nomination that focused on the Obama administration's drone policy. Paul's effort yielded assurances that the unmanned aircraft wouldn't be used for strikes against American citizens on U.S. soil.
As Cruz talked into the night, he took occasional questions from other senators, including Republicans Lee and Marco Rubio of Florida and Democrat Tim Kaine of Virginia. Shortly before midnight, after speaking for almost nine hours, Cruz read a batch of Twitter messages sent under the hashtag "#MakeDCListen" in support of his remarks.
Campaign Promise
Cruz was elected to the Senate in 2012, defeating a more politically experienced Republican in the party primary with the help of Tea Party activists. He argues that he is simply trying to fulfill a campaign promise to attack Obamacare. Through his staff, he declined an interview request yesterday.
As a student at Harvard Law School in the early 1990s, Cruz reveled in verbally sparring with his classmates over legal questions, antagonizing many of them. Some referred to him as "Bad Ted," juxtaposing him with Theodore Ruger, a more soft-spoken student who often debated Cruz.
Ruger, now a law professor at the University of Pennsylvania, said he doesn't remember the comparison.
"He had a lot of the qualities on display that he does now -- persistence, coupled with ample self-confidence," said Ruger, who both debated and played basketball with Cruz.
"People are sometimes so taken aback by his personality that they failed to focus on the wrongheadedness of his ideas," he said. "In law school, I found him perfectly cable of engaging in intelligent discussion with someone who disagrees with him."
Looking Ahead
Even in law school, Cruz was ambitious, trying to lay groundwork for his future in politics. Kelby Hagar, a fellow Texan, said Cruz approached him in the student commons during the first week of school to solicit his help.
"He said, 'You're from Texas. You can help me in my political campaigns,'" Hagar said. "The impression I got was that he was not making a joke. He was deadly serious about it."
Cruz "was the most ambitious among 500 ridiculously ambitious people," Hagar said.
Cruz is already spending time in Iowa, the state that hosts the first presidential nomination voting.
On Oct. 25, he's scheduled to headline an annual Ronald Reagan dinner in Des Moines, one of the Republican Party of Iowa's largest events and a frequent stop for future national candidates.
Iowa Appearances
That follows speaking appearances Cruz made in Iowa in July and August to a group of Christian pastors, to a state party fundraising luncheon and to a summit organized by the Family Leader, an Iowa-based coalition that opposes abortion rights and same-sex marriage.
"The most active in caucus season will be paying very close attention not only to Senator Cruz, but also to those who fail to support his effort," Ryan Rhodes, a Tea Party activist in Iowa, said in an e-mail.
Cruz has also made political visits to New Hampshire and South Carolina, traditionally the second and third states for nomination voting.
In August, he renounced his Canadian citizenship, removing a potential distraction for a possible presidential bid.
Cruz was born in Calgary to an American mother, automatically making him a U.S. citizen. The Dallas Morning News reported Aug. 18 that he also became a citizen of Canada upon his birth. The newspaper posted a copy of Cruz's birth certificate in a story on its website.
'Natural Born'
The U.S. Constitution says that "no person except a natural born citizen, or a citizen of the United States," may be eligible for the presidency. It doesn't specify what the term "natural born citizen" means, and it doesn't address dual citizenship.
Cruz's father was a Cuban citizen who fled the country in 1957 and studied at the University of Texas. He and his wife were working in the oil business in Canada when their son was born. The elder Cruz became a U.S. citizen in 2005.
Before it's here, it's on the Bloomberg Terminal.
LEARN MORE