Maybank's Investment Banking Chief Zafrul Said to Join CIMB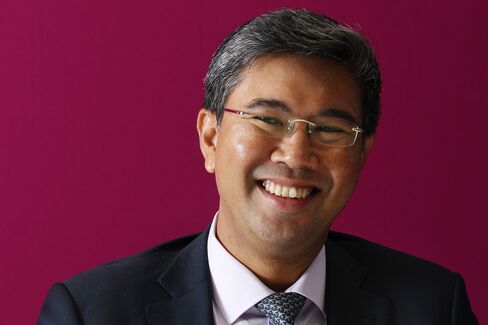 Malayan Banking Bhd.'s investment banking chief Zafrul Aziz resigned yesterday and will join CIMB Group Holdings Bhd., Malaysia's second-largest bank, said two people with knowledge of the matter.
Zafrul will become a deputy chief executive officer and head of investment banking at CIMB, one of the people said, asking not to be named because the matter is private. Kuala Lumpur-based Maybank plans to release a statement as soon as today, the other person said.
Zafrul was CEO of Maybank Investment Bank Bhd. and Maybank Kim Eng Holdings Ltd. as well as acting global banking head at parent Maybank. He is the latest executive to leave the nation's biggest lender after officials departed from units in Singapore and Indonesia and the CEO became a government minister.
Eliza Mohamed, head of corporate affairs for Maybank, and Josandi Thor, a spokeswoman at CIMB, both based in Kuala Lumpur, didn't immediately respond to requests for comment. The Straits Times reported Zafrul's resignation earlier today.
At CIMB, Charon Wardini Mokhzani, a deputy CEO and head of its investment bank, will resign with effect from Nov. 4, the bank said in a statement yesterday. Charon will join Khazanah Nasional Bhd., Malaysia's sovereign wealth fund, as executive director in the managing director's office, the Kuala Lumpur-based lender said.
Maybank said on Sept. 4 that Khairussaleh Ramli, president director of its PT Bank Internasional Indonesia unit, left the firm. Departures of Maybank Kim Eng's Singapore CEO Tan Pei-San, and Prasenjit K. Basu, its regional head of research and economics, were reported by Singapore's Business Times last month.
Abdul Farid Alias, Maybank's former head of global banking, was appointed CEO on Aug. 2 after his predecessor Abdul Wahid Omar was tapped by Malaysian Prime Minister Najib Razak to become a minister in his department. CIMB CEO Nazir Razak is the prime minister's brother.