Home Prices in U.S. Cities Increase by Most in Seven Years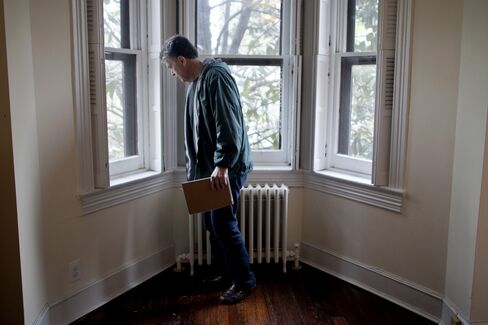 Home prices in 20 U.S. cities rose in the 12 months through July by the most in more than seven years, helping boost owner equity.
The S&P/Case-Shiller index of property values in 20 cities increased 12.4 percent from July 2012, matching the median projection of 31 economists surveyed by Bloomberg and the biggest year-to-year advance since February 2006, a report from the group showed today in New York. On a month-to-month basis, price appreciation slowed.
Gains in home and stock values are contributing to increases in household wealth that are helping bolster consumer spending, the biggest part of the economy. Nonetheless, the appreciation in property values may cool over the rest of the year as mortgage rates close to a two-year high temper demand.
Price increases "will start to slow down to a fairly sustainable pace," said Brian Jones, a senior U.S. economist at Societe Generale in New York and the best home-price forecaster over the past two years, according to data compiled by Bloomberg. "The increase in mortgage rates will slow things down a bit at the margin. As the economy does better, people will be in a better position to weather the higher rates."
Another home-price gauge also showed improvement. Values climbed 1 percent in July from the prior month after a 0.7 percent increase in June, according to figures from the Federal Housing Finance Agency.
Confidence Dips
Consumer confidence in September dropped to a four-month low, another report showed. The Conference Board's sentiment index decreased to 79.7, the weakest since May, from a revised 81.8 in August, according to data from the New York-based private research group. The measure averaged 53.7 during the recession that ended in June 2009.
Stocks fell as investors weighed the data for signs on the economy's strength. The Standard & Poor's 500 Index declined 0.3 percent to 1,696.99 at 10:05 a.m. in New York.
Estimates in the Bloomberg survey for home prices ranged from gains of 10 percent to 13 percent. The S&P/Case-Shiller index is based on a three-month average, which means the July figure was also influenced by transactions in June and May.
The July reading compared with June's 12.1 percent year-over-year advance.
Home prices adjusted for seasonal variations rose 0.6 percent in July from the prior month, less than the Bloomberg survey median, which called for a 0.8 percent increase. Monthly advances over the past three months have averaged 0.8 percent, the least over similar periods so for this year.
Gains Peaking
"More cities are experiencing slow gains each month than the previous month, suggesting that the rate of increase may have peaked," David Blitzer, chairman of the S&P index committee, said in a statement.
The month-over-month gains were led by a 2.5 percent jump in Las Vegas. Property values fell in Minneapolis and Cleveland.
Unadjusted prices climbed 1.8 percent in July from the previous month.
The year-over-year gauge provides better indications of trends in prices, the group has said. The panel includes Karl Case and Robert Shiller, the economists who created the index. Year-over-year records began in 2001.
All 20 cities in the index showed a year-over-year gain, led by a 27.5 percent surge in Las Vegas. San Francisco, Los Angeles and San Diego also showed gains in excess of 20 percent.
Southwest Rebounds
"The Southwest continues to lead the housing recovery," said Blitzer. Nonetheless, values in all cities still remain below their prior peaks, he said.
Sales of previously owned properties rose 1.7 percent in August to a 5.48 million annual rate, the most since February 2007, as buyers rushed to lock in interest rates that were starting to climb from near record-low levels, data from the National Association of Realtors showed last week. The number of existing houses on the market was 2.25 million at the end of August, the fewest for that month since 2002.
Lawrence Yun, chief economist at the Realtors group, said the surge in sales in August was probably the "last hurrah" for the next year to 18 months as higher prices and the jump in mortgage rates hurts affordability for some buyers.
The rate on 30-year home loans averaged 4.50 percent in the week ended Sept. 19, close to the highest level since July 2011, according to data from McLean, Virginia-based Freddie Mac. The rate, which was as low as 3.81 percent at the end of May, began rising since Fed Chairman Ben S. Bernanke that month indicated the central bank may slow asset purchases.
Builder Sales
Lennar Corp. the third-largest U.S. homebuilder by revenue, said today that its fiscal third-quarter earnings rose as the company sold more houses and raised prices.
"We continue to see long-term fundamental demand in the market driven by the significant shortfall of new single-family and multifamily homes built over the last five years," Stuart Miller, chief executive officer of the Miami-based builder, said in a statement. "While there may be bumps along the road that may impact the short-term pace of the recovery, the long-term outlook for our business remains extremely bright."
Lennar's sales rose to $1.6 billion in the three months through August from $1.1 billion a year earlier as the number of homes delivered increased to 4,990 from 3,655. The average selling price increased to $291,000 from $258,000, and orders jumped 14 percent.
The Fed last week maintained its $85 billion monthly pace of bond buying, saying it needs additional evidence of sustained improvement in the economy. "The tightening of financial conditions observed in recent months, if sustained, could slow the pace of improvement," policy makers said in a statement after their meeting.
============================================================
                1-months 3-months   1-year  2-years  3-years
                 earlier  earlier  earlier  earlier  earlier
============================================================
US Composite-20    1.85%    6.63%   12.39%   13.72%    9.14%
------------------------------------------------------------
Atlanta            2.19%    9.34%   18.47%    6.69%   -2.32%
Chicago            3.24%   10.42%    7.79%    6.72%   -0.96%
Las Vegas          2.81%    8.57%   27.50%   26.29%   -0.38%
San Diego          2.04%    8.19%   20.35%   21.33%    1.38%
San Francisco      2.23%    9.54%   24.81%   30.74%    5.16%
Minneapolis        1.84%    6.39%    9.48%   16.55%    6.02%
Los Angeles        2.09%    7.14%   20.80%   21.33%    6.14%
Tampa              2.26%    6.38%   12.55%   16.75%    6.40%
Miami              1.18%    5.90%   13.70%   19.78%    8.45%
============================================================
                1-months 3-months   1-year  2-years  3-years
                 earlier  earlier  earlier  earlier  earlier
============================================================
New York           1.54%    5.12%    3.52%    0.82%    8.47%
Cleveland          0.47%    4.08%    3.86%    4.61%    8.88%
Portland           1.59%    5.81%   12.23%   15.80%    9.35%
Phoenix            1.46%    5.20%   18.89%   38.61%   13.14%
Seattle            1.94%    7.01%   12.50%   15.94%   14.13%
Boston             1.38%    4.96%    6.26%    7.24%   14.33%
Dallas             1.30%    5.13%    8.47%   12.44%   17.05%
Denver             1.58%    5.32%    9.67%   15.60%   19.49%
Detroit            2.69%    9.85%   16.93%   25.02%   23.49%
Charlotte          0.66%    3.26%    7.56%    9.39%   26.35%
Washington DC      1.44%    4.54%    6.01%    9.54%   27.58%
============================================================
Before it's here, it's on the Bloomberg Terminal.
LEARN MORE