China's Bo Xilai, Still Defiant, Sentenced to Life in Prison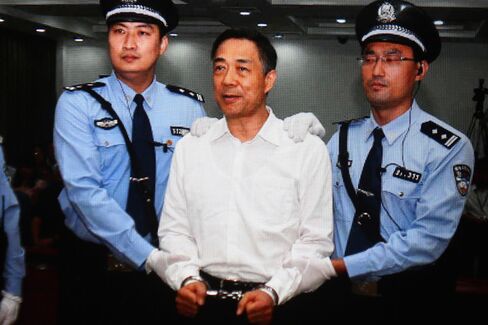 In a sensational case involving murder, sex, and corruption, former high-flying Chinese princeling Bo Xilai was sentenced to life in prison on Sunday.
Announcing the verdict on its microblog, the Intermediate People's Court in the provincial capital of Jinan, Shandong, ruled that the 64-year-old Bo was guilty of bribery, embezzlement, and abuse of power. Along with his life sentence, the former party secretary of Chongqing and onetime contender for the highest ranks of China's leadership will have his assets seized. Although the court noted he has the right to appeal, a reversal of the verdict would be unlikely.
"Bo has been found guilty of accepting bribes worth 20.44 million yuan (about $3.3 million), according to the verdict," reported the English version of China's official Xinhua News Agency.
The court's ruling followed a five-day trial in late August where a feisty Bo, while admitting to some mistakes, declared his innocence and lashed out at those accusing him. His wife, who testified against him and was earlier given a suspended death sentence for murdering a British national, was "crazy," and another accuser was like a "mad dog," Bo said during the earlier trial. His biggest failing: "I had a strong ego and bad temper," he said in late August. "I sincerely admit that my failure to manage my family had a negative effect on the country," Xinhua reported.
Bo's defiance apparently has not wavered. In a letter he recently wrote to his family that was posted on the U.S.-based Chinese website Boxun on Sept. 16, Bo says he expects his name to be cleared "one day." He tellingly cites the example of his own father, Bo Yibo, who spent much time in jail before being released and rehabilitated, and spent his last years as a revered Communist elder. "I will wait quietly in the prison," Bo wrote in the letter, which appears to be authentic, reported the Hong Kong-based South China Morning Post. "My father was jailed many times. I will follow his footsteps."
Before it's here, it's on the Bloomberg Terminal.
LEARN MORE