SNB Says Franc Ceiling 'Essential' to Protect Economy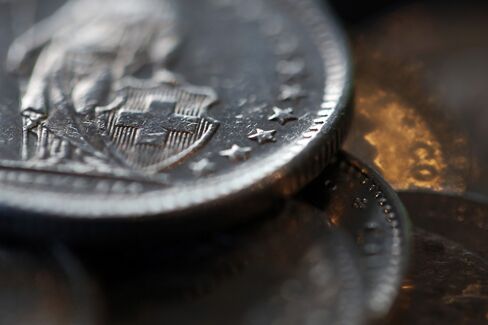 Switzerland's central bank said its cap on the franc remains essential even as dangers to the economy from Europe's debt crisis recede.
"At the moment there's no reason to discuss an exit of the cap -- the minimum exchange rate is still very, very important," Swiss National Bank President Thomas Jordan told Swiss Radio SRF in an interview after the Zurich-based central bank's quarterly policy review today. "How long that will be the case is hard to predict."
The SNB kept its ceiling on the franc at 1.20 per euro and vowed to defend it with unlimited currency interventions. Officials also left the band for the benchmark interest rate unchanged at zero percent to 0.25 percent, as forecast by all 21 economists in a Bloomberg News survey.
Citing the risk of deflation and a recession, the SNB set the cap in September 2011 after investors anxious about the region's sovereign debt crisis pushed the franc, popular as a haven at times of turmoil, close to parity with the euro. While the euro area emerged from recession in the second quarter, European Central Bank President Mario Draghi has warned against overestimating its pickup.
"The global recovery is very slow," Jordan said, citing a possible resurgence of Europe's debt crisis, geopolitical tensions in the Middle East and a potential slowdown in emerging markets as grounds for caution. "The risks may have receded, but they've not disappeared."
Events Abroad
Switzerland's monetary policy "depends largely on events abroad, notably the policies of the European Central Bank and the Federal Reserve," said Maxime Botteron, an economist at Credit Suisse Group AG in Zurich, who predicts the cap will remain in place until at least the end of 2014. "So long as they have expansive policy, the SNB will stick with its stance."
Federal Reserve policy makers yesterday unexpectedly maintained their quantitative easing program, with Chairman Ben Bernanke saying he wants to see more signs of the U.S. economy's lasting improvement.
While the franc has depreciated 2.1 percent against the euro this year as Europe recovers, it still is more than 20 percent higher than in September 2008, when Lehman Brothers Holdings Inc. collapsed. A gauge in the SNB's monthly bulletin on the Swiss currency's trade-weighted strength shows that the franc was overvalued by nearly 11 percent in July.
'Highly Valued'
"The franc still is very highly valued," SNB's Jordan told SRF. The Swiss currency traded at 1.2333 against the euro at 12:27 p.m. in Zurich, little from yesterday. Against the dollar it climbed 0.3 percent to 90.96 centimes.
Draghi earlier this week highlighted the fragility of a euro-area upswing, saying that the recovery "is only in its infancy" after exiting a record-long recession. According to the ECB's forecast, the 17-nation currency bloc will contract 0.4 percent this year.
By contrast, the Swiss economy completed a year of growth in the second quarter, with gross domestic product climbing 0.5 percent compared with the first, exceeding economist estimates.
The SNB raised its 2013 GDP forecast today, saying it expects economic expansion of between 1.5 percent and 2 percent this year, compared with its June prognosis for growth of between 1 percent and 1.5 percent.
The central bank sees consumer prices falling 0.2 percent this year before climbing 0.3 percent in 2014, compared with its forecast last quarter for a drop in consumer prices of 0.3 percent in 2013 followed by an increase of 0.2 percent next year. It left its prediction for 2015 unchanged at 0.7 percent.
Persisting Policy
"The Swiss economy remains fairly firmly in deflationary territory and as such the SNB's policy of zero rates and a minimum exchange rate will persist for some time," David Tinsley, an economist at BNP Paribas SA in London, said in a note.
In a separate statement, the State Secretariat for Economic Affairs today increased its GDP forecast to 1.8 percent for this year and 2.3 percent for 2014.
"Downside risks to the growth outlook are still predominating," Thomas Koebel, an economist at Skandinaviska Enskilda Banken AB in Frankfurt, said in a note. "It is far too early to discuss an exit strategy."
An easing of the euro area's crisis has allowed the SNB to hold off on major interventions this year after spending 188 billion francs ($206 billion) defending the cap in 2012. The central bank's foreign currency reserves stood at 434 billion francs in August.
Mortgage Risks
Owing to the SNB's loose policy, the Swiss private real estate market is in the throes of its biggest upswing in two decades. The central bank has repeatedly sounded the alarm about borrowers overextending themselves.
To prevent the mortgage writedowns from hobbling economic growth, the SNB, which can't raise interest rates while keeping the cap, pushed for a bank capital buffer. The measure, set at 1 percent of mortgage-related assets, comes into force at the end of this month. It can be increased to as much as 2.5 percent.
Regulatory measures, including the buffer, are "having a damping effect," Jordan said in the radio interview. "You can't say at the moment" whether further steps will be needed, he said. "We're monitoring the situation closely."