Grit Drives Abbott to Follow Perry as Texas Governor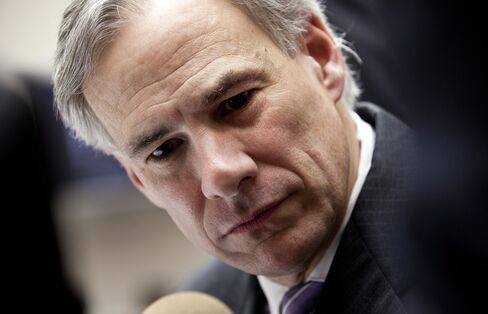 The loudest applause during Greg Abbott's campaign stops in central Texas last month came when he said a United Nations treaty threatened the rights of American gun owners, and vowed he'd fight it.
Abbott, the Texas attorney general, is running to succeed Rick Perry as governor. He aligns with Perry in opposing gun control, same-sex marriage and abortion, and is proud to say he's sued President Barack Obama's administration 28 times. He personally defended display of the Ten Commandments at the Texas capitol in a case before the U.S. Supreme Court, and won.
After 28 years as a lawyer, judge and the state's chief legal officer, Abbott is the Republican frontrunner for governor, not least by virtue of his $21 million campaign fund. Between Perry and George W. Bush, the second-most populous state has been led by Republicans for almost two decades. Abbott, 55, would be the first to do so from a wheelchair.
"Having experienced life with a physical challenge, I'm so much more understanding of everyone and empathetic with everyone," said Abbott, who's paralyzed from the waist down. "It connects me more with the challenges all of us face in life, but with the universality of being able to rise above those challenges."
On July 14, 1984, Abbott took a late-afternoon break from studying for the Texas bar exam to go jogging in Houston's wealthy River Oaks neighborhood. A gust of wind toppled a 75-foot oak tree, striking him at the base of his spine.
'Can't Feel'
"The first words out of Greg's mouth were, 'I can't feel my legs.' He knew instantly," said Fred Frost, now a lawyer for ExxonMobil Corp., who was running behind his law-school classmate.
Abbott sued the tree's owner and a tree maintenance company. He emerged as the beneficiary of an annuity settlement that has paid him more than $5 million and will top $9 million if he lives to age 65, according to a copy provided by his campaign.
"In his darkest hour, the first thing he did was call a plaintiff's lawyer," said Tommy Fibich, a trial lawyer in Houston who donates to Democratic candidates. "Ever since then, he's run against the very system that's allowed him to do everything he's done in his life."
Detractors criticize Abbott for opposing broader health insurance coverage for the poor, supporting limits on jury awards in medical malpractice cases and asserting that state authority trumps federal regulations involving access for the disabled.
Democratic Opportunity
Painting Abbott as hypocritical presents an opportunity for state Senator Wendy Davis, a Fort Worth Democrat mulling a bid for governor, said Gilberto Hinojosa, a Brownsville lawyer and chairman of the Texas Democratic Party.
Davis, 50, who drew national attention in June for trying to block an abortion bill by talking almost nonstop for 13 hours, has said she will announce her plans on Oct. 3.
Abbott faces a 2014 Republican primary opponent in Tom Pauken, who headed the Texas Republican Party in the 1990s and was appointed by Perry to head the Texas Workforce Commission, which administers unemployment benefits.
Pauken, 69, says Abbott is tied to big-business lobbyists, with 200 donors providing more than two-thirds of the $39 million he's raised for campaigns since 2001. Pauken has cash or commitments for about $400,000 in donations, spokesman Joe Gimenez said, or less than 2 percent of Abbott's total.
Goldwater Republicans
Born in Wichita Falls, Texas, Abbott spent his high school years in Duncanville, a Dallas suburb. In the 1964 presidential election, Abbott said, his parents rejected fellow Texan Lyndon Johnson, a Democrat, and backed Republican Barry Goldwater.
Abbott earned his undergraduate degree in finance at the University of Texas in Austin, where he joined the college Republicans and met his wife, Cecilia, the granddaughter of Mexican immigrants. They married in 1981 and have an adopted daughter, Audrey, 16.
"When I'm not working, you will find me spending time with my daughter," Abbott said in an interview, pointing to two recent Friday nights watching her lead cheers for her high school football team.
Abbott works out a couple days a week, for about an hour, at a local health club. To build upper body strength, he wheels up ramps at empty parking garages, he said.
Political Leanings
After attending Texas Tech University School of Law in Lubbock for a year, Abbott transferred to Vanderbilt University Law School in Nashville, Tennessee. His political leanings weren't evident, said classmate Kenny Cole, a lawyer in Decatur, Alabama, who previously worked for Houston-based Fulbright & Jaworski LLP.
Married and studying 18 hours a day, Abbott said he didn't have time for politics. Good law-school grades helped him land a job at Butler & Binion, then among Houston's largest law firms.
One of Abbott's jobs was defending Houston's bus system against lawsuits, Cole said. Abbott's disability was often more severe than the plaintiffs' who were seeking awards, making it hard for jurors to rule against the city, Cole said.
"If there's anybody in public office in the state of Texas who should have empathy for injured folks, it ought to be Greg," said Cole. He said he disagrees with Abbott's politics but admires his friend.
'Just Trembling'
Visiting the hospital days after the accident, "no one knew how his recovery was going to go," Cole said. "I remember Cecilia's chin just trembling as she talked. It just broke my heart." Cole said he helped raise about $5,000 from classmates to pay Abbott's initial medical bills.
Frost said Abbott's determination was on display in 1987 when the two men and their wives went on a double date. Abbott parked his two-door sedan, opened his door, swept his wheelchair out of the back seat and popped it into a position. He then hoisted himself into the chair, closed his door and wheeled around to open the passenger-side door for his wife, who was waiting patiently.
A passionate fan of the National Basketball Association's Houston Rockets, Abbott heckled Michael Jordan and other players unmercifully from courtside seats, said Patrick Mizell, a friend and lawyer with Vinson & Elkins LLP, Houston's largest law firm.
"Do you want another donut?" Mizell said Abbott yelled at Charles Barkley, a star who went on to become a spokesman for Weight Watchers International Inc. In Mizell's words, Barkley's reply was, "Shut the expletive up."
First Campaign
In 1992, Abbott ran for state court judge in Houston, Mizell said, raising $200,000 and speaking at dozens of law firm receptions and Republican women's clubs.
"He treated it like he was running for president," Mizell said. "He had a belief early on that because of his accident, he would have a shortened lifespan, so he was driven to get things done at a quicker pace than normal people."
During the race, Abbott met Houston lawyer Patrick Oxford, a fundraiser for George W. Bush's campaigns for governor and president. When Abbott showed interest in moving to Austin for a judgeship, Oxford said he introduced Abbott to Bush and his political consultant, Karl Rove.
"Greg always had a political bent, much more so than most lawyers and judges," Oxford said.
Appointed by Bush to the state Supreme Court in 1995, Abbott was "very conservative, though he'd be classified as a moderate compared to some other justices," said Wayne Scott, a professor at St. Mary's University School of Law in San Antonio.
Lawsuit Restrictions
Business groups liked Abbott's judicial approach, said Richard Trabulsi Jr., a Houston businessman and president of Texans for Lawsuit Reform, a business-backed group favoring restrictions on lawsuit awards.
"He made sure he didn't legislate from the bench and he was always fair and thorough," Trabulsi said.
In 2001, Abbott stepped down and spent a year at Oxford's firm, Bracewell & Giuliani LLP, one of whose partners is former New York Mayor Rudolph W. Giuliani. Abbott helped on appellate cases and plotted his 2002 campaign, Oxford said. With $7.8 million in donations, Abbott in 2002 was unopposed for attorney general in the Republican primary and won the general election by about 16 percentage points.
As attorney general, Abbott heads a department with 4,000 employees, including 800 lawyers, and an annual budget of about $500 million, said Kent Sullivan, Abbott's first-assistant attorney general from 2006 to 2008.
Federal Fights
Abbott has fought the federal government over pollution emission standards, Voting Rights Act enforcement and other issues. He counts as a key success helping persuade the U.S. Supreme Court to block the federal government from forcing states to expand Medicaid programs, part of Obama's Affordable Care Act.
"That victory alone saved the state of Texas on the absolute low side $10 billion," Abbott said, his estimate of the long-term cost of expansion. "There's no one with any credibility who says Medicaid is a successful, effective way to run the system."
Abbott also has hammered the Obama administration for backing a UN treaty regulating the $70 billion global arms trade. The agreement, which would require a two-thirds majority of the Senate for ratification, doesn't cover domestic gun sales.
UN Rules
Abbott, in a letter to the president, said the UN rules "trample Second Amendment rights" to bear arms protected by the U.S. Constitution. "It also threatens to erode all liberties guaranteed to Americans in the Constitution by establishing the precedent that the UN has some level of authority to govern our lives," Abbott said.
Abbott said his focus as governor would include limiting taxes, regulations and union organizing, while expanding the state's road network and water supply. While opposing new or higher taxes, he said additional money will be available because of population growth and reduced spending by state agencies.
One difference with Perry is his business recruiting strategy.
"We can do even more by leveling the playing field and getting government out of the business of picking winners and losers," Abbott said. The Texas Enterprise Fund, controlled by Perry, has awarded $498 million in incentives to retain and attract businesses, according to an August report issued by the governor. Democrats deride the program as crony capitalism.
Disabled Critics
Abbott has been criticized by advocates for the disabled. He "hasn't made any statements in policy decisions where people in the disabled community have been happy," said Kenneth Shiotani, senior attorney at the National Disability Rights Network, a Washington group.
Dennis Borel, executive director of the Austin-based Coalition of Texans With Disabilities, said Abbott has argued in court that state agencies are legally immune from certain provisions of the federal Americans With Disabilities Act.
"I strongly believe in the ADA, but the hit I've taken is one of doing my job," Abbott said. "I have defended many laws that I disagree with."
While Abbott shares Perry's views on most issues, his stance against corporate subsidies pleases conservatives who are distrustful of big business, said Mark Jones, who heads the political science department at Rice University in Houston.
"I think he's more conservative and more passionate than Perry," said Richard Porter, 75, a retired rancher who attended an Abbott rally in Kerrville. "He is more real."