Asset Bubbles Found by Finnish Economist Inspired by Grandfather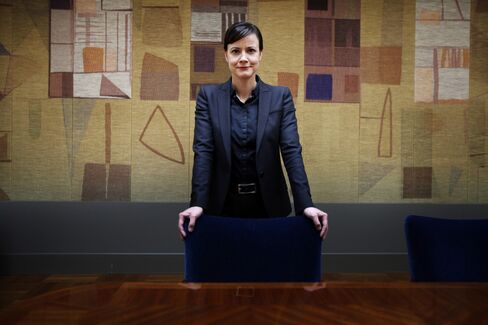 When Katja Taipalus came home from school every day in the Finnish town of Jalasjaervi, she knew her working parents wouldn't be there. Instead, her retired grandfather, who also lived in the large wooden house, played cards and other games with her. They even repaired a car.
Then, as she got older, there were fewer pastimes and more debates.
"He wanted to question things and enjoyed making me explain my views," said Taipalus, 39. "He didn't make it easy on me. We'd talk about absolutely everything. When I started studying macroeconomics, he was thrilled."
Those discussions taught her to stay focused when she became an economist and her research hit a dead end, she says. The end result: an indicator that helps detect asset-price bubbles in equity and housing markets -- as much as a year in advance.
"Asset prices have been one of the main components as financial crises have built up," she said in the Bank of Finland's historic teller hall in Helsinki, its walls decorated with giant tapestries. "If we think of the tools needed to allow policy makers time to react," one of the main ones is "getting a signal as early as possible about an asset-price bubble in the making."
Drawing up the indicator earned Taipalus her Ph.D. last year at the University of Turku, after four-and-a-half years of study alongside full-time work at the Finnish central bank. She heads the macroprudential-analysis division of the financial-stability and statistics department, running a team of seven economists and experts who work on analysis and applied research.
Systemic Risk
The worst financial crisis since the Great Depression and the biggest economic slump since World War II have prompted policy makers to develop such responses as so-called macroprudential tools, which gauge systemic risk among financial institutions and limit the impact on the economy.
Feed in dividend yields and stock indexes, and Taipalus's indicator signals every major U.S. stock-price bubble since 1871. Input rent indexes and house prices, and it signals when increases in the cost of homes are becoming unhinged.
When the light flashes, as much as 12 months ahead of time, it's a sign to regulators that action may be needed. The warning is a numerical value produced by the data; its level depends on what trigger has been set.
Taipalus's indicator is able retroactively to detect the U.S. subprime housing-market collapse after prices peaked in 2006, with signals from 1998 to 2001 and again from 2003 until early 2006. The model also could have predicted the Spanish and Irish housing-market booms before the crashes occurred. U.S. house prices are now 23 percent lower than the peak.
'Major Challenges'
"This work is a very good example of policy-relevant research, what central banks can and should do," said Erkki Liikanen, European Central Bank Governing Council member and governor of the Bank of Finland. "The question of systemic risks and macroprudential supervision are major challenges, which emerged from the financial crisis, and good research is critical in designing future policies in this area."
Because bubbles have common characteristics, the indicator seeks to find the points where price growth diverges from its prior trend path, Taipalus said. Previous models had trouble identifying exactly when the break occurred or failed to gauge the booms' common denominators.
"I'm convinced that a bubble is actually people believing that prices will go up and that they will be the ones who can exit the market before it crashes," she said. "That thinking has been built into this indicator."
Derivatives Past
Taipalus knows something about investors: She joined the central bank in 2001 after working as a fixed-income analyst at a pension fund and as a broker at a Helsinki derivatives exchange. Those jobs taught her the grass-roots functioning of financial markets, she said. A yearning to conduct deeper analysis work led her to apply for a position as an economist at the Bank of Finland.
She accepted the derivatives-broker post as a third-year university student in 1997, three years after Finland's unemployment rate had peaked at 19.9 percent amid a three-year recession and banking crisis.
"I had applied for a summer job, but they asked me if I wanted to work full time instead," she said. "It was 1997 and it wasn't a hard question to answer: I had thought I'd never find work."
Her early-warning tool has a wide range of possible applications, from helping central bankers decide on the right timing of a cycle of monetary tightening to encouraging counter-cyclical capital buffers. It also can help policy makers distinguish a bubble from a price increase that's driven by rising fundamentals. Taipalus now is working on extending the warning period her indicator provides.
Parallel Work
Yale University Professor Peter C.B. Phillips has worked on similar research, with interest in the past couple of years from central banks in the U.S., Singapore, Hong Kong, Israel, Iceland and New Zealand as well as large commercial banks, he said in an e-mailed response to questions.
"Financial-market stability, particularly global financial stability, is a public good like clean air, clean oceans and a healthy environment," he said. "Financial stability is threatened by asset bubbles, excessive credit creation, uncontrolled risk-taking by banks and ballooning sovereign debt. Any econometric methods that assist in detecting these threats are helpful to ensuring financial stability."
His method, he said, is "very different" from Taipalus's, and may have more "transportability" to other researchers.
The economists have never met, Taipalus said, adding that their indicators differ slightly in structure and in the way the signals are interpreted.
Converging Research
"At first I felt very alone in the field," she said. "Having someone work on similar research reinforces the feeling that there may be something in it that deserves a deeper look."
Other devices regulators need alongside the bubble-detection tool include those that look at the real economy, credit cycles, operation of financial markets, systemic stress and contagion, Taipalus said.
"We need to be able to combine an adequate number of varying indicators to explain the current situation," she said. The goal is to merge macroeconomic data points with financial-market information to produce a "stability map."
When Taipalus was growing up, her father was an entrepreneur who built greenhouses and owned a business that sold salvaged cars, while her mother managed the finances.
Chef Dreams
"At home, I was encouraged to try new things and any crazy ideas I might have had were never quashed," Taipalus said. "The lesson was never to give up."
After high school, Taipalus moved to Turku, Finland's oldest city, with plans to become a chef. That changed when she took an Open University class in macroeconomics and fell in love with its logic. She devoured books borrowed from her professor and ditched her set of knives for an economics degree.
At the central bank, she worked as an economist in the financial-markets, research and monetary-policy departments before getting her current job in 2012.
"Back in 2005, when I tried to market the word 'bubble,' it seemed to be quite an unfashionable topic," she said. "Seeing so clearly that house prices were becoming excessive in many places -- that kept up my motivation to continue this work."
Her perseverance yielded a tool that's particularly useful in helping identify inflated housing markets before they have a chance to inflict pain on the economy, said Esa Jokivuolle, one of her two project supervisors.
Debt Impact
"Applying the indicator to housing-market bubbles is particularly interesting, because crises involving debt-financed property-price imbalances tend to cause more harm in the real economy," he said. "In comparison, the early 2000s IT bubble was a stock-market phenomenon that didn't involve significant leverage and caused a milder impact on the economy."
Pairing up with a more senior researcher has helped at several stages of her career, Taipalus said, adding that she's never had a mentor per se. The reward for recasting the theoretical foundation for the project, rewriting the indicator model and trying it out with various simulations and test methods was to see positive results, she said.
"The hardest thing about solving problems is that when you've thought it one way, you suddenly need to find a new point of view," she said. "Otherwise you remain stuck."
Setting Aside
Setting the work aside for a while helped restore her motivation several times, along with encouragement from her supervisors, she said.
"Katja is a hard worker, ready to take a challenge head on," Jokivuolle said. "She doesn't give up easily."
Financial-market regulation and supervision is a very content-driven field, Taipalus said. Being a woman "seems like it isn't a factor at all in an organization focused on expertise," she said.
Even so, combining work and irregular hours with being a mother to a six-year-old son has proved "pretty difficult," she said, partly because her husband travels a lot for work.
"It must be easier here with well-organized daycare, but I couldn't have managed for the past two years without my mother's help picking him up from daycare when I had to work late," she said.
Finnish children have the right to attend municipally funded daycare and parents are billed according to their income. The female employment rate was 68 percent in Finland last year and 90 percent worked full-time, according to the Organization for Economic Cooperation and Development.
Full-Time Work
In the U.S., the women's employment rate was 62 percent and 87 percent held full-time jobs, compared with the U.K., where 66 percent of women worked, 64 percent full-time.
At the flat she and her husband own outside of Helsinki, Taipalus has a kitchen garden with herbs, root vegetables, strawberries and blackcurrants. She tills the plot with her son.
"He's been really eager to help me," she said. "He loves to dig and water the plants."
Back at work, Taipalus looks ahead to more policy applications.
"What I'd want to see in five years would be that we'd have built a set of analysis tools, a certain format we'd be able to use" for gauging the situation in the financial markets, she said. "This is the time when this field of analysis takes great strides ahead."