Japan to Set Casino Vote as Wynn, MGM Consider Spending Billions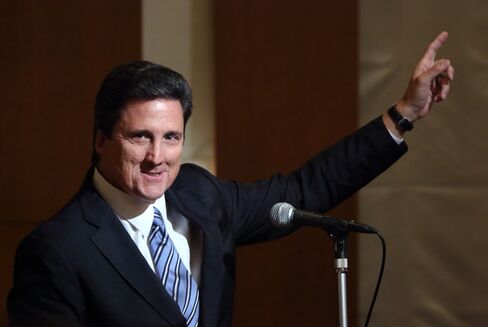 A Japanese lawmakers group aims to legalize casinos next year as operators including Wynn Resorts Ltd. consider investing billions of dollars in what is projected to be the world's second-biggest gaming market.
The committee plans to submit a casino bill to the parliament session expected to start next month and to pass it next year, Hiroyuki Hosoda, chairman of the group and an ally of Prime Minister Shinzo Abe, said yesterday at Liberal Democratic Party headquarters.
Operators of integrated resorts from Las Vegas to Macau and Singapore are preparing plans to expand into Japan as Tokyo's selection to host the 2020 Olympics Games boosts confidence casinos will be legalized. Wynn Resorts yesterday said it is considering investing more than $4 billion, while MGM Resorts International President Bill Hornbuckle said the Las Vegas-based casino operator would weigh spending "several" billion dollars.
"Japan could benefit from both its proximity to China and their appetite for VIP and mass-market gaming and luxury shopping, and being a business center with huge convention possibilities," Tim Craighead, a Bloomberg Industries analyst, said. "All of it now relies on the legislation process and Japan pursuing the benefit of the integrated-resort concept."
Caesars Entertainment Corp., the largest owner of U.S. casinos, said it is in talks with Japanese companies including gambling and video game makers Sega Sammy Holdings Inc. and Konami Corp.
Sega Soars
Sega Sammy surged to the highest in four months after Bloomberg reported Caesars was in talks on a tie up. The shares gained as much as 5.4 percent to 2,862 yen, the highest since May 15 at the close of Tokyo trading. Konami climbed 5 percent to 2,502 yen, the highest since May 29.
Sega Sammy spokesman Tetsuya Hasegawa declined to comment by phone, while a Konami spokeswoman who asked not to be identified, citing company policy, declined to comment.
Caesars is also reviewing possible casino locations in Japan, Steven Tight, president of international entertainment, said in an interview in Tokyo today.
Tight, along with executives from operators including MGM, Wynn and Las Vegas Sands Corp. were in Tokyo to attend a conference on casinos in Tokyo organized by Union Gaming Group LLC.
The group estimates legalized casinos in Japan would generate $10 billion in revenue a year, making it the world's second biggest gambling hub.
Tax Revenue
"A lot of Japanese gamble at casinos overseas, so the ban doesn't make sense any more," Hosoda of the lawmakers panel said. "It just means tax revenues go elsewhere." He estimates that it would take about five years to open casinos after they are legalized.
Added impetus to approve gambling resorts in Japan came after the capital beat Madrid and Istanbul to host the Summer Games, its second following the 1964 Olympics.
Abe, who has vowed to pull Japan out of two decades of deflation and stagnant economic growth, is a supreme adviser to the lawmakers' group working on the casino bill.
Plans to revitalize Tokyo's infrastructure and ensure adequate accommodations for visitors would be served by gambling resorts, which include hotels and entertainment facilities.
Local Partners
Wynn Resorts investment in a Japan casino "is going to be way bigger" than the $4 billion it is spending on its current project in Macau's Cotai area, Wynn Resorts Development President and Chief Operating Officer Gamal Aziz said in an interview. Wynn and MGM said that they plan to partner with local groups to develop casino projects.
Las Vegas Sands is also "open minded" about having local partners, George Tanasijevich, managing director of global development for Las Vegas Sands, said yesterday in an interview at the Union Gaming conference. "We are very confident that this would be a successful project" as there is a lot of unmet demand, the executive said.
Sands, MGM and Wynn didn't say which Japanese group they might each consider for alliances to develop casinos.
Among the potential local partners are trading companies such as Mitsui & Co., Mitsubishi Corp. and Itochu Corp., Sega and Konami. The trading companies have project-finance experience and real estate development connections, while the game makers have helped develop casino projects and technology outside of Japan.
The specific details about sites and operators will probably come after legalization. That would set the stage for gambling resorts to open by 2019 or 2020, CLSA said in a report earlier this year.
Tokyo's potential as a gambling market is also drawing the interest SJM Holdings Ltd., Asia's biggest casino operator, and Melco Crown Entertainment Ltd.
Macau, the world's biggest gambling hub, raked in $38 billion gambling revenue last year, six times that of Las Vegas Strip.