'Grand Theft Auto V' Debut Expected to Reap $1 Billion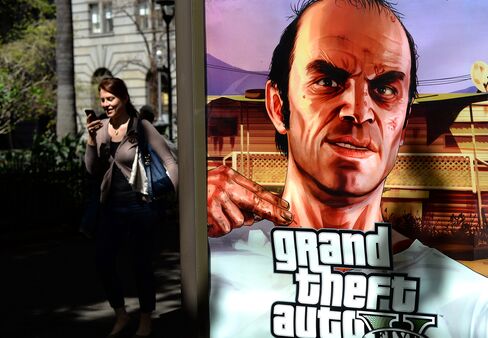 "Grand Theft Auto V," the video game featuring gangsters swimming with sharks, is forecast to generate $1 billion in sales in one month, four times the amount Take-Two Interactive Software Inc. spent to make it.
The title, five years in the making, cost as much as $250 million to develop and market, according to Sterne Agee & Leach Inc. It hit stores today and may top the $900 million debut of its record-setting predecessor, estimates Colin Sebastian, an analyst with Robert W. Baird & Co.
"There's a lot of anticipation for this game," Sebastian said in an interview. "If the sell-through is disappointing at all, because it doesn't break records or fit some other point of measurement, then it reflects on the broader industry's fortunes."
The pressure is on game publishers to prove $60 titles that take years to build have a future in an industry shaken by cheap titles for Facebook, tablets and smartphones. Since the last "Grand Theft Auto" broke opening-day records in 2008, developers have cut jobs and slashed the number of titles they make, moving content online as they seek to avoid the fate of weaker players such as THQ Inc., which went bankrupt.
"A lot of kids don't want $40 games any more, they want 40 $1 games," said Nancy MacIntyre, a former executive at "Star Wars" game studio LucasArts, now owned by Walt Disney Co. She runs a social-gaming network, Fingerprint Digital Inc.
Retail sales of new video-game software fell 15 percent to $2.15 billion in the first half, to make up 33 percent of U.S. consumer spending on games, according to researcher NPD Group. Digital-format sales, including online subscriptions and dowloads, mobile and social titles, rose 10 percent.
Tentpole Strategy
As new consoles arrive from Sony Corp. and Microsoft Corp., the holiday season is a test for big, packaged-game franchises like "Grand Theft Auto," Activision Blizzard Inc.'s "Call of Duty" and "Battlefield," from Electronic Arts Inc.
The smaller retail pie has pushed video-game publishers, like movie studios, to place monster financial bets on fewer titles. Developers spend years on a project, relying on high scores from sites like Metacritic, which compiles critics' reviews, to spur purchases.
Some fall short. Electronic Arts' "Madden NFL 25" and Ubisoft Entertainment SA's "Tom Clancy's Splinter Cell: Blacklist," released in August, didn't sell as well as earlier versions, Michael Olson, an analyst at Piper Jaffray Cos., wrote Sept. 13 in a research note.
Auteur Brothers
Order activity suggests "Grand Theft Auto V" shipments could exceed Wall Street's estimates for the year ending in March and bode well for holiday releases, said Sebastian, the Baird analyst. Take-Two profit, excluding some items, is forecast to rise almost sevenfold this year to $2.47 a share, the average of 16 analysts' estimates compiled by Bloomberg.
Take-Two rose 1.3 percent to $17.57 at 9:32 a.m. in New York. Through yesterday, the stock had advanced 58 percent this year, more than double the 24 percent gain of the Russell 2000 Index.
"Grand Theft Auto V" was made in Scotland by Take-Two's Rockstar Games, founded by Dan and Sam Houser. The British brothers pioneered open-world violence embodied by titles such as "Grand Theft Auto" and "Red Dead Redemption."
The open-world format gives players freedom to explore on their own, creating scenarios that affect the overall missions. Between car heists in Southern California, "Grand Theft Auto V" players can practice yoga and scuba dive, while controlling three characters. YouTube trailers show rich, high-definition graphics set to blaring rock and rap soundtracks, helicopter gunships shooting overhead and explosions galore.
'Best Ever'
The latest "Grand Theft Auto" was slated for spring 2013 before being delayed to allow for more development. The Xbox version received a 98 score out of 100 on Metacritic, the same as "Grand Theft Auto IV."
Access to "Grand Theft Auto Online," a multiplayer version of the game that starts on Oct. 1, comes with every copy, Take-Two said today. It features more than 500 missions, and could expand to include settings from previous games, Rockstar officials said in August.
"Grand Theft Auto V" probably cost $150 million to make, and Take-Two will spend $50 million to $100 million to market it, said Arvind Bhatia at Sterne, Agree & Leach in Dallas. He projects it will sell 13 million units by year-end and 18 million by April. That would still put it below the up to $300 million analysts estimated Electronic Arts spent on "Star Wars: The Old Republic" in late 2011.
"They're not putting it out to be just another game," Bhatia said of the Housers. "They want to do this on a grand scale, making it the best game ever."
'Air Pocket'
The development delays mean "Grand Theft Auto," made for current-generation Xbox 360 and PlayStation 3, is coming out two months before the arrival of those consoles' successors.
The timing leaves Take-Two to navigate an "air pocket" in which gamers delay purchases while waiting for the new machines, said Michael Pachter, an analyst with Wedbush Securities in Los Angeles. He estimates "Grand Theft Auto V" may sell 24 million copies in its lifetime, 1 million fewer than the previous version.
Take-Two hasn't announced plans for Microsoft's Xbox One and Sony's PlayStation 4. By contrast, Electronic Arts and Activision have set upgrade plans for their holiday releases "Battlefield 4" and "Call of Duty: Ghosts," respectively.
Alan Lewis, a spokesman for New York-based Take-Two, declined to comment on the cost of "Grand Theft Auto" or its plans for new consoles. As of March, the Xbox 360 and PlayStation 3 had sold about 154 million units worldwide, estimates researcher IDC.
'Angry Birds'
"The new ones combined might sell 6 million units but the installed base for the existing generation is going to be so much larger that it won't really matter if the game is not on next-generation" during the holidays, Bhatia said.
Take-Two is also competing with a slew of smartphone games that are cheaper to develop and popular with consumers. "Angry Birds," from Espoo, Finland-based developer Rovio Entertainment Oy, has been downloaded almost 2 billion times and delivered $199 million in sales of games and merchandise last year.
Concerns that cheap games on mobile devices are sapping the video-game market are exaggerated, Strauss Zelnick, Take-Two's chief executive officer, said in a July 30 interview.
"A higher price point can work if you give people the highest-quality titles," Zelnick said. "As with all transitions, a couple of players won't make it and a couple of players are able to push ahead."
Before it's here, it's on the Bloomberg Terminal.
LEARN MORE