How to Turn a Tidy Profit on a Miserable Carnival Cruise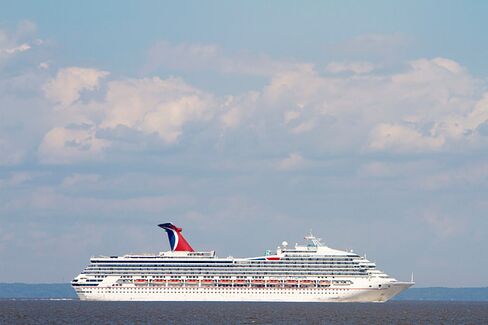 Embattled Carnival Cruise Lines has a new gambit meant to lure the wariest of would-be passengers: a full refund plus an additional 10 percent to anyone left disgruntled by their cruise experience. That's a payout for griping, a return that would delight most professional investors. Weak piña coladas? Disappointing dinner theatre? Renegade toddlers in the "serenity adult retreat" area? You can get 110 percent cash back. Carnival is also offering to fly unhappy customers home for free.
Carnival's super-refund is almost entirely a marketing initiative—a way to lure skittish consumers back onto its ships. Per a new "passenger bill of rights" (PDF), cruise companies already give full refunds when something goes seriously wrong on a ship—say, I don't know, maybe an engine-room fire leaves thousands stranded in a tropical sea without air-conditioning or functioning toilets.
"There are a lot of questions, barriers, and uncertainties about cruising," Carnival's Chief Marketing Officer Jim Berra told Cruise Critic. "We believe this guarantee is a chance to show just how confident we are in our product and also give cruisers more peace of mind in selecting Carnival." It's also unlikely that Carnival will have a tide of greedy defectors on its hand. As redemption rates on rebate offers have long shown, consumers are typically too lazy to grumble for a few bucks.
The offer comes as Carnival is listing badly after a string of highly-publicized accidents and onboard sicknesses. Demand, understandably, has dried up. And Carnival, with an armada of massive ships on its balance sheet, can't readily cut supply.
In the first half of the year, the company's revenue sunk slightly and the cruise operator barely eked out a profit. Carnival cut its profit forecast for the year in May, acknowledging that it was lowering prices to fill berths. In the second quarter alone, it slashed $81 million from its cruise pricing, according to SEC filings. "Our advisors are saying that the recovery will be gradual, and it will take two to three years for the Carnival brand to fully recover," Chief Operating Officer Howard Frank told investors and analysts in late June.
Back to those new super-refunds meant to tempt wary cruisegoers down the gangway. Anyone seeking to take up the 110 percent money-back offer will have to lodge a complaint within 24 hours of leaving port. The rebate gambit will be a bit risky—especially during hurricane season in the Caribbean—but if it helps Carnival turn its business around a bit more quickly, it may be worth it.
Before it's here, it's on the Bloomberg Terminal.
LEARN MORE