Berlusconi Ally's Motion to Halt Expulsion Proceedings Fails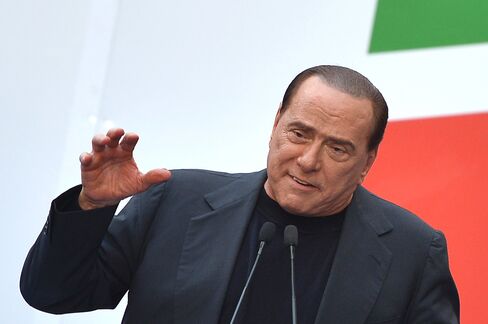 A motion to halt expulsion proceedings against Silvio Berlusconi in the Italian Senate was rejected in a committee vote, setting up a possible showdown on the issue in the full chamber.
Members of Berlusconi's People of Liberty Party on the Senate Committee for Elections and Parliamentary Immunities walked out in protest before the vote in Rome late yesterday. Fifteen senators voted to reject a motion by Senator Andrea Augello, a Berlusconi ally, and one member supported it, according to senators of the Five Star Movement.
A public hearing was set for Oct. 4 to allow Berlusconi a forum to present his defense, after which the committee will decide whether to put the matter before the full Senate for a final vote. Felice Casson, a member of the committee, said an eventual vote in the chamber would probably come in mid-October.
The career of 76-year-old Berlusconi, a three-time ex-prime minister, was placed in doubt last month when Italy's top criminal court upheld his conviction for tax fraud. In a video broadcast simultaneously by major Italian networks yesterday, Berlusconi denied guilt and urged viewers to protest against the criminal convictions and political adversaries threatening to end his career.
"They think they have put me out of politics with a monstrous, politicized sentence," Berlusconi, 76, said in the 18-minute address aired on Italian television stations including SkyTG24. "I'm telling all decent Italians with common sense to react, protest, make yourselves heard. You have the obligation to do something strong and big to get out of the situation they put us in."
Berlusconi, reviving the name "Forza Italia" for his political party, omitted any expression of support for Prime Minister Enrico Letta in the 18-minute address.
Coalition Split
The wrangling over Berlusconi has threatened Letta's government by splitting the ruling coalition. Lawmakers in People of Liberty, the second-biggest party in Letta's alliance, have threatened to resign if Berlusconi loses his seat. Letta's Democratic Party, the largest group in parliament, has said the expulsion is required by law.
"A contest has opened up between the Democratic Party and Milan prosecutors to see who can be the first to expel Silvio Berlusconi," Augello said yesterday in an interview televised on SkyTG24. "By tomorrow morning this government certainly won't have the same strength and depth that it has today."
Italy's 10-year bond yield declined 11 basis points to 4.29 percent at 3:08 p.m. in Rome. The yield rose above Spain's 10-year yields last week for the first time in 18 months on speculation that the vote would destabilize the coalition.
Party Overhaul
Senator Nico D'Ascola, one of the panel members from Berlusconi's party, said his group would return to the committee for the next meeting. Berlusconi will have the opportunity to testify in a public panel hearing before the next vote.
The billionaire ex-premier is reluctant to unseat Letta because he could lose in a new election, said Matteo Renzi, the Florence mayor and a candidate for leadership of the Democratic Party.
"Berlusconi isn't going to bring on a vote because he knows we'd pave the road with him," Renzi said Sept.17 at a book presentation in Rome.
Berlusconi is unlikely to spend a day in jail for the tax fraud verdict. His four-year prison sentence will probably be reduced to one year of house arrest or community service, due in part to leniency guidelines. Berlusconi is appealing separate criminal convictions for illegal use of wiretaps, abuse of office and paying a minor for sex. He has denied all charges, saying the trials amount to political persecution.
The Democratic Party, or PD, is seeking to apply a 2012 anti-corruption law that imposes a six-year ban from public office on people sentenced to more than two years of prison. Beppe Grillo's Five Star Movement, the biggest opposition party, has also said the law should be applied to Berlusconi.