Three Reasons Fiat Can't Get Enough of Chrysler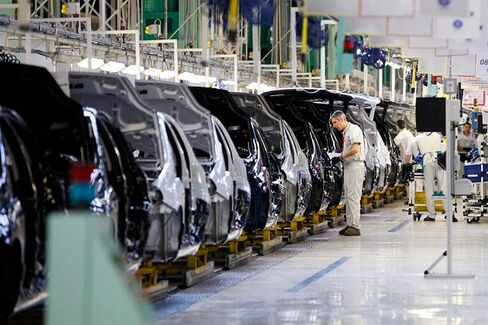 Fiat's dreamy marriage with Chrysler is approaching what looks to be an increasingly large bump. The Italian carmaker owns 58.5 percent of the Detroit giant, but it's looking unlikely that it will be able to buy the rest of Chrysler from the United Auto Workers. The union, which owns 41.5 percent through its VEBA health-care trust, wants more than Fiat has offered so far and is pushing for an IPO. "The dialogue is going on," Sergio Marcheonne, the chief executive of both Fiat and Chrysler, told Bloomberg. "We are not getting closer, but we keep on talking."
Without Fiat there might not even be a Chrysler anymore, but it's hard to overstate what the Detroit brand has brought to its Italian partner. Here are three reasons why Fiat is so keen to make the marriage official:
1. An Escape From Europe: In 2008, Fiat was getting half its revenue in Europe and only 8 percent in North America. Its business today is much less continental and way more global. Last year, 52 percent of Fiat revenue came from North America and Mexico, while Europe, the Middle East, and Africa accounted for only about one in five sales dollars. European car sales, meanwhile, have skidded to their slowest pace in two decades—making Fiat's shift to Detroit look amazingly prescient in retrospect.
2. Financial Torque: Size matters in the carmaking game. Chrysler and Fiat not only share parts and platforms since joining forces, but they also place orders en masse. The companies together purchase roughly $100 billion a year in parts and supplies, which means the supercompany has a lot more power in hammering sweet deals. What's more, if Fiat can push its Chrysler stake above 75 percent, it can mingle the companies' cash, unlocking the almost $12 billion that's in the coffers of its Detroit partner.
3. Horsepower: As engines become more efficient and the global economy recovers, drivers are warming once again to big models. Fiat makes fuel-sippers and Ferraris—it doesn't make muscle. Chrysler, however, does make muscular models, and its big vehicles are getting serious traction. The company can't make Jeeps fast enough, and its Ram pickup remains the workhorse of the fleet. The 235,000 trucks sold in the U.S. this year through August are more than double the amount of any other vehicle Chrysler makes. That DNA, unsurprisingly, is going to play a big part in the development of a Maserati SUV. Of course, the relationship isn't totally one-sided: The Dodge Dart, the rebirth of an all-American brand and Chrysler's most fuel-efficient vehicle, is built with the bones and nervous system of Fiat's Alfa-Romeo.
At this point, the maneuvering over the UAW shares is largely a matter of accounting. Operationally, the merger is more or less complete. "There is no question about who runs what," Marchionne said in a media briefing early last year. "I run one company." But a Chrysler IPO would delay Fiat's efforts to build its stake. Meanwhile, Marchionne finds himself in a strange position for an executive: convincing investors his company is worth less than they think.
Before it's here, it's on the Bloomberg Terminal.
LEARN MORE