Gym No Match as Tree-Climbing Fitness Retreats Prove Best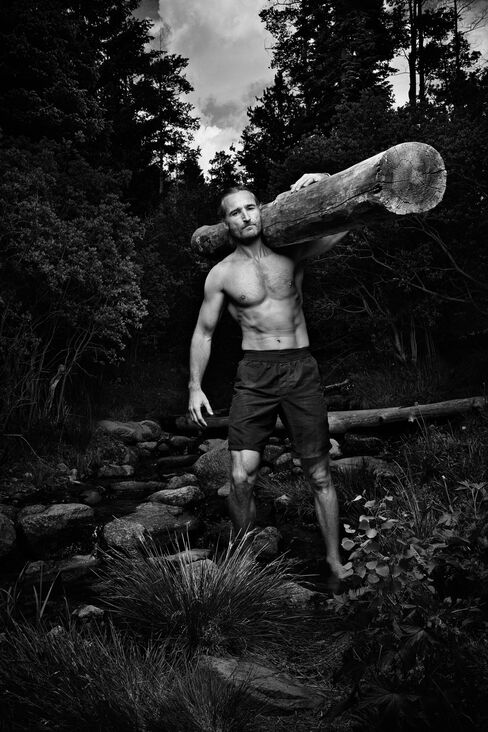 Instead of going to a gym, Erwan Le Corre climbs trees and shoulders heavy logs. And on your next vacation, Bloomberg Pursuits will report in its Autumn 2013 issue, he wants you to join him.
Le Corre's Santa Fe, New Mexico–based MovNat LLC is one of a handful of fitness outfitters offering getaways centered on the notion that our Stone Age genes are a mismatch for our Google-age environment. Unlike spa-centric wellness retreats from the likes of Canyon Ranch, these strenuous multiday excursions in places such as California, Kenya and Thailand aim to re-connect the officebound, white-collar set with the motions our bodies were intended to make in the natural world.
At MovNat's outposts in Costa Rica, Mexico and Spain, for instance, days are spent mastering what Le Corre classifies as the basics of human movement: climbing, crawling, jumping, running, swimming and lifting. Le Corre says his approach helps reverse the damage done by our sedentary lives.
"I want to see fewer of these people who are so out of breath they can't keep up with their kids on the playground," the 42-year-old Frenchman says.
The day might begin with a group outing into the forest, where a MovNat-certified instructor teaches participants how to properly crawl through the underbrush or vault over a branch blocking a trail; later, you might find yourself lifting 50-pound logs or scaling a tree, branch by branch.
Entire Body
Each movement Le Corre champions engages the entire body, he says, rather than targeting a specific muscle group like most gym workouts. If a client is unable to perform a given activity, trainers will modify the task accordingly.
Instructors also coach participants on how to adapt the moves for their yards or local parks. Ricardo Laborin, a director in emerging markets at Credit Suisse Group Inc. in Mexico City, says his retreat with Le Corre in West Virginia helped end his addiction to processed foods -- MovNat meals are devoid of sugar, starch and alcohol -- and spurred him to lose more than 20 pounds.
"I had a gym membership but rarely went," Laborin, 34, says. "When I saw photos of Erwan hanging from trees and lifting logs, I was sold."
Laborin says the highlight of his trip was the final morning, when his group woke up at 6, jumped in a creek, covered themselves in mud and worked out in a fasted state until lunch.
"It was one of the most-tiring things I've ever done," he says, "but it felt amazing."
Park Training
Back home, Laborin continues his training using logs, rocks and trees in a nearby park. "People look at me like I am crazy," he says. "My wife is ashamed, but I love it."
Mark Sisson, the best-selling author of The Primal Blueprint, hosts a like-minded retreat in Oxnard, California, every April, where attendees "go primal" for a few days and where seeing is believing: The former Ironman competitor turned 60 this year and sports a six-pack Ryan Lochte would envy.
The 150 spots at this year's PrimalCon, as the event is known, sold out almost immediately, spurring him to add dates in South Lake Tahoe, California, and Austin, Texas.
"People are starting to get it," Sisson says. "If sitting all day causes back pain, why would you want to go sit on some piece of equipment to fix it?"
Tara Wood, who runs Wildfitness from her base in Watamu, Kenya, embraced a similarly primeval approach in the early 2000s.
"I've always had this feeling that pristine health is about being outdoors," she says.
'Fitness Holiday'
Wood started out small, taking a few dozen people a year to Kenya and training them with beach runs and ocean swims. Today, she sells nearly two dozen retreats annually on the U.K.'s Isle of Wight; on a 1,250-acre estate in Andalucia, Spain; and on a spectacular deserted beach along the Kenyan coast.
"When I started out, people thought that fitness holiday was an oxymoron," says Wood, who inevitably hosts at least a few work-hard, play-harder finance types on each of her excursions.
It's easy to see the attraction. Demanding days on the Andalucia trip, for instance, end at a hacienda dating from the 1600s with a pool overlooking olive groves and sunflower fields.
Despite the movement's success, such an antediluvian approach to exercise has its critics.
"I'll be the first to admit that health clubs are unhealthy places," says Vern Gambetta, who's known as the father of functional fitness and has coached professional athletes in baseball, basketball, tennis, and track and field. "They are artificial environments that create artificial movements."
Cave Man Approach
Gambetta worries, however, that the so-called cave man approach overemphasizes intensity, risking injury, especially among people who aren't properly conditioned.
Le Corre acknowledges that these retreats aren't for everyone. The seriously overweight, for example, would be better served by working out with like-bodied people -- a type of retreat Le Corre says he's considering creating. For the most part, though, even the moderately fit are candidates for MovNat's current program.
It's not about strenuously re-creating some mythical past, Le Corre says, but about a paradigm shift. "We see people who are fit and we think: 'Oh, they must be lucky. They are the exception,'" he says. "No! They're normal. What's abnormal is the number of people who have forgotten how to move."
Before it's here, it's on the Bloomberg Terminal.
LEARN MORE