Throw a Great Party with Wines Under $15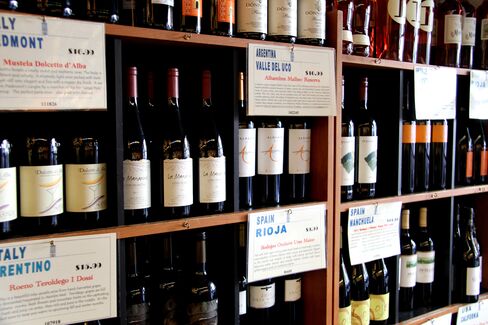 I was invited to a birthday party where each wine was followed by a greater, rarer, more expensive one, which eventually led to a single bottle of 1929 Chateau Mouton-Rothschild.
The tipsy fellow next to me, who whispered he knew nothing about wine, took a sip and barked to our host, "Whaddaya got next?"
That taught me a lesson: unless you hold a gathering with only connoisseurs attending, don't ever, ever serve a pricey, vintage wine to your guests. But don't offer them plonk either.
For me, the tipping point for party wine prices used to be $20 and below. But today, given the worldwide wine glut, there are more delicious wines than ever between $8 and $15.
Few come from California producers, where mass production makes for insipid, sweet or acrid wines. The best come from Spain, Italy, Argentina and, after years of almost pricing themselves out of the market, France.
Autumn Sales
With many wine stores holding post-Labor Day sales to make room for autumn arrivals, there are great bargains to be had in bins for leftover "summer wines" like roses and vintages of lighter wines unlikely to improve with age.
"A store's palate is based on the least expensive wines it buys," says David Hamburger, senior wine buyer and director of special events for New York's Acker Merrall & Condit. "So a sales bin in a store like ours features the kinds of wines a great restaurant would sell by the glass -- tasty, refreshing, clean and good. We price such wines at $12.99 and below."
Avoid jug wines for parties because they look cheap and are usually undistinguished bulk wines with only the most basic labels, like "California chardonnay" or "Italian red wine."
Spanish Cavas
The best buys in good sparkling wines, since champagne will always run well north of $30, are Spanish cavas, like Castellroig Catalonia non-vintage, which can be found for about $12-$13. Or, if you prefer a vintage label, the Pares Balta Rose 2012 at $13.
For a terrific Spanish red, the 2008 Luis Canas Rioja Crianza ($15) is a steal. Red crianzas are wines that according to Spanish regulations, may not be sold before their third year and have spent a minimum of six months in oak barrels.
In Rioja the rule is 12 months, and Luis Canas is one of the pioneers of modern Spanish viniculture. This wine is 95 percent tempranillo, with ideal acid and fruit and the flavors of a true terroir.
Italy is now shipping a wide variety of wines that show off regional terroir at prices considerably below Italy's mass market big labels, although the well-known Bolla brand's soave, valpolicella and bardolino are dependable wines.
Italian Bargains
Some delightfully complex Piedmont barberas can be found at the $15 mark, especially those from the Barbera d'Asti and Barbera d'Alba areas. Had I tasted a Bosco dei Ricci Barbera 2009 blind, I would have ranked it as one of the best Italian reds I've had this year at any price -- rich, satisfying and multi-dimensional -- yet I found it on sale for $9 a bottle. I'm going back for more.
I was impressed with an Araldica Barbera d'Asti 2011 at the same price. A bit lighter in body but loaded with fresh fruit, this is ideal for a party serving any kind of meat or poultry.
Argentina is making world-class wines and, given its weak peso, its winemakers are selling their products at remarkably low prices. Finca Vides Torcidas Mendoza Malbec 2011 at $8 is really quite amazing, a wine of deep cherry flavors and the usual soft tannins of malbec, easy to drink with a wide range of dishes. The vineyard's chardonnay at the same price is a great pairing with shellfish, especially crab and lobster.
Affordable French
If good French wines once seemed beyond your budget, there is every reason to rejoice over regional wines from Roussillon and Gascogne, both areas making a big push into the American market. The oddly named Gascony vintner Uby makes a fresh, delicious 2012 white from colombard and ugni blanc grapes ($8), with a fine 11.5 percent alcohol and a real citrus crispness for a wine with canapes or first courses.
If you like syrah but don't want to pay Rhone Valley prices, the Chateau de Jau 2008 Cotes du Roussillon Villages ($12) has a velvety, lush blend of 45 percent syrah, 30 percent mourvedre, 15 percent carignan, and 10 percent grenache.
Even Bordeaux winemakers are selling bargain-priced cabernet sauvignon and merlot blends, like Chateau de Lavagnac 2010 ($10), an amazement that is smooth and lush on the palate, a perfect wine for French appetizers like terrines and pates.
Even the popular Chateau Greysac 2008 ($10-$13) will please anyone who loves the basic taste of Bordeaux blends.
You may not find all these wines at your local wine store, though they are easily ferreted out on-line (try wine-searcher.com). But if you zero in on those regions I've mentioned, you'll make your guests very happy and you will have proudly saved a bundle.
(John Mariani writes about wine for Muse, the arts and culture section of Bloomberg News. The opinions expressed are his own.)
Muse highlights include Lance Esplund on art and Greg Evans on theater.
Before it's here, it's on the Bloomberg Terminal.
LEARN MORE