Sex Addict Faces Moral Dilemma With Banker: U.K. Theater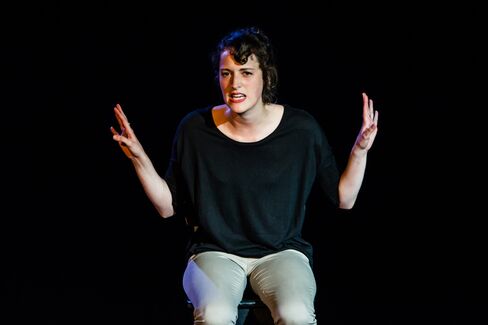 Phoebe Waller-Bridge. As "Private Eye" might say, "crazy name, crazy girl."
We last saw the promising actress naked in the bath. That was in "Mydidae" by Jack Thorne.
Now she keeps her clothes on, for the most part -- except for a moment near the start which has disastrous consequences. It's too much of a plot spoiler to add more.
This latest is every bit as erotic. In the title character of her debut play "Fleabag," Waller-Bridge is promiscuous enough to make Bridget Jones look like a complete nun.
The piece has been causing a stir after winning multiple awards at the Edinburgh Fringe. Catch it if you can: It's at London's Soho Theatre for a short run.
"I'm not obsessed with sex," 26-year-old Fleabag says. "I just can't stop thinking about it."
Absolutely everything is about sex: Barack Obama on the TV, Zac Efron in a movie, just about any guy she sees in the street, the bar or the subway.
The play is the funniest thing I've seen in months. Other characters pop up in sound recordings. Yet to bill it as a one-woman comedy is misleading.
There's a dark undercurrent. Fleabag has lost her mother to cancer. Her boyfriend has walked out on her. Her best friend Boo has died in a road accident. Boo is also her business partner in a guinea-pig-themed cafe that is struggling.
Answerphone Voice
Fleabag feels to blame, misses Boo terribly and repeatedly dials her answerphone just to hear her voice.
Fleabag's sister refuses to help and she is left with the moral dilemma of whether or not to get the cash needed to stay in business by sleeping with a banker friend.
This is not a piece for the prudish. There are repeated references to porn, threesomes and fetishes of every kind. Fleabag finally confesses in a job interview that her sex craving has messed up the lives of herself and just about everyone who knows her.
What saves it is Waller-Bridge's virtuoso performance. She looks surprised and shocked at the filthy words coming out of her red-lipsticked mouth. She mimics those she meets. She veers from ecstatically happy to depressed in seconds -- completely convincingly. Rating: ***.
What the Stars Mean:
 *****      Exceptional
 ****       Excellent
 ***        Good
 **         So-so
 *          Mediocre
(No stars) Poor
(Mark Beech writes for Muse, the arts and leisure section of Bloomberg News. The opinions expressed are his own.)
Muse highlights include Richard Vines on U.K. food, John Mariani on wine and Lance Esplund on U.S. art.
Before it's here, it's on the Bloomberg Terminal.
LEARN MORE