In a British Financial Hub, Suicide Spiked During Crisis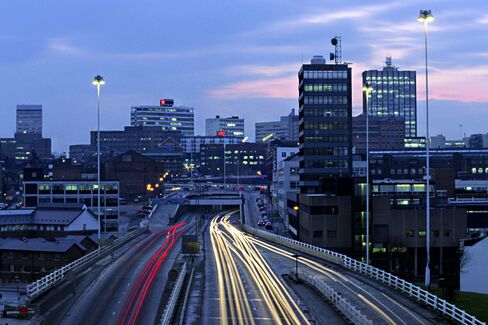 Nov. 20, 2010: The Daily Mail reports that Paul Castle, a friend of Prince Charles, jumped in front of a London Underground train amid signs his real estate empire was crumbling
Margot Palfrey has listened to thousands of troubled people during 23 years as a volunteer at the Samaritans crisis hotline in the British city of Leeds. Four or five years ago, more of them started talking about killing themselves.
"You started to see a pattern," recalls Palfrey, a retired school administrator. "The man had lost his job. Sometimes his female partner had been working two or three part-time jobs, to try to hold things together. She was stretched to the limit. He was staying at home, depressed. The relationship broke, the man was cut free. There was a downward spiral, loneliness, guilt, often an increase in drinking. The feeling of low self-worth was immense."
Because the Samaritans hotline is anonymous, Palfrey never knew whether any callers took their own lives. Chances are, some did.
After hitting a 20-year low of 6.1 per 100,000 in 2007, Britain's suicide rate rose almost 10 percent, to 6.7 per 100,000 in 2008 and 6.6 in 2009. England had 1,000 more suicides during 2008 and 2009 than would have been expected, based on earlier rates, according to a study published last year by the British Medical Journal. "Men 30 to 50 have seen the biggest rate of increase," says Ben Barr, a professor of public health and policy at the University of Liverpool who co-authored the study. "That's the group most affected by job loss."
Many deaths were gruesome and public. In 2010, 225 people threw themselves under trains, up 9 percent from pre-crisis levels. In a case that made headlines nationally, Paul Castle, a 54-year-old businessman and polo-playing buddy of Prince Charles, jumped in front of a London Underground train in 2010 as his real estate empire crumbled.
The British rail service was so alarmed that it teamed up with the nonprofit Samaritans on a suicide prevention campaign. Railway workers were trained to talk to people threatening suicide, and billboards with Samaritans' hotline numbers were posted near train tracks. The billboards—targeting men, who accounted for 80 percent of rail suicides—showed a man wearing boxing gloves, next to the words: "A Samaritan helped me find my strength."
Leeds, a city of 750,000 in West Yorkshire, seemed an unlikely suicide hotspot. Once home to the world's biggest textile mill and dozens of smoke-spewing factories, it had become Britain's second-largest financial services hub, luring an estimated 300,000 banking and insurance back-office jobs, from accountants to customer call-center reps, to shiny office towers overlooking the River Aire.
But from 2008 to 2011, suicides in Leeds outpaced the national average while those jobs melted away. Some 9 percent of all financial-services positions were eliminated, while employment in retail, restaurants, and other service businesses also plummeted. The first big wave of layoffs came in 2009, with employers such as Lloyds Banking Group, Royal Bank of Scotland, and consumer-credit group Cattles either downsizing or closing their Leeds operations.
A National Health Service review of suicide cases in Leeds from 2008 to 2010 found that two-thirds of adults who killed themselves did not have jobs, and that men aged 30 and 50 years were most at risk.
A study published in 2011 in the medical journal The Lancet found that suicide rates closely tracked rising unemployment in 9 European countries, including Finland, Ireland, and the Netherlands. Greece had a 7 percent increase in suicides from 2008 to 2009, as unemployment there jumped from 7.7 percent to 9.5 percent.
The City of London financial district also suffered job losses, but suicide rates there were relatively flat, with the number of suicides in London falling from 581 in 2008 to 570 in 2009, then rising to 574 in 2010. "People were fairly resilient, they had savings, they adjusted their lifestyle," says Jason Kennedy, who runs the Kennedy Group, a financial-services recruitment firm in London.
Suicide rates across Britain began to ease in 2010, but began climbing again in 2011, in what mental-health workers say is a second wave of deaths prompted by government austerity measures. Under legislation enacted over the past two years, the government is imposing a per-household cap on total welfare benefits, as well as a measure known as the "bedroom tax," which reduces welfare payments if people have bedrooms in their homes that aren't occupied.
"We are hearing a lot of stress around welfare reform," says Fiona Venner, who runs a suicide-prevention center in Leeds. "People are frightened about losing their housing. They see they are going to be in a desperate situation."
Before it's here, it's on the Bloomberg Terminal.
LEARN MORE