Chipotle Sells Itself With a Sad Cartoon About Agribusiness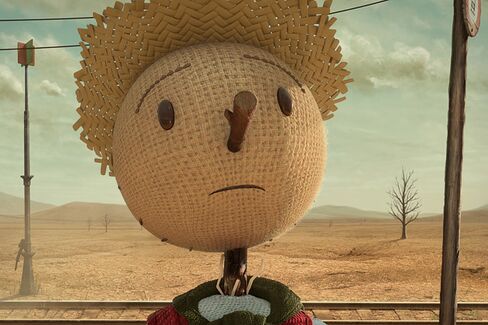 Chipotle Mexican Grill wants sustainable food to be an approachable topic, perhaps even entertaining. So rather than filming an earnest message from its chief executive officer about agriculture, the fast-food company released its second animated music video, The Scarecrow, showing a depressing view of industrialized food. It features a version of Pure Imagination (that tune from Willy Wonka & the Chocolate Factory) sung by Fiona Apple.
By Friday afternoon, after a full day online, the video had been viewed more than 450,000 times. Chipotle also launched a Scarecrow game app for Apple devices that has already been downloaded 32,000 times.
"The game and the film are designed to entertain and educate," says Chipotle spokeswoman Danielle Winslow. "That is a formula that has worked very well for us." The company's first film, Back to the Start, was a hit after it was released online in 2011, and it later ran—all two minutes' worth—as a commercial during the Grammys, which marked Chipotle's first-ever national television ad. The video won the 2012 Grandy Award for advertising.
The aim behind the environmental message is to improve customer loyalty. Chipotle makes clear in its latest annual filing that video messages "allow us to tell our story with more nuance than is afforded by traditional advertising and help forge stronger emotional connections with our customers." But why a musical? "In this case," says Winslow, "the film and the music really blend to tell a very compelling story and to do it in a way that is engaging and connects with people." Last time around, the burrito chain tapped Willie Nelson to provide the musical accompaniment.
Chipotle has no plans yet to air The Scarecrow on TV, however: The three-minute-plus running time means "that would be very costly to do," Winslow says.
http://www.youtube.com/embed/lUtnas5ScSE
Before it's here, it's on the Bloomberg Terminal.
LEARN MORE