A New Back-to-School Supply: Bulletproof Whiteboards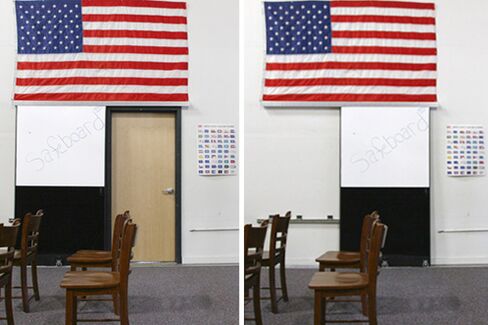 International Armoring Corp. makes ballistic materials that can be applied to cars or windows or interior walls. Mark Burton, the company's chief executive, says his usual customers are businesspeople, celebrities, dignitaries, and heads of state. But the business is diversifying, Burton says, putting its bulletproof armor on tractors in Israel, taxis in Iraq, and utility trucks in a country he can't name. Now IAC has a different kind of customer altogether: educators worried about school shootings.
Two school districts—one in Arizona and one in Utah, where IAC is based—approached Burton more than a year ago concerned about armed intruders. This, alas, was before the school shooting in Newtown, Conn. The districts asked IAC to provide them with some kind of armored protection that would be discreet, functional, and affordable for use in elementary schools. "They didn't want the classroom to look like a fortress," says Burton.
IAC designed special walls it calls Safeboards that can be used as whiteboards—and can also withstand the firepower of handguns, automatic weapons, and nearly every shoulder-mounted weapon. When teachers hear an alarm or suspect trouble, they can slide the whiteboards over the doors to their classrooms. IAC can install corner partitions made up of sliding walls for more protection, a feature Burton calls safe havens. Each one can hold 37 kindergarteners. "We're buying time until the authorities get there," says Burton.
Some people believe the best course of action is to flee the school, but Burton believes that's not always practical. "We consider it a lockdown when there's an intruder," he says. "It's all over in three to five minutes."
The sliding whiteboard starts at $1,850, and each corner partition costs about $5,800. Elementary schools have an average of 25 classrooms, and Burton knows not all school districts can afford his products. For administrators, he says, deciding which schools, or even which classrooms, get the security systems can be a touchy subject.
As the new school year begins, six school districts have bought IAC's ballistic classroom equipment. They'll be installed in the next month or two.
Before it's here, it's on the Bloomberg Terminal.
LEARN MORE